It's over. Shiv Sena walks out of NDA marriage with BJP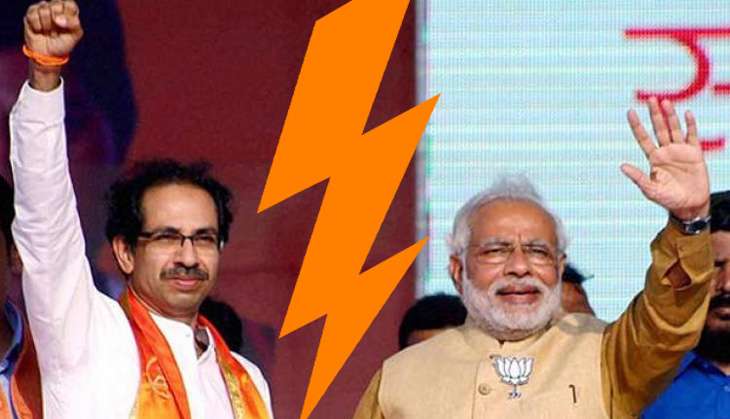 The Shiv Sena, one of the oldest ally of the Bharatiya Janata Party (BJP), is set to sever its ties with the big brother of the ruling National Democratic Alliance (NDA).
Strains on the relationship of the two right-wing parties were visible for some time now. On Thursday, Sena chief Uddhav Thackeray rang the death knell for the alliance.
He said the Maharashtra-based party will not tie up with the BJP for the forthcoming elections to several of the state's civic bodies.
They include the Municipal Corporation of Greater Mumbai (MCGM), the richest civic body in India.
Thackeray, the son of Sena founder Bal Thackeray, delivered a fiery speech in Goregaon Thursday, saying "enough is enough".
"The BJP is in power at the Centre as well as in the state. But now they are charging at us inside our home, eyeing the MCGM too.
"We have been rotting in the NDA for the last 25 years... (we) Will not get dragged and humiliated in NDA anymore," Uddhav said.
Urging the party cadre to gear up and endure a clear majority for Sena in MCGM, he said: "one day, Shiv Sena will concour Maharashtra on its own. We do not need anyone."
Elections to municipal corporations in Mumbai, Pune, Nagpur and Nashik as well as 25 Zilla Parishads will be held on 16 and 21 February. Votes will be counted on 23 February.
The two NDA partners had hit a roadblock as the BJP demanded 114 seats while the Sena was ready to part with only 60, which the national party felt was humiliating.
A war of words ensued: while BJP's Kirit Somaiya and Ashish Shelar said the MCGM was run by a mafia, Sena's Ramdas Kadam challenged them to prove the allegations, calling them mere "barking dogs".
On the Republic Day, Thackeray criticised the BJP for issuing dictats to remove religious images from government offices. Raids on priests were a conspiracy against Hindus, he said.
"They want transparency in the alliance, but do not walk the talk when it comes to take major Cabinet decisions. Our ministers are not even informed.
"The order to remove photographs is an example. The government better rolls it back; else we will burn it," he said.
He also took a dig at Sharad Pawar being honoured with Padmavibhushan, and called it 'Guru Dakshina'.
Referrign to the recent protests over a ban on Jalikattu in Tamil Nadu, Thackeray urged his cadre learn from it rise hold the 'bull' by its horns.
"(The BJP) used us for its benefit and now want to finish us. We are capable of taking on anyone who will try to destroy Shiv Sena," he said.
Thackeray called BJP's demand for 114 seats was an insult: "We have a special relationship with Mumbai. Shiv Sainiks have laid their lives for Mumbai and Mumbaikars."
Maharashtra Chief Minister Devendra Fadnavis, fromt he BJP, tweeted o say "Power is not an end for us. It is a mere means to achieve development through transparency in governance. We will achieve it with those who join us or without them."
Ashish Shelar, the party's Mumbai chief, said it will react to Thckeray's speech on 'Vijay Sankalp Divas Melava' at Goregaon on 28 January.
Edited by Joyjeet Das