In Badal's Lambi, AAP is the main challenger...Until Captain arrives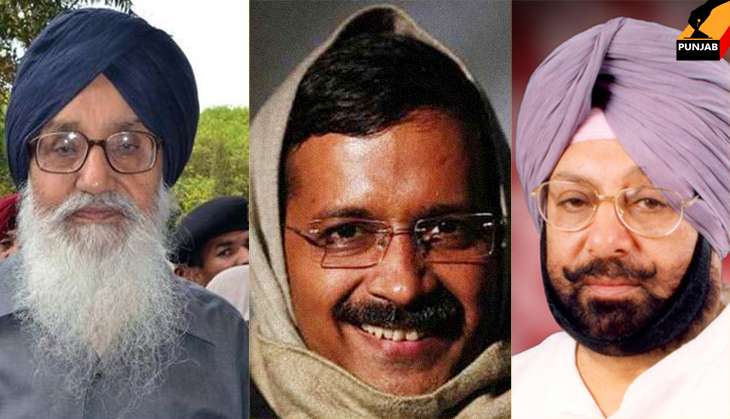 Lambi is a tiny pitstop on National Highway 9 just 15 km before the Punjab-Haryana border. All that one sees are a few small shops, a gurudwara, a school and a police station. There's also a restaurant, curiously named Cop's Cafe that is located, rather predictably, near the police station.
There are hardly any visible signs that this place happens to be the bastion of the tallest figure in Punjab politics - Shiromani Akali Dal patriarch Parkash Singh Badal.
Lambi is now witnessing the biggest battle Punjab politics has ever seen with Congress leader Captain Amarinder Singh deciding to contest against Chief Ministet Badal at a seat which the latter has won consistently since 1997.
Lambi, a predominantly rural constituency in Punjab's Muktsar district, also includes Badal, the ancestral village of the Badal family. It was here that Parkash Singh Badal began his political career as a sarpanch. Then the youngest sarpanch in India, he is now the oldest chief minister in the country.
Today as the 89-year-old faces his toughest electoral battle ever, his fate depends on the people of Lambi and what they decide on 4 February.
View from the ground
Catch visited Lambi on Sunday, a day after Amarinder Singh announced his decision to contest against Badal and found that there is considerable resentment against the chief minister. But as of Sunday, most people weren't looking towards Congress but the Aam Aadmi Party (AAP) as the main alternative.
On Sunday afternoon, AAP leader Bhagwant Mann held roadshow through Lambi, which got an overwhelming response.
"People cam from nearly all the neigbouring villages...there have been roadshows here in the past and this was one of the most successful ones I have seen," said Mahender Singh, an Akali supporter. Now in his 70s, Singh has seen Badal's rise as a politician. "He is a grounded man and has seen Punjab through some very challenging years. But this time things are different," he said.
Though an Akali supporter, Singh seemed rather impressed with AAP.
"You go to any Akali rally, BJP rally or Congress rally, people are paid to attend. This is not the case with AAP. People come completely voluntarily. Even today's roadshow, people came in solidarity even though Bhagwant Mann wasn't even supposed to give a speech," he added.
Lambi had turned into a fortress ahead of Mann's roadshow with busloads of police personnel being deployed. Apparently there were fears that locals may retaliate against Mann for his attacks on the Badals.
"The police was deployed to intimidate people...it clearly had no difference," said Jagjit Singh, another resident of Lambi.
Jagjit Singh dismissed the Captain's decision to contest from Lambi as a gimmick.
"This is just a publicity stunt. There is always a 'setting' between Congress and the Akalis on 5-6 seats. They are doing this just to confuse voters who were otherwise planning to vote for AAP," he said.
AAP has fielded senior leader Jarnail Singh, who was the party's MLA from the Rajouri Garden constituency in Delhi.
Most people Catch spoke to in Lambi said that AAP might not have been in a winning position but it was giving Badal a tough fight.
"The Congress was nowhere till now. There isn't even a Congress poster here. AAP has been getting a good response. Their rally attracted a sizable crowd," said Bali, another resident.
Barely a few hours after Bhagwant Mann's roadshow, the Akali Dal decided to try and get its act together in Lambi. This began with sprucing up the party office. About four party workers tried to put up a huge signboard with the party name, to establish their presence. There was a sense of urgency, perhaps sparked by Mann's roadshow as well as Captain's announcement.
"People aren't happy with the Akali Dal here. Badal sahab himself might be well meaning. But people around him made things difficult for us. We would go to him for help, he would promise to look into it and nothing would happen," said Satnam Sharma, a shopkeeper.
Akali workers admit that they were caught off guard by the response to Mann's roadshow.
"The response (to the roadshow) was good. Even his rally here got attracted a large crowd," said Sukhjinder Singh, an Akali worker.
When asked about the Captain's challenge, he became pensive. "It will be a tough fight. Captain sahab is a senior leader and it won't be easy to defeat him," Sukhjinder said.
"This is our toughest battle yet," Sukhjinder admitted.
Akali workers are nervous. They realise that even if Badal scrapes through in Lambi, winning the state will be an uphill task.
Satnam Sharma says that Badal may still win Lambi as the opposition vote would get split.
"Earlier, most Congress supporters were planning to vote for AAP. Now they will obviously vote for Captain," he said.
Mahender Singh feels that AAP's rise forced Captain Amarinder Singh to contest from Lambi.
"AAP was becoming a far more vocal opposition to the Akalis than the Congress. Captain had to reclaim that place," he said.
AAP's surge in Lambi could cut both ways. Either, as Satnam says, Badal would win courtesy a split in anti-Akali votes. Or Captain might just reap the harvest of an anti-Badal atmosphere created by AAP in Lambi.
In either case, the 89-year-old Akali patriarch has been successfully cornered in his home ground.