'I make money because of Badal. But I'm with AAP': Lambi trader Satnam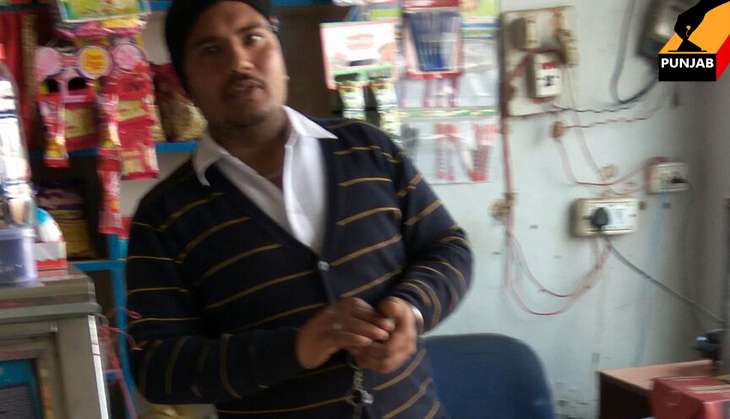 Lambi constituency in Muktsar district is witnessing the biggest political battle Punjab has ever seen - between Chief Minister Parkash Singh Badal of the Akali Dal and former CM Captain Amarinder Singh of the Congress. Also in the fray is senior Aam Aadmi Party leader Jarnail Singh.
But the people of Lambi aren't intimidated by this high profile contest and they will make the three leaders work hard for victory in this predominantly rural constituency.
Satnam Sharma is in his late twenties and owns a small shop selling cold drinks and snacks on the National Highway 9 stretch that passes through Lambi.
He had briefly gone to Patna to work a telecommunications company but decided to come back to Punjab.
"What's the point in earning money if my family can't see my success?" he asks. He says that he puts this question to every friend or relative who is trying to go abroad.
"You go abroad and earn money but you aren't there when your family needs you. What's the point of going then?" he says.
In the upcoming election, Satnam says he supports the Aam Aadmi Party.
"Badal and Captain are actually on the same side. Even if Congress comes to power, Captain will never act against the Badals or (Bikram Singh) Majithia," he says
Upset with Akalis
Satnam blames the Akalis for various ills that plague Punjab.
"You look at any industry in Punjab, someone or the other from the Akali Dal has a stake. The Badals did a lot of development work as well, there's no denying that. But many Punjabis were left alienated," he says.
Satnam, however, differentiates between Parkash Singh Badal and rest of the party.
"I respect Badal sahab. He has no arrogance and always speaks with a lot of humility. If you got to him for some work, he will never refuse and invariably promise to help," he says.
"But those around him are greedy. Even when Badal sahab disburses some funds, they siphon off a portion. They control access to him, which is why he has lost touch with people on the ground," he adds.
On being asked whether Lambi benefited from being Badal's constituency, Satnam answers in the affirmative.
"They did a lot of work here. For instance, the Badal-Bathinda road begins a few kilometers from here. It's an impressive highway and has made this area accessible," he says.
Satnam jokes that sometimes he feels he is a fool for opposing Badal.
"I make a lot of money because of Badal sahab. People often come to Lambi to stage protests against him. They always come to me to grab a bite or have cold drinks. It really boosts my business. If he is no longer CM, it will be a major loss of business for me," he says with a laugh.
Satnam is fascinated by the AAP. "They seem sincere. And most importantly they come from completely outside the existing political system in Punjab. The state needs a complete change and only they can provide it," he says.
He says that AAP has rattled both the main parties in Punjab.
"It was after Bhagwant Mann's roadshow (on Saturday) that the Akalis decided to put up a huge board on their office in Lambi," he says.
Regarding Captain Amarinder Singh's challenge to Badal, Satnam repeats what the AAP has been saying - that his contesting from Lambi will help the Akali patriarch.
"Till now Congress supporters in Lambi were planning to vote for AAP. Now they will obviously vote for Captain," he says.
He admits that there is a possibility of some AAP supporters now voting for Amarinder Singh, just to defeat Badal.
Satnam was cagey when asked whether he would end up doing the same.
In either case, what's clear is that Lambi will be a very tough battle for Parkash Singh Badal.