'He should apologise...': JDU MLC slams Manoj Jha for his poem on 'Thakurs'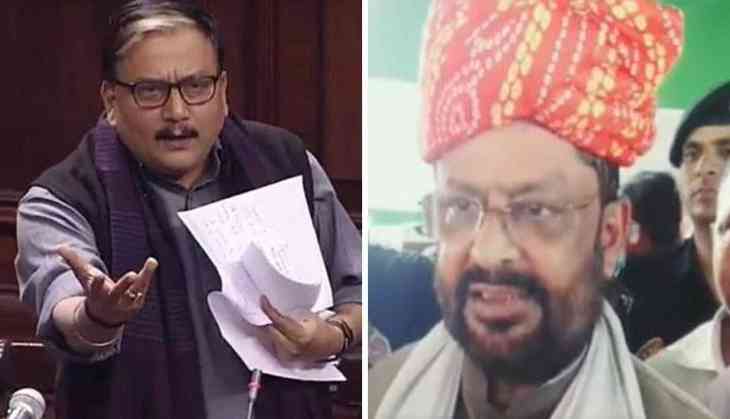 Manoj Jha (left), Sanjay Singh (Right) (File)
Patna (Bihar): Janata Dal-United (JDU) MLC Sanjay Singh on Thursday slammed Rashtriya Janata Dal (RJD) MP Manoj Jha over his poem on 'Thakurs', which he recited during a debate on the Women's Reservation Bill in the Rajya Sabha.
"Such statements create division in society. We are with Nitish Kumar who unites people from all the castes and religions. Manoj Jha will get a befitting reply for this. This is an indecent statement. He should apologize", Sanjay Singh said.
"Manoj Jhaji is a member of the Rajya Sabha. His statement is condemnable. I even think that he became a professor at Delhi University just like that. I warn him against such remarks", added the JDU MLC.
The JDU is a partner in the alliance named 'Mahagathbandhan' with the RJD. It is worth mentioning that a poem on 'Thakurs' recited by RJD MP Manoj Jha during a discussion on the Women's Quota Bill last week in the Upper House was backlashed as several political leaders condemned it and demanded an apology from his side.
The poem 'Thakur ka Kuan (well)', written by Poet Om Prakash Valmiki, was recited by Jha amid his demand to take into account the OBCs in the Women's Quota Bill.
Meanwhile, JDU President, Lalan Singh backed the RJD MP's remarks by saying that it was not targeted at a particular caste.
"The speech given by Manoj Jhaji is a testament in itself that it was not targeted at any particular caste or religion. The job of the Bharatiya Janata Party is to create tension in society and attract votes by instigating the sentiments", Singh said.
(ANI)