Drought: Should the Supreme Court intervene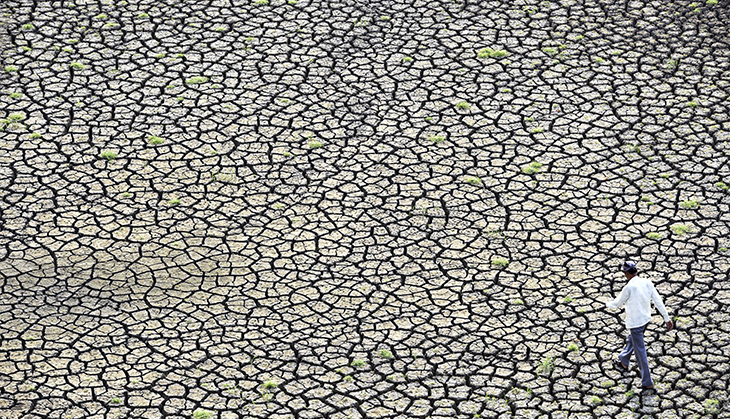 Legal purists never cease to harp upon the fact that the judiciary should not intervene into administrative matters.
But when a massive natural calamity reigns high, and people, especially farmers, are dying in the hundreds, then what is to be done?
This question assumes significance because of the Supreme Court's latest instance of hauling up the Haryana and Gujarat governments for their tardiness towards handling the situation.
Drought and its Legal Discontents
The government is empowered to declare a disease as an epidemic, but there are no legal provisions to dictate or mandate when a government ought to declare a situation as a drought.
And it's here that state governments plunge into a sly game.
Why so? Because farmers and their families, who form a prime consequence for all governments, are taking their lives by the dozen.
'Useless' Apex Court vs Callous Government?
On 6 April, 12 states, including Maharashtra (whose Latur district is reeling under a severe drought), moved the Supreme Court, complaining against the Centre's reluctance to release funds to alleviate the drought's impact.
Additional Solicitor General Pinky Anand, who was to represent the Centre, was not present in court, and this enraged the Bench to such an extent that it accused the government of conducting a circus.
Legal Void, and Governmental Apathy
The crux of the problem lies in the law - there is no legislation which specifies when and under what conditions drought should be declared. On top of that, governments go flat out in denial mode, even going to the extent to officially state that farmers committing suicide to crop failure and indebtedness have died "accidental deaths".
Is There a Way Out?
Seems highly unlikely. One possible way could be to bring drought-related deaths into the Seventh Schedule of the Constitution - it contains items where the Centre and States have a shared responsibility.
The other option would be to halt state governments from embarking upon populist measures. For instance, the government of Maharashtra has stopped the supply of water to breweries in Nagpur, one of the worst drought-affected areas.
It's easy to take the high moral ground - a stand against alcohol - and earn both kudos and brownie points, but it doesn't solve, let alone address the real problem in any manner, whatsoever.
At the end of the day, as P Sainath, one of the finest documenters of rural and agricultural distress in India, wrote in his book - Everybody Loves a Good Drought - governments will keep passing the buck, the laws will remain incapacitated, and lives shall continue to perish.