Damage control: In Punjab, AAP tries to rectify recent mistakes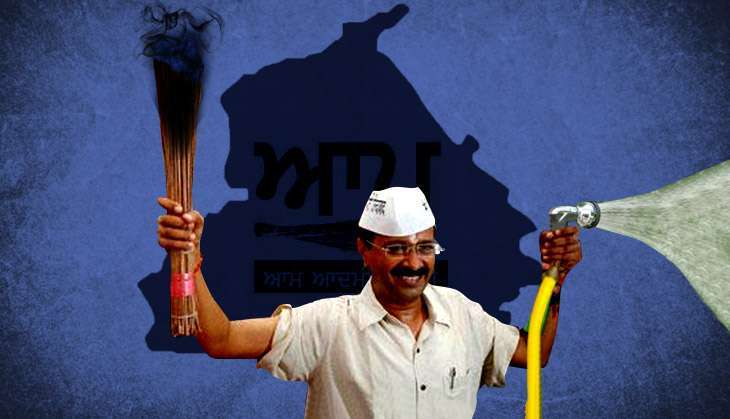 Ever since its very foundation in Punjab got jolted after the departure of state convener Succha Singh Chhotepur, the Aam Aadmi Party (AAP) has been trying to put a damage control mechanism in place to salvage the damage that has been caused.
Over the last month or so, while the focus of the media has mainly been on developments related to the Awaaz-e-Punjab forum floated by cricketer-turned-politician Navjot Singh Sidhu, the moves being made by Chhotepur and the political forum put in place by AAP's suspended MP from Patiala Dr Dharamvira Gandhi, the AAP leadership has been quietly trying to address the issues that had given enough ammunition to these detractors to attack it.
Also read - Congress and AAP are keen to tie up with Awaaz-e-Punjab despite flip-flops
Quick fix
The party has started to put together a state body with Punjabis at the forefront. This has been one of the major allegations that Chhotepur, Gandhi and a whole lot of others who have parted ways with AAP in the past have made repeatedly.
The party's detractors have said time and again that AAP in Punjab is being run from Delhi with the help of observers brought from outside the state. Chhotepur, in particular, had said that there was no local structure in place.
Recently, AAP also took a step to rectify this and brought in Gurpreet Singh Ghuggi aka Waraich as the new state convener primarily so that the party can have an acceptable Punjabi face at the top. This was followed by the recent announcement of Gulshan Chhabra as the new general secretary of the party's state committee. A businessman from Mandi Gobindgarh, Chhabra has been working for the party since the days of its inception in Punjab. He is well known for his organisational skills.
The part is also attempting to enhance its organizational structure and has nominated 9 new vice presidents and 5 joint secretaries. Among the vice presidents are Colonel (Retired) CD Singh Kamboj, Dr Balbir Singh Saini, Baldev Singh Azad, Boota Singh Ashant, Colonel (Retired) CM Lakhanpal, Dr Inderbir Singh Nijjeer, Mohan Singh Phalianwala, Mehar Singh Malli and Dalbir Singh Dhillon. The new joint secretaries are Major Singh, Varinder Singh Khara, Harinder Singh Amritsar, Lalit and Dr Sarika Verma. Meanwhile, national joint secretary Jaideep Singh Samrala has been appointed as the head of volunteer welfare and management wing.
Failing to make decisions
The party's inability to make a final decision on the fate of its two suspended MPs - Dr Gandhi and Harinder Singh Khalsa - has been criticised by many.
In a move that is seen as an attempt to make up for its failure to take action against its MPs, the party leadership recently threw out the smaller leaders who challenged the party in the recent past on grounds of indiscipline. They include member of national council Pavittar Singh, media team member Colonel (Retired) Jasjit Singh Gill, circle in-charge Jagatar Singh, member of women's wing Lakhwinder Kaur, Harpal Singh of the NRI cell, Dr Amandeep Singh Bains, Baljit Singh Chahal, Colonel (Retired) Dalwinder Singh Grewal and Amandeep Singh Boparai. AAP has clarified that the party will have nothing to do with these leaders any more.
To quell the Punjabi versus non-Punjabi debate in the party, AAP has reportedly decided to appoint 60 local party leaders as observers for the assembly constituencies. They will replace the 13 zone observers appointed earlier.
The assembly observers will be neutral persons keeping a watch on two constituencies each while also monitoring the poll campaign.
'Outsiders' slink into the background
A large number of party functionaries who had come from Delhi and Uttar Pradesh have either left Punjab or are maintaining a low profile ever since the issue of outsiders dominating party developments in Punjab took the centre stage.
Party leader Himmat Singh Shergil says, "The people have left as their task was over. They had come to carry out organisational work and were clear from day one that they would not even contest a panchayat poll what to talk of assembly polls. Those who have left were overlooking party functioning in constituencies where the party candidates have been declared. Now it is for the candidates to take over. The same will happen in other constituencies."
He said that these are a group of volunteers who have associated themselves with the party to set up organisational structures in states where AAP intends to expand base. These include states like Himachal Pradesh, Gujarat and Goa.
The functionaries from outside are often termed as salaried employees of the party by Gandhi and Chhotepur who accuse Kejriwal of running AAP as a corporate entity.
A notable change is AAP strategy has been that right from its rally at Bagha Purana last month where it released its farmers manifesto, it has started giving more space to the leadership from the state. Over the last one month, leaders like Waraich, Sangrur MP Bhagwant Mann and HS Phoolka have addressed successful rallies at various places where the response from the public has been encouraging for the party.
More in Catch - Fourth front in Punjab? Political forums everywhere but nothing concrete
Sidhu's future in Punjab politics is ambiguous after his reverse sweep