Boon or a bane for Congress in Uttar Pradesh: Just one face seen everywhere, says Priyanka Gandhi Vadra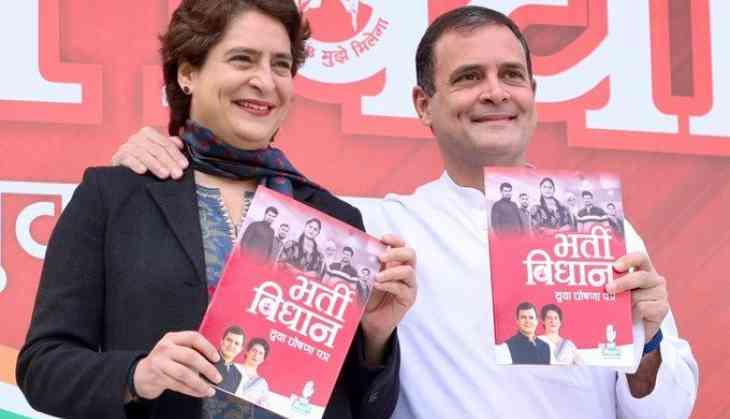 Priyanka Gandhi Vadra with Rahul Gandhi (Twitter)
Uttar Pradesh Assembly Election 2022 looks all set to be a direct contest between BJP and Samajwadi Party (SP). However, the Congress party is struggling very hard to make itself a serious contender in the fray.
While Chief Minister Yogi Adityanath is BJP's chief ministerial face, and Samajwadi Party has Akhilesh Yadav, it is the Congress party that stops short of declaring Priyanka Gandhi Vadra as the chief ministerial face.
Responding to reporters on Friday, Priyanka Gandhi said: Do you see anyone else's face from the Congress Party in Uttar Pradesh?
She was responding to a reporter who inquired about the name of the chief ministerial candidate from the Congress party.
There is no other face from Congress in Uttar Pradesh that can instil even an iota of fear in the minds of the rival parties.
Lone tigress but herd power missing
Sadly, this is an irony that Priyanka Gandhi Vadra is the only real name in the Congress party that ruffles the feather of the rival parties. You need an array of competent leaders and dedicated party workers to influence the outcome of assembly elections when 403 seats are up for grabs.
Missed opportunity
Just one face is negligible to prop up any serious challenge. This is a concern in Congress that should have been addressed by the top leadership a long time ago. Going by the Congress drubbing in the last Uttar Pradesh Assembly Election, the party should have been better prepared to contest the elections 2022.
The power of many
'Just one face scenario' is a boon or bane for the Congress party is not hard to predict. What remains to be seen is how the party cultivates and nurture leadership at various levels to become a force to reckon with. But this is a long process that requires astute political minds.
#WATCH Do you see anyone else's face from the Congress Party in Uttar Pradesh? You can see my face everywhere: Congress leader Priyanka Gandhi Vadra on being asked about the chief ministerial face of Congress in the upcoming UP Assembly elections pic.twitter.com/NOt1uZKBU6

— ANI UP/Uttarakhand (@ANINewsUP) January 21, 2022
Having many capable leaders is not such a bad thing in politics.