Bihar Elections: why Lalu Prasad caved in and accepted Nitish Kumar as leader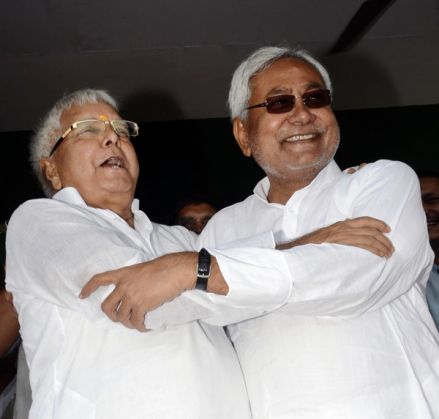 The bitter pill
JD(U) and RJD have formed an alliance for the Bihar elections. RJD chief Lalu Prasad has accepted Nitish Kumar as CM candidate.
Lalu is senior to Nitish in politics and has a stronger caste base.
The reasons
RJD has been out of power for a decade. Lalu needs to keep his flock together.
He can\'t contest elections himself after his conviction in the fodder scam.
Going it alone would have helped BJP. Lalu can\'t be seen as helping communal forces.
Congress made its preference for Nitish clear, leaving Lalu with little choice.
Lalu Prasad and Nitish Kumar have been long term competitors in Bihar politics. Such are the egos and personal rivalries between the two that one cannot deign to accept the leadership of the other.
Yet Lalu seems to have swallowed his pride by accepting Nitish Kumar as the chief ministerial candidate of the newly formed alliance of the Rashtriya Janata Dal (RJD) and the Janata Dal (United). Should the alliance win a majority in the Bihar legislative assembly election, Lalu will willingly play second-fiddle to Nitish Kumar.
How has this come about?
Lalu claimed in a press conference on Monday that his party was not seeking the chief minister's job in the coming election. It was more important for him and his party, he claimed, to stand strongly against communal forces represented by the Bharatiya Janata Party (BJP).
If this was indeed his only concern, why did he wait so long to come to an agreement on the alliance between his party and the JD(U)? He did try to leave the question of chief ministerial candidate open to the extent he could and as late as he could. Only when he failed to get his way, did he agree to Nitish Kumar's candidature.
Lalu's primary compulsions have to do with trying to keep his flock together. Everything else comes later.
He knows that his own legislative options have been cut short after his criminal conviction in the fodder scam. He cannot contest elections for the next 12 years.
Only when Lalu Prasad failed to get his way on the CM candidate issue did he agree to Nitish Kumar's candidature
Lalu's party is a highly centralised one. Ideally, he would like to achieve two goals quickly. First, ensure that his wife Rabri Devi becomes his political surrogate - either as chief minister or, failing that, a minister at least. Second, gently ease his sons Tejaswi and Tej Pratap into politics.
This way, he can ensure political succession within the family and also keep intact his political capital and personal patronage networks. Not ensuring these two outcomes swiftly would open the way for potential competitors from within the RJD.
[fullsuite/]
This election, therefore, is crucial for Lalu and his family's political survival. If he stays away from power for too long or contests alone and does badly, then competitors will come up. The party may even split or wither away.
Political parties survive only when there is prospect of power. And Lalu realised that without joining hands with long term adversary, Nitish, the chances of being anywhere near power were bleak. To keep his voters, partymen and political clients together, he swallowed the bitter pill and accepted the supremacy of Nitish Kumar.
Secular knight rider
At a broader ideological level, Lalu cannot afford to be seen as an opportunist spoiler who refused to join the war against the BJP. After all, he has the image of the strongest leader against communalism to live up to.
It was he who had arrested LK Advani during his Ram Rath Yatra in October 1990. And it was Lalu who had the courage to ban the entry of Vishwa Hindu Parishad's Pravin Togadia a year after the Gujarat riots. He could not have afforded to lose this branding.
Lalu also felt he would be blamed for betraying secular forces if Nitish Kumar, forced to go only with the Congress, were to lose. Therefore, despite first trying to demand 145 seats out of the total 243 in Bihar in the hope of making an RJD bid for the chief minister's job after the election, good sense prevailed.
This was helped in part by Rahul Gandhi making it clear that the Congress would back Nitish Kumar in case Lalu did not fall in line. It was then that he realised that in Nitish Kumar's victory lay his victory too.