Battle lines drawn: Modi and Rahul trade barbs on demonetisation in UP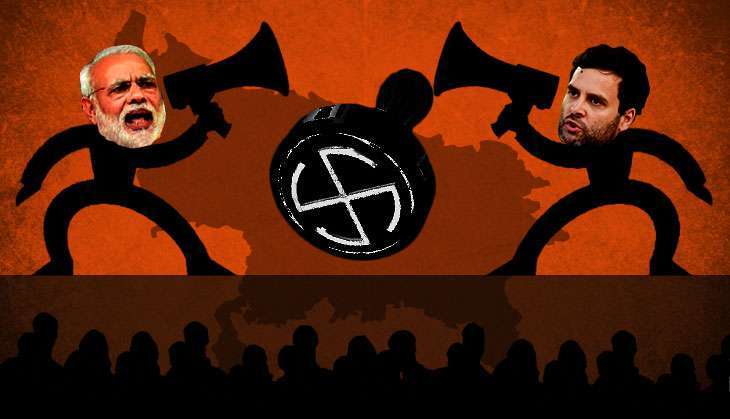 The battle for Uttar Pradesh 2017 began in earnest on Monday, with Prime Minister Narendra Modi and Congress vice-president Rahul Gandhi making black money and demonetisation key election issues.
After his botched rally in Bahraich, Modi eulogised the poor for bearing with the pain of currency shortage, saying they were suffering in the interests of the country as they wanted to see India free of corruption.
A couple of hours after the Prime Minister's speech in Kanpur, Rahul took to the podium in Jaunpur, where he said Modi had "fire-bombed" the country's poor. Fire-bombing was a tactic resorted to by the Allied forces on cities during World War II, with 200 aircraft dropping fire-bombs and completely destroying the city. Rahul, therefore, suggested that demonetisation will wipe out the poor.
Modi said that demonetisation had brought about a distinct change. "Earlier nobody cared for a 100-rupee note or the poor. Parivartan ye aayaa hai ki chhote note bhi poochhe jaate hain aur chhote log bhee (the change that has come about is that small denomination notes are sought after, and so are the poor)."
Rahul, on the other hand, pointed out that 94% of black money was stashed away in foreign banks, real estate and gold, so why was the PM running after the remaining 6%?
The Prime Minister said that the demonetisation decision had finished off wrong-doers - achhe-achhon kee chhuttee kar dee hai. He described the decision as one to purify the country, and called it "not a victory of any political party or the Prime Minister, but a victory of the people".
Rahul, whose show was overshadowed by Modi's by way of media coverage, lambasted Modi for sucking the blood of 99% of the population.
Modi said that technology was coming handy in tracking down all those who had managed to get a huge amount of new currency notes, something which they were not prepared for.
PM lays blame at Opposition's door
In a significant move, Modi backed the Election Commission's proposal to end political corruption by banning anonymous donations of more than Rs 2,000 to political parties, and an annual audit of their funds. "The Bharatiya Janata Party welcomes the suggestion," he said, and asked the EC to take it forward.
"The EC consulted all the parties on this. My party will support its decision," he said.
"At a meeting before the start of the Winter Session, I had suggested that the senior leaders of all the parties should have an open discussion in Parliament on the funding and auditing of their accounts.
"Fingers are being pointed at us, and since it is our responsibility to lead by example, we should see where is the money coming from and how are the accounts being maintained. 'Can we together find a way that meets the aspirations of the people?' I asked. I urged them to have a discussion on the subject, but they were not ready for a discussion on the subject," the Prime Minister alleged.
Saying that the country wants to move on the path of honesty, Modi blamed the Opposition also for not agreeing to have a discussion on his proposal to hold the Lok Sabha and all Assembly elections simultaneously.
"Even President Pranab Mukherjee had recently said that holding Assembly and Parliamentary elections separately leads to generation of black money and is a burden on the people. I wanted a discussion on that too, but the Opposition parties were not agreeable to that either," Modi said.
Go cashless, win prizes
To encourage people to adopt technology for making their transactions, the Prime Minister announced weekly prizes for small traders and 15,000 consumers who use e-wallets, mobile banking or debit cards for their transactions, starting 25 December. Gala prizes will be given on 14 April 2017, Babasaheb Bhimrao Ambedkar's birth anniversary.
Each week, a different set of consumers will get a prize of Rs 1,000.
Modi had earlier indirectly attacked the Samajwadi Party government, saying that the people of Uttar Pradesh were fed up of 'goondas' and those who 'patronised' criminals.
Edited by Shreyas Sharma
More in Catch
Target Modi: Rahul Gandhi to go on nationwide notebandi yatra
Did Rahul Gandhi break Opposition unity by meeting PM Modi?
Watch: PM Modi is terrified of the corruption information I have on him, says Rahul Gandhi