Backed by RSS, Yogi is resisting Modi's micro-management. Is he a threat?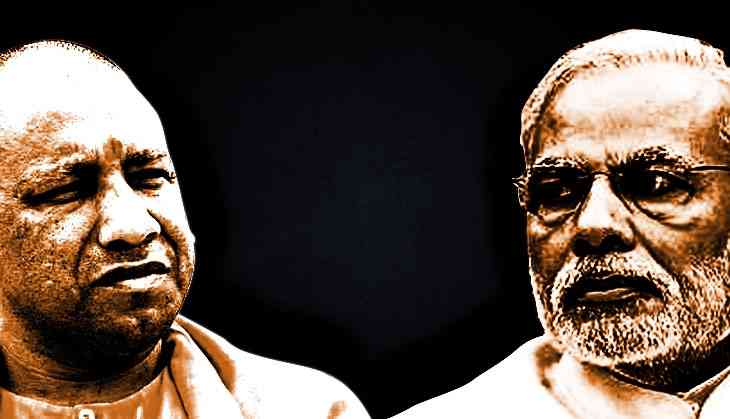 It appears that all is not well between Prime Minister Narendra Modi and Uttar Pradesh Chief Minister Yogi Adityanath. The Mahant of the Gorakhnath Math isn't used to taking orders from anyone and this has become clear less than three months into his tenure as CM.
In March 2017, when the Yogi Adityanath government in Uttar Pradesh had just been sworn in, it was reported that the government was likely to be guided by the Prime Minister's Office.
Several developments from the state now indicate that the chief minister is pushing back the Centre's influence and is asserting his authority in Uttar Pradesh.
When Adityanath was named as CM, many were surprised because in spite of being a BJP MP and being known as a Hindutva firebrand, Adityanath is not from the RSS stable. In fact he has asserted his own image and influence in UP over the RSS' campaigns on many occasions. Many theories did the rounds following the announcement of his name as CM that how he was not PM Modi's first choice and that he had succeeded in forcing RSS to push his name.
The indications now coming from UP serve to broadly confirm this theory, as Adityanath appears to be asserting his powers and resisting Modi's attempts at controlling the state's administration from New Delhi. What could be more worrying for Modi in this push-back, is that the CM reportedly has full backing of the RSS.
Pinpricks
t is learnt that quite early on after the BJP swept Uttar Pradesh, the PMO had sent a senior official familiar with the state to Lucknow to "guide" Adityanath with the process of portfolio allocation. However, Adityanath did not even meet this official, leave alone taking his advice. The message to New Delhi was clear: back off.
Not one to be cowed down, Modi reportedly persisted and tried to impress upon the UP governmentto appoint an officer of his choice as the Director General of Police. Subsequently, it was widely speculated that 1984-batch IPS officer of the UP cadre, Rajnikant Mishra will be appointed.
However, 1980-batch IPS officer Sulkhan Singh was eventually appointed as the state's top-cop.
A similar difference of opinion reportedly cropped up even regarding the appointment of the state's chief secretary as well. Centre had conveyed to the Adityanath-administration its own choice for the state's top babu. However, the CM has so far resisted that pressure too and retained 1983-batch IAS officer Rahul Bhatnagar as chief secretary. Bhatnagar was appointed by Adityanath's predecessor Akhilesh Yadav in September 2016.
The only move over which co-operation between New Delhi and Lucknow is visible is the repatriation of 5 top IAS officers of the UP cadre from Centre to the state. The Adityanath-government had reportedly asked for these 5 officers - Alok Kumar (1988 batch), Sanjay R Bhoosreddy, Prashant Trivedi and Shashi Prakash Goyal (1989) and Anurag Srivastava (1992) – and they were repatriated early in May. Out of these Goyal has been appointed as Principal Secretary to the CM and Kumar as Chairperson of UP Power Corporation.
The most significant part of what looks like a serious face-off between Adityanath and Modi is that the RSS is reportedly backing the CM. There is a sense in the Sangh that Yogi's presence as UP CM helps achieve the ideological consolidation they want.
Many observers have also said that appointment of the mahant from Gorakhour as UP CM fits in perfectly with the RSS' plans to openly espouse majoritarianism for its next stage of political expansion.
From the point of view from Modi and Amit Shah, Adityanath is a clear deviation from the script. Till now all the chief ministers they had appointed were low key leaders or those from a strong RSS background – Manohar Lal Khattar and Raghubar Das being cases in point.
Also, many of the CMs are from numerically weak communities in their respective states. Khattar is a Khatri in Jat dominated Haryana, Jharkhand CM Raghubar Das is the non-tribal CM in Jharkhand, Devendra Fadnavis is only the second Brahmin CM in Maratha dominated Maharashtra, Sarbananda Sonowal is from an ethnic minority community in Assam and Gujarat CM Vijay Rupani is a Jain.
Adityanath is a deviation on both counts as he has considerable mass following and he also belongs to the powerful Thakur community.
Given these factors and the RSS backing, it is clear that Adityanath is fast becoming a power centre, something that is cause of concern for Modi and Shah.