Back, in black: Axl Rose is new AC/DC frontman, and it's not all bad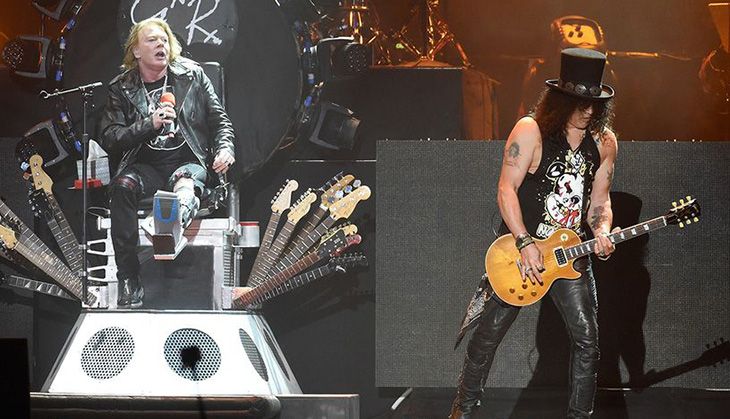 Gunning to be taken away to that special place where Axl Rose and Slash will finally be reunited on stage?
Welcome to Coachella 2016. And don't cry, you can get a chance to see Guns N' Roses perform later too - the two sworn enemies have confirmed a reunion tour for this year.
But that's not the only remarkable rock 'n' roll rumour to have been confirmed this week.
Rose - the hell-raising, love-him-or-hate him frontman of GNR - is the new AC/DC vocalist for the remainder of their Rock or Bust tour dates.
No, really.
Following weeks of speculation, the Australian band officially announced their choice in a statement:
"AC/DC band members would like to thank Brian Johnson for his contributions and dedication to the band throughout the years. We wish him all the best with his hearing issues and future ventures. As much as we want this tour to end as it started, we understand, respect and support Brian's decision to stop touring and save his hearing. 
"We are dedicated to fulfilling the remainder of our touring commitments to everyone that has supported us over the years, and are fortunate that Axl Rose has kindly offered his support to help us fulfill this commitment."
But for many AC/DC fans, Rose's appointment has set their favourite band firmly on the Highway to Hell. His tardiness, poor attitude and utter disrespect for colleagues is the very antithesis of genial Johnson's pursuit of professionalism and cheerful personality.
All we need is just a little patience
Perhaps there isn't much to be worried about.
The reviews coming in from Coachella, where Guns N' Roses were joined by the last original AC/DC member Angus Young, say Rose is back and bang on form.
So it seems that one of the most brilliant performers of the last 30 years has pulled himself together and pulled out all the stops to ensure that the super unlikely Guns N' Roses reunion can actually happen.
Rose, it's worth noting, broke his foot before the Coachella show, and had to sing seated on a throne of guitars - the same throne Foo Fighters' Dave Grohl used last year.
If you watch the videos, you can see that Rose, despite carrying an extra bit of fame and fortune on him these days (ahem), has lost none of his on-stage charisma.
Rose might be a rock and roll rebel with a bad reputation, but who else has the (big?) balls and the belief to step into Johnson's giant shoes? 
Thunderstruck
AC/DC fans haven't taken the announcement all that well.
AC/DC replaces singer who can't hear with singer who can't sing https://t.co/ez0ruK17lg

— music4life (@terrylouise3) April 18, 2016
#AxlRose #ACDC #WTF #GunsNRoses pic.twitter.com/71RA0e20Px

— Dreaming Daemon (@dreamingdaemon) April 17, 2016
The best thing about Axl Rose joining AC/DC is it'll give you an extra hour and a half to get to the concert

— Chris Brain (@Chris_Brain) April 17, 2016
Axl Rose has promised to start as AC/DC's front man immediately. Which means we can expect him to turn up midway through the next tour.

— Tim Batt (@Tim_Batt) April 17, 2016
But when Johnson replaced the late Bon Scott 36 years ago, the haters had made their feelings quite clear. Despite that, AC/DC went on to release the brilliant Back In Black and establish themselves as one of rock's biggest hitters.
Where do we go now?
Rock 'n' roll has been declared dead more times than Rose has screwed up shows, but the outlook for rock is looking bleaker than ever before, thanks to the internet.
Want proof? Well, my social media feeds are usually filled with reports of plummeting album sales from musician friends and mainstay venues shutting their doors. Hundreds of Kickstarter campaigns have also sprung up from bands that, only a few years ago, would have had no problem making money just playing local gigs.
This is the failing of the digital age: we are no longer creating any new rock heroes. The days of the titans are gone.
You can download the music for free. Music stores are bankrupt. And a world tour means nothing when you can watch it from the lazy comfort of your couch on YouTube, also for free.
The fault lies with the fans - for some messed-up reason, people feel entitled to free music.
Sadly, there are no alternatives, no answers for  how to turn the tide on ripping off musicians. Until the industry changes its own black heart to remain loyal to the artists, it will continue to demand that musicians play without compensation.
But it is a sign that the best chapter of rock 'n' roll has come to an end. And that is something to mourn.
So there you have it.
Guns N' Roses