As Mukul Roy parts ways with Mamata Banerjee, a look at the Trinamool strongman's career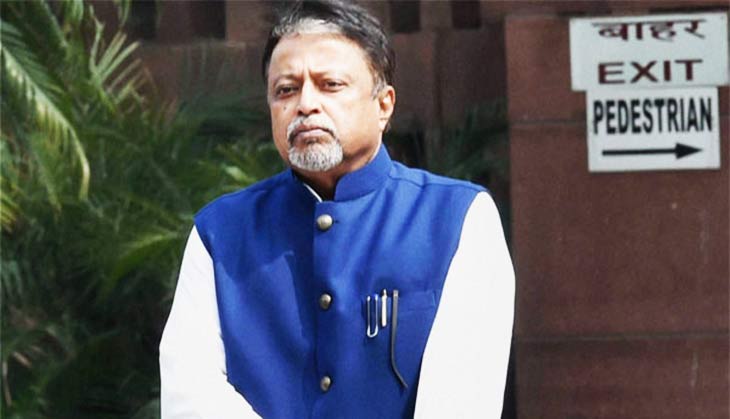 Having been sidelined from party affairs by West Bengal Chief Minister Mamata Banerjee, senior All India Trinamool Congress (AITC) leader and Rajya Sabha member Mukul Roy resigned from the party on Monday.
Once considered to be the closest confidant of Banerjee, Roy resigned from AITC's working committee and has also offered to quit from the Upper House of Parliament and the party's primary membership after Durga Puja.
Differences between the two leaders peaked after Roy was removed from the post of general secretary in 2015 after reports of his alleged involvement in the multi-crore Saradha chit fund scam shot into the limelight.
Later, he was accused of getting closer to BJP leaders, which infuriated Banerjee and led to him being completely sidelined in party affairs.
His resignation from the working committee ended his long association with both Mamata and AITC, of which he was one of the founding members.
Who is Mukul Roy?
Search for Kanchrapara on Google and most results are about the railway infrastructure in the area that was developed by the British during the 1860s. Most of the people who inhabit the town and its surrounding areas heavily depend on the railways for their livelihood.
Mukul Roy's family too was a beneficiary of the flourishing railway business in Kanchrapara.
Born on 17 April, 1954, to Jugal Nath and Rekha Roy, he did his schooling from Kanchrapara Harnett School, named after a top British railway officer.
His father ran a business of scrap railway parts in the town and Mukul too looked after the family business. While growing up, he took a keen interest in politics and soon earned a name for himself as a promising student leader who had strong control over the Belur scrap depot and the Kanchrapara Railway Workshop.
It was during the 1980s that Roy earned a name for himself in Kanchrapara as an active member of Congress' Chhatra Parishad. Soon, the news of his capabilities reached Kolkata which drew him closer to Somen Mitra, who also happened to be the president of the West Bengal Congress.
Having found a mentor in Mitra, Mukul decided to leave Kanchrapara and come to Kolkata to pursue his political career. Back then, Mitra introduced him to Mamata Banerjee. At Mitra's insistence, he began to assist her in different capacities and Banerjee was impressed with his zeal and dedication.
A rising star
His first acid test came during the 1991 elections when she appointed him as one of her political agents who also looked after her campaign. Roy swung into action and worked tirelessly to make her campaign a success.
Mamata defeated CPM veteran Biplab Dasgupta. Ever since then, the onus has been on Mukul Roy to take care of her campaign and looking at Mamata's record, he does seem effective.
Her victory became a turning point for not only Mamata, but also Mukul. From there on, Mukul would become a constant fixture in Mamata's entourage. Even when she came to Delhi to attend Parliament sessions, Mukul would follow.
Mamata formed the AITC in 1997, he too followed her and quit Congress. For his unrelenting spirit, steadfast loyalty and organisational skills, she named him the general secretary of the party. Thereafter, he was 'Mr Dependable', trouble shooter, fund raiser and engine room of the party who kept a low profile. She nominated him to the Rajya Sabha in 2006, but it was not until the protest against Nandigram and Singur that Mukul Roy shot into prominence in Bengal.
He played a crucial role in mobilising support during the Singur and Nandigram agitation in 2007 which further strengthened his bond with Mamata. He held closed-door meetings with various groups opposed to the CPM and yet remained low profile.
While she camped in Kolkata holding protests and even her 26-day fast, it was Roy who, along with others, travelled across the state reviving the organisation and getting new members into the AITC fold. His efforts paid off and AITC witnessed a massive spike in its members during this period.
In 2009, she rewarded him with a ministerial berth in the UPA Cabinet as the minister of state in the shipping ministry. After Banerjee won the state elections, ending 32-year CPM rule, he was made the Union railways minister in 2011.
His stint as the railways minister was full of controversies. Reports claimed how files that needed his approval were sent in the Rajdhani Express from Delhi to Kolkata and often returned late. Officers were asked to fly to Kolkata and get the papers signed. Late Basudeb Acharia, CPM MP and former chairman of the Parliamentary Standing Committee on Railways even claimed, "A recent RTI revealed that in one year more than Rs 11 crore was spent to get the signatures of the railway minister based in Kolkata."
However, Roy remained defiant till Banerjee finally quit from the UPA government and withdrew support. Soon, he was back where he belonged and began focusing on organisational duties and fund raising.
A fund collector
Fund raising is an art that few can master. Banerjee is widely considered to be financially naive, and the onus of getting businessmen on board fell on Mukul Roy. In financial matters, the party general secretary has been drawn into controversies in the past that made him the perfect man for the job.
He has been blamed for allegedly extorting money from the residents of Kolkata Port and adjoining areas in the past. Several of his colleagues have levelled this charge against him and claimed that it was for this very reason that he was chosen for the coveted post. Plus, his name was repeatedly dragged by AITC MP Kunal Ghosh for his alleged involvement in the multi-crore Saradha chit fund scam.
However, others believe that getting tainted moneybags to the party fold is not the way it should be done. Most of them raised objections to how the whole chit fund scam was allowed to flourish in a poor state like Bengal. They believe that such incidents were hurting the clean image of Mamata Banerjee and that the buck should stop somewhere. Party leaders allege that Roy has also been blamed for changing the face of the party and providing political legitimacy to the likes of Sudipta Sen, KD Singh and several others.
In Kolkata, it is widely claimed that Roy has allegedly made a fortune ever since Banerjee came to power and has been siphoning off party funds for personal interests. His son, Subhrangshu Roy, an AITC Member of Legislative Assembly from Bijpur in North 24-Parganas district, has also had several run-ins with the law.
It is alleged that Subhrangshu does most of the financial dealings on his father's behalf. In 2011, he was arrested for assaulting Election Commission officers. Subhrangshu had then absconded and was arrested after being spotted sharing the dais with the Chief Minister at a public meeting.
Mamata Banerjee had then said "let the law take its own course" and eventually he was granted bail. His father is said to have pulled some strings to help his son.
Within the AITC, it is a well known fact that if Banerjee is the queen, then Roy was her vizir. It is Mukul who leads her pack of 'yes men' and remained an undisputed number 2 in the party till differences between him and Mamata cropped up.
From Anna Hazare to Naveen Patnaik to Badals, it is Roy who had been tasked to woo these political forces to join hands with the AITC. So, when a big businessman or a CPM/Congress rebel joined AITC, it was fair to assume that Roy must have played a role. He is the man who made things happen for Banerjee.
All eyes are now on the master strategist.