CM Mehbooba can learn from 'Kashmir's Cleopatra' Queen Didda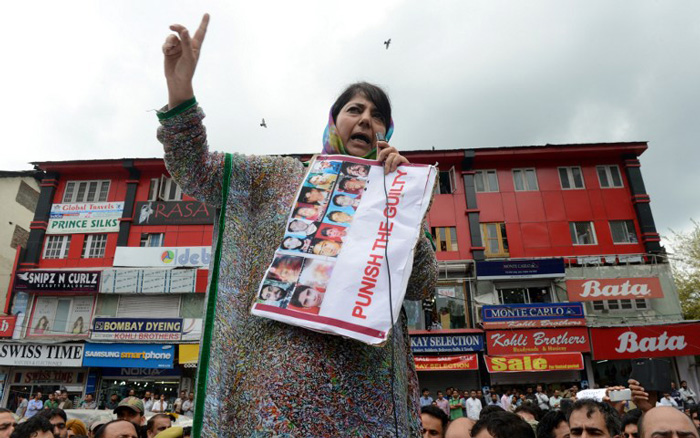 The queen
Queen Didda, the first woman ruler of Kashmir, reigned for 45 years in the first millennium AD
Known as Kashmir\'s Cleopatra, Didda used many tricks to keep political intrigue at bay, and left behind a prosperous Kashmir
The inspiration
Historian Fida Hasnain says Mehbooba needs to imbibe Didda\'s statesmanlike instinct and political maturity
Hasnain adds: \"She had to brave many a challenge and invasions to last that long. She was a tough woman\"
More in the story
The similarities between Queen Didda and CM-to-be Mehbooba
The biggest challenges facing Mehbooba
'Ded' is a word frequently used in everyday Kashmiri conversation. It literally means a sagacious, godmotherly old woman. And the word derives this meaning from the person it evokes in collective memory: Queen Didda, Kashmir's first woman ruler from the first millennium AD.
As Mehbooba Mufti prepares to take over as Jammu and Kashmir Chief Minister on 4 April, the story of Didda is finding some renewed resonance in the state.
Also read - PDP declares Mehbooba Mufti as J&K CM designate. But it will be a crown of thorns
People are talking about Didda, Kashmir's own Cleopatra, who ruled for 45 years: first as a regent to her stepson and two step grandsons, and then as an independent ruler. Her rule, full of byzantine intrigue and murders, betrayals and illicit relationships, may not hold an example for Mehbooba to follow.
But Didda's guile, knack for survival and political astuteness could come in handy for the new CM in her navigation of the Kashmir's treacherous political landscape, relations with New Delhi and the BJP, and intra-party challenges.
Historian Fida Hasnain says: "Didda's has been one of the longest reigns in Kashmir. But she never had it smooth. She had to brave many a challenge and the invasions to last this long. She was a tough woman."
The story of Kashmir's Cleopatra
Like Mehbooba, Didda had inherited a privileged background. According to Rajatarangini, the oldest historical account of Kashmir written by Kalhana, she was the daughter of Simharaja, ruler of Lohara (now in J&K's Poonch district) and the grand-daughter of Bhima Shahi, a Hindu ruler of Kabul.

In 950 AD, she was married to king Ksemagupta, the ruler of Kashmir. So powerful was her influence over the king that he prefixed her name to his and rechristened himself as Di Ksemagupta. He issued coins in the same name.

After Ksemagupta's sudden death in 958 following a mysterious fever contracted during a jackal hunt, Didda was expected to perform Sati, but managed to wriggle out of the obligation. She is said to have bribed the courtiers, who objected to it in view of her young age, while letting the other queens burn themselves on the pyre.

Queen Didda was Kashmir's first woman ruler in the first millennium AD, who ruled for 45 years

Later, Didda managed to get herself anointed as Regent to her minor stepson Abhimanyu who died in 972. Two grandsons, Nandigupta and Tribhuvanagupta died, within the next eight years, both allegedly killed at her behest.

Didda assumed the role of a sovereign in 981, and went on to rule until her death in 1003. She chose her nephew Samgramaraja as her successor, and the latter went on to defeat Mahmud of Ghazni in 1015.

"From her noble stock, Didda appears to have inherited also much of the political capacity and energy which enabled her to maintain herself as virtual ruler of Kashmir for close on half a century," writes MA Stein in his translation of Rajatarangini. "Her power made itself felt already during the lifetime of Ksemagupta, whose mind she is said to have wholly engrossed".

Didda's more than 50 years at the helm, both as a ruler and the power behind the throne, gave her a larger-than-life persona. She faced recurrent political tumult in her reign, but upon her death, left behind a stable and a prosperous Kashmir. She was resourceful and wily and would utilise an array of political, diplomatic and military strategies to preempt, fend off and overcome her challenges.

One such challenge was posed by her Commander in Chief, Yasodhara, who rose in revolt when the suspicious Didda tried to banish him. Yasodhara's army besieged her palace in Srinagar.

Didda, with the help of her faithful minister, Naravahana skilfully negotiated her way out the siege, buying off some of Yasodhara's supporters. And when the revolt failed, she ruthlessly executed the rest.

Didda often faced political tumult in her reign, but left behind a stable and a prosperous Kashmir

Though later she fell out with Naravahana too, Didda's grip on power was absolute. She took on a low-born herdsman Tunga as her paramour, and made him Prime Minister. With his support, she disposed of all her enemies.

Rumours were also rife of many a man having access to her bedroom. But this was not what, in the end, defined her rule.
How Didda can guide Mehbooba
"Didda had defects of character. But the statesman-like instinct and political maturity that we attribute to her is proved by the fact that she could hold on to her throne till the last and enable an undisputed succession," says Hasnain. "Mehbooba will have to imbibe these qualities to stay the course in today's Kashmir."
Towards the end of her reign, the aging queen ruled over a vast swathe of land on both sides of the Pir Panjal. She built temples, very few of which now survive, albeit in a decrepit condition. But her overriding achievement was that after years of uncertainty and turmoil, Kashmir was peaceful again.
"Our earlier queens have ruled us better than some kings, and let us be optimistic and hopeful that Mehbooba will prove her mettle too," writes Nissar Naseem, a broadcaster, in a local daily. "We expect good governance from Mehbooba and, may be, like Rani Didda, she may prove even better."
Though the immediate popularity of Mehbooba's rule depends on the degree of redeeming difference she brings to governance, her political challenges at the moment will be largely of a personal nature.
Mehbooba's biggest challenge is the same as every other leader: walking the Delhi-Kashmir tightrope
She will need to establish her writ within her own party, retain confidence with her constituency, which is still skeptical of the PDP's alliance with the BJP, and rebuild trust with the Centre, which now even more suspicious of her temperamental brand of politics.
In short, the biggest challenge for Mehbooba would be one that every Kashmiri leader since 1947 has faced and often struggled to overcome: to walk the tightrope between New Delhi and Kashmir. Mehbooba will have to ensure that New Delhi continues to trust her politics, and the people in the Valley do not suspect her ideological bonafides.
Will Didda's rule be a guide? It should be. After all, she preempted military and political challenges, united feuding kingdoms and then established the longest rule in medieval Kashmir through a deft blend of political acumen, diplomacy and ruthlessness.
More in Catch - Mehbooba Mufti's dilemma: to be with BJP or to remain relevant in Kashmir
Meet Mehbooba Mufti, the likely new Chief Minister of J&K. Cold sweat, BJP?