An ode to President Ram Nath Kovind's secularism: His much-publicised temple visits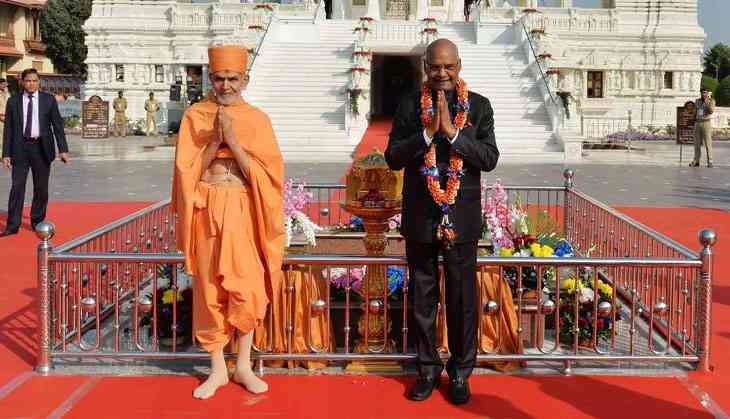 How long before even the President's office falls in line, Catch News had asked last year The occasion was the BJP's unannounced boycott of then President Pranab Mukherjee's iftar on 23 June, 2017.
The Prime Minister's Office had stopped hosting iftar parties after Narendra Modi became PM in 2014. President Mukherjee continued to host iftar parties but Modi never attended them. Till 2016, some Union ministers did oblige attend these parties at the Rashtrapati Bhavan, but even they abstained in 2017.
Mukherjee's last iftar party on Raisina Hill essentially saw a total boycott by not just his own government but the entire governing party. His successor Ram Nath Kovind has completed the process set in motion by Modi by discontinuing the Rashtrapati Bhavan's tradition of hosting iftar parties.
Kovind's press secretary Ashok Malik has said that after Kovind took office in July 2017, "he directed Rashtrapati Bhavan being a public building there would be no religious observances at taxpayer expense. This is in keeping with the principles of a secular state and applies to all festivities, irrespective of religion".
nion Minister Giriraj Singh was more honest on this front. He told reporters last year in no unclear terms that iftar parties were "drama" and asked those hosting them whether they will host similar gatherings for Hindus?
Even if we dismiss Singh's views as his own and not an explanation of Kovind's decision, the secularism argument that the latter has put forth is not convincing. After all, the organisation that he is a product of, the RSS, uses religion as means of capturing state power.
Even as his press secretary is vouching in the name of secularism, Kovind has, in his 11 months in office, made it a point to publicise every temple visit of his. Be it Somnath Temple in Gujarat, Amarkantak in Madhya Pradesh, Kamakhya Temple in Assam or Brahma Temple in Pushkar, he has visited many temples in his official capacity.
What is more significant is that every time he visits a temple, his office makes sure to release a photograph of his visit. These photographs, most commonly, show him offering prayers inside temple premises, in the presence of priests.
As an individual, Kovind is free to visit any place of worship in the country, but as President, releasing photographs makes it a public act. Do the "principles of a secular state", as mentioned by Malik, apply only to the Rashtrapati Bhavan and not the Rashtrapati himself?
While you ponder over that question, take a look at these pictures of Kovind visiting temples across the country, which the photo gallery on the President's website is full of.