Amit Shah's Rajya Sabha debut speech let down for those who believed Modi's SRCC speech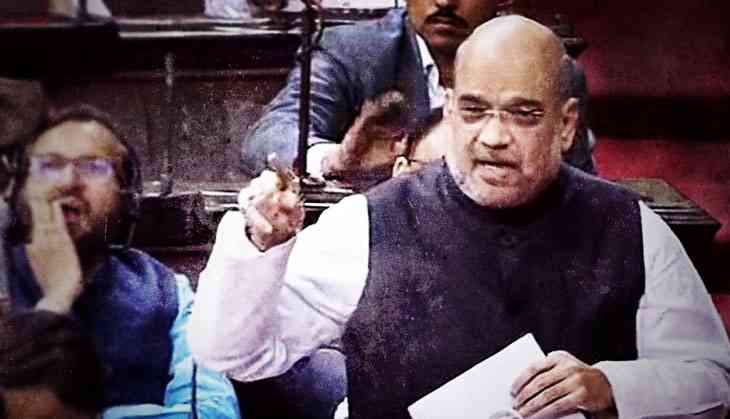 On 6 February, 2013, Narendra Modi mesmerised the youth of India with his hour-long speech delivered at one of India's most coveted colleges. Many observers believe it was from the platform of Sri Ram College of Commerce (SRCC), that Modi kickstarted his campaign for being the Prime Minister.
He projected himself as a man of new ideas who can transform the future of India's 430 million youth (15-43 year old). He said: "65% of (India's) population is below 35 years of age. Europe has grown old, China is old, but India is young. Unfortunately, we have not been able to harness such a big demographic opportunity."
Modi's speech worked like a magic wand for the 120.53 million first time voters in the 2014 election who played a crucial role in handing him the most dominant mandate in the history of electoral policits in India.
But, on 5 February, 2018, exactly five years after Modi's SRCC speech, his man Friday Amit Shah in his first address as the Rajya Sabha member glorified the job of selling 'Pakodas'. "Selling pakodas is not a shameful job, calling someone who does that a beggar is," Shah said.
Shah's speech was targeted at former finance minister P Chidambaram, who equated the job of selling Pakodas with that of begging.
Chidambaram had recently made fun of Prime Minister Modi for arguing in a TV interview that Mudra loans given by his government were helping people become self-employed.
While Shah is right in saying that selling Pakoda is better than begging, his proposition is ridiculous pitched against the dreams Modi sold to the youth of the nation.
In his SRCC speech, Modi talked about 31 new-age universities that his government had opened during his reign in Gujarat. Those 31 universities, according to Modi, equipped the youth for modern-day jobs. From teaching forensic science to management of internal and external security of the country, Modi talked about education in his state as a game changer for the youth of India.
While Shah called joblessness in India a legacy issue, government data tabled by finance ministry in Parliament says bad debt, went up by 47% from Rs 3,536 crore at the end of March 2015 to Rs 5,192 crore on 31 March, 2017.
Those who take student loans to study, do not aspire to become Pakoda sellers. They dream of taking up white-collar jobs with five-digit salary to be able to repay their loans.
These are the students who worked hard during their school years believing that higher education is a life changing force that can change the fortunes of even the sons and daughters of Pakoda sellers.
More than a 10 lakh people enter the job market every month in India but not more than 50,000 are absorbed in the Indian economy. All others, have to take up either menial jobs or they are forced to sit at home.
In his elections campaign, Modi had promised two crore jobs in five years. Surprisingly, the job creation promises by Modi were backed by some grand plans. He made youth believe that those studying in universities will be absorbed as architects in 100 smart cities, as engineers in India's manufacturing sector, and as service providers in India hospitality and financial sectors.
Unfortunately, non of those grand schemes have been successful in the first four years of Modi government. The farm sector, traditionally the biggest job provider to India's population, too, has grown by less than 2% so far. And this despite good rainfall in three out of four years of Modi rule.
While Shah, Modi and others in the current government like to blame the previous government for all the problems of the country, in doing so, they are insulting the great mandate given to them by Indian voters.
Four years may not be enough to fix all the problems of the past, but one fails to understand why those problems have increased manyfold under the new government?
Edited by Joyjeet Das