Akhilesh-Mulayam standoff continues. Is Amar Singh the sticking point?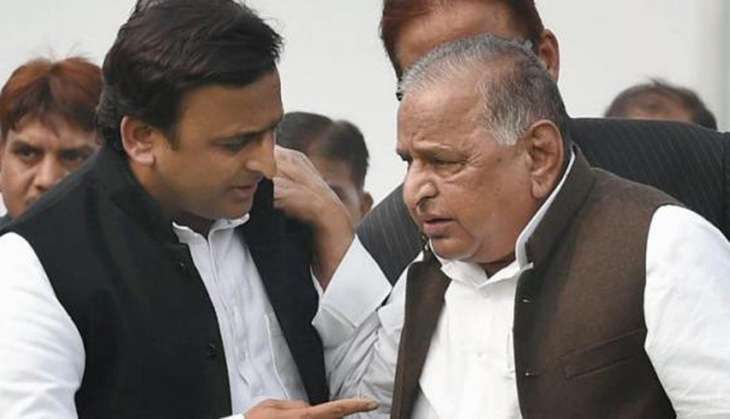 The stand-off between Mulayam Singh Yadav and Akhilesh Yadav camps continued on Friday even as there were speculations of a rapprochement after Shivpal Yadav went to the chief minister's official residence for a meeting that lasted barely five minutes.
Towards the evening, Shivpal was closeted with Mulayam, along with Narad Rai, CP Rai, Om Prakash Singh and some other loyalists.
Mulayam Singh Yadav, who was ousted as the party's national president on 1 January, was scheduled to address a press conference at 3 PM fuelling hopes that a compromise formula had been worked out. The presser was then rescheduled for 4 PM and subsequently cancelled, dashing all hopes.
It was said that the press conference was called off after the intervention of urban development minister Mohammad Azam Khan, who has been playing the peacemaker between father and son.
The breakdown of negotiations was blamed on the presence of party general secretary Amar Singh in Lucknow who had meetings with Mulayam and Shivpal. Amar Singh was said to be the main roadblock in any patch-up bid.
Amar Singh's defence
Speaking with the media, Amar Singh defended himself and said that he was not in Lucknow to put hurdles in the patch-up bid. He said that playing back door politics was not in his nature.
Describing Mulayam as a lonely figure in the ongoing controversy, Amar Singh reminded Akhilesh that Shivpal, whom he had removed from the post of party's state president, was like his foster father and said that it was difficult to fight one's own people.
He criticised the chief minister asking him how was it that all those who were tainted so long as they were with Shivpal had become lily white after signing their affidavit of support for the chief minister?
Amar Singh urged Akhilesh to put a stop to baseless statements against him and challenged him to prove even a single charge of wrongdoing.
During the course of the day, it was rumoured that Amar Singh had resigned from all posts. The rumours were scotched by Samajwadi Party's MP Naresh Agarwal who said that his resignation would be meaningless as he had already been expelled from the party. He has no locus standi in the party, he said.
Day's developments
All this while Ramgopal Yadav was in Delhi and was expected to meet the Election Commission to stake his claim over the party's "cycle" symbol with signed affidavits of legislators and members of Parliament.
Ramgopal said that 92% of the party was with Akhilesh. "Of the 229 MLAs, 212 have signed affidavits in support of the chief minister, while 56 of 68 members of legislative council and 15 of the 24 MPs are with Akhilesh Yadav who, therefore, is the rightful claimant to the party symbol," he said.
These affidavits are believed to have given the Akhilesh camp an edge over Mulayam and Shivpal.
Yet, despite these claims, Ramgopal did not meet the EC.
After the cancellation of Mulayam's press conference and Ramgopal desisting from approaching the EC, it was apparent that negotiations were on to avoid a formal split in the party even as the party's bank accounts in Delhi, Lucknow and Etawah had been put on hold. No party can operate the accounts until the EC's decision on the party symbol or a compromise is reached.
One compromise formula under consideration was to allow Akhilesh to hold the reins of the party for three months, or until the elections, after which another convention of the party could be organised to decide the future course.
For the first time since the family crisis broke, Mulayam was engaged in consultations with his two older brothers Abhayram and Rajpal, besides Shivpal at his residence. What the brothers discussed was not known.