AAP plays Santa Claus for Punjab farmers, Congress says it's stealing our ideas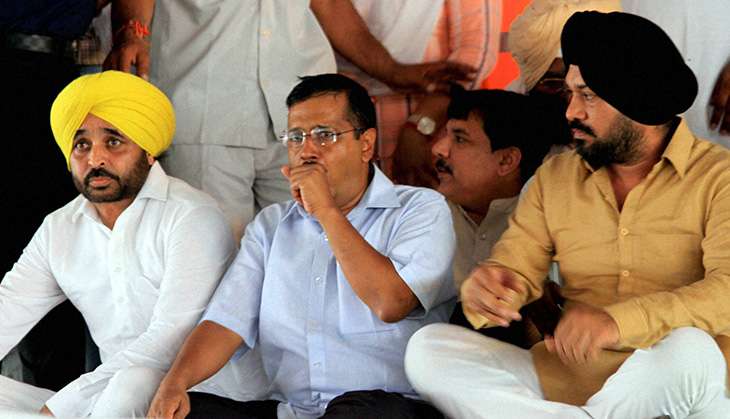 The Aam Aadmi Party (AAP) has come out with an ambitious farmers' manifesto to address its core support base in rural Punjab. It promises the debt-ridden farmers and farm labourers prosperity within one year of being voted into power.
The release of the manifesto, at a well-attended rally in Bagha Purana in Moga, was the culmination of AAP national convener and Delhi Chief Minister Arvind Kejriwal's four-day tour of the state.
However, the Congress is crying hoarse. It alleges that the AAP leadership has just copied what it has been been saying over the last several months.
The Shiromani Akali Dal (SAD), which has, till now, claimed to be the voice of the farmers, has come out attacking AAP for being oblivious to the issues concerning Punjab.
Observers, however, say that what matters is who, among the three key players ahead of the Assembly polls, will be honest in implementing the promises and addressing the issues of farmer suicides and farm distress.
Key promises in the manifesto
The AAP promises a re-enactment of the Sir Chhotu Ram Act of 1934 (Moneylenders' Debt), wherein under no circumstances will the sum of interest payable exceed the principal amount, and all debts where a farmer has paid a sum twice the amount of the principal shall be deemed to be wholly discharged. In addition to this, every property mortgaged by a debtor whose debt is deemed to be discharged shall stand released, and no indebted farmer shall be dispossessed of his land holdings and house. The interest rate payable on the debt shall be "Bank Base Rate Plus 1%" and all loans shall be covered under the Act. All private moneylenders shall be registered and borrowers shall be issued passbooks.
The second main promise is a loan waive-off plan, under which loans of poor farmers, farm labourers, Scheduled Castes and Backward Castes will be waived off. For farmers other than those belonging to these categories, interests on loans will be waived off. Promising to make Punjab farmers debt free by December 2018, AAP says no coercive recovery proceedings will be launched till then. A Bank Debt Settlement Committee will be formed to work out the modalities of the loan waiver, and will negotiate with banks to bring parity of farmers with corporate houses for settlement of loans.
The AAP manifesto further promises a compensation of Rs 20,000 per acre for loss due to drought, floods, pest attack, unseasonal rain, etc. Farm labourers shall be given Rs 10,000 for every month of loss of work.
The party has come out with the offer of Minimum Support Price (MSP) of "Cost plus 50%", along with full implementation of Swaminathan Commission Report on crop pricing by December 2020.
On the contentious Satluj-Yamuna Link (SYL) Canal issue, the party plans to re-register land acquired in the name of the original owners, besides setting up a water regulatory authority to protect and conserve the waters of Punjab.
Addressing another important concern of the farmers, AAP says its government would ensure lifting of farm produce within 24-hours after reaching the mandis, and making full payment within 72 hours.
Buoyed by the support it got in Delhi over the issues of power and public health, AAP promises 12 hours of free power for farmers, including no electricity bills on motors.
Another populist promise comes in the form of a 'shagun' of Rs 51,000 within a week of a farmer or farm labourer's daughter's wedding, besides a deposit of Rs 21,000 in a bank account in the name of a newborn of a farmer or farm labourer. This move has even got appreciation from state Congress president Captain Amarinder Singh, who has promised to include it in his party's manifesto.
The AAP leadership would set up "Pind Sehat Clinics", besides providing free treatment in government hospitals and cashless treatment up to Rs 5 lakh per year in private hospitals for every farmer, farm labourer and their families. All diagnostic tests, medicines and complete treatment shall be free at Pind Sehat Clinics and government hospitals. The party has promises collateral-free education loan of Rs 10 lakh for children.
In a bold statement, the party has promised to jail corrupt Akali ministers after high-level and time-bound probes. Those on radar are agriculture minister Tota Singh, food and civil supplies minister Adesh Pratap Singh Kairon, revenue minister Bikram Singh Majithia, rural development and panchayat minister Sikandar Singh Maluka and others, besides those in cahoots with them, who have allegedly amassed properties and diverted money from schemes and grants earmarked for farmers.
Other promises include the revival of the canal system, a tax holiday for the agriculture industry, modern cold chain infrastructure, state-of-the-art perishable cargo centres at international airports at Amritsar and Mohali, a revival of the sugarcane crop, boosting co-operative movement, and fast track courts to dispose of all pending land-related litigations of farmers within two years. AAP further promises a crackdown on spurious products.
On the contentious issue of farmer suicides, the party will give Rs 5 lakh and a government job to every eligible adult member of the families affected by farmer suicides in the past 10 years.
The farmers' manifesto was prepared by the Punjab Dialogue Committee, led by journalist-turned-politician Kanwar Sandhu.
Political put-downs
Amarinder has termed the document as 'plagiarism', calling it a poor carbon copy of what the Congress has already promised. At the same time, he has played up the issue of AAP being a party of outsiders, trying to dictate terms in Punjab.
He said this is the issue of 'Punjab, Punjabi and Punjabiyat', which will not be allowed to be compromised by handing over the reins of the state to outsiders, who don't even know the 'P' of Punjab.
"There are so many ifs and buts in the AAP manifesto, betraying a lack of confidence in the party to commit to anything," he said.
Reiterating that he will make Kejriwal 'run away' from Punjab, Amarinder said: "Punjab is for Punjabis and I will not let any non-Punjabi rule over Punjab, come what may."
The Akalis have also run down AAP's farmer manifesto, with Deputy Chief Minister Sukhbir Singh Badal, saying that Kejriwal doesn't know a thing about the issues affecting Punjab, and can't even differentiate between the Rabi and Kharif season crops while boasting about his concern for Punjab farmers. He said that since Kejriwal is totally ignorant on farming, how could he frame beneficial plans for farmers?
Badal said the AAP's flip-flop on the SYL issue and its affidavit filed in the Supreme Court regarding river waters was anti-Punjab, and contrary to the interests of farmers.
Playing up the schemes introduced for the farmers by the SAD-BJP government, Badal said: "The people of Punjab surely know who is their real benefactor, and who is playing dirty politics over farmers' issues."
Edited by Shreyas Sharma
More in Catch
Kejriwal makes 'holy city' promise for Amritsar if AAP is voted to power in Punjab
More trouble for AAP in Punjab as 86 office-bearers resign from party's primary membership
Hard times: AAP is heading for a split in Punjab and it won't be pretty