When Humans and Wildlife Connect: The incredible bond between a Man and a herd of grateful deer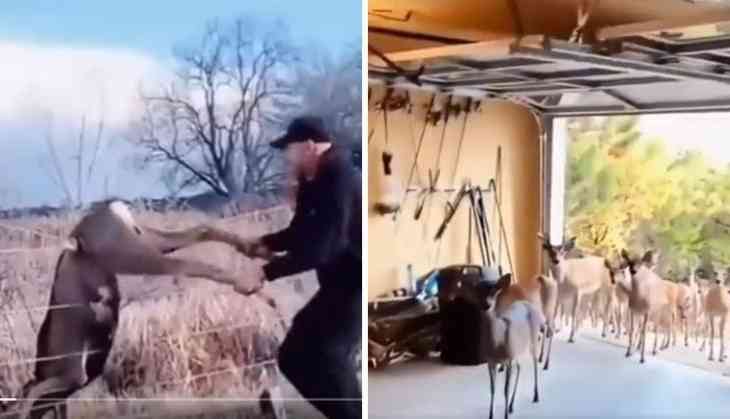 In a world where we often forget the power of emotions, we are reminded of the deep connections we share with the wild creatures that inhabit our planet.
A video recently surfaced on social media of a deer and his entire herd approaching a man, expressing their gratitude for saving one of their own.
The man had rescued a young deer that was trapped in a fence.
The video shows the herd approaching the house, led by the rescued deer.
Many people believe that wild animals do not have emotions, or that they do not feel the same emotions that we do. However, this video proves that they are capable of feeling deep emotions, such as gratitude.
It is a powerful reminder that we share this planet with creatures that are just as capable of feeling as we are.
The deer's expression of gratitude is a reminder that we are all connected, and that our actions have consequences that reach far beyond ourselves.
Wild animals feel obliged. They have strong emotions💕

Here the deer comes with his entire herd and expresses gratitude to the man who had saved him❤️
(WA fwd) pic.twitter.com/Y3L5tuOqJD

— Susanta Nanda (@susantananda3) March 26, 2023
In a world that can often feel bleak and hopeless, moments like this remind us of the beauty and magic that still exist. We are reminded that we are not alone in this world and that our actions can have a profound impact on the lives of those around us.
As we watch the deer and his herd express their gratitude, we are reminded that the world is full of miracles. We need only open our hearts and minds to see them.