Vasundhara Komkali and Kumar Gandharva: a tribute to sangeet's golden couple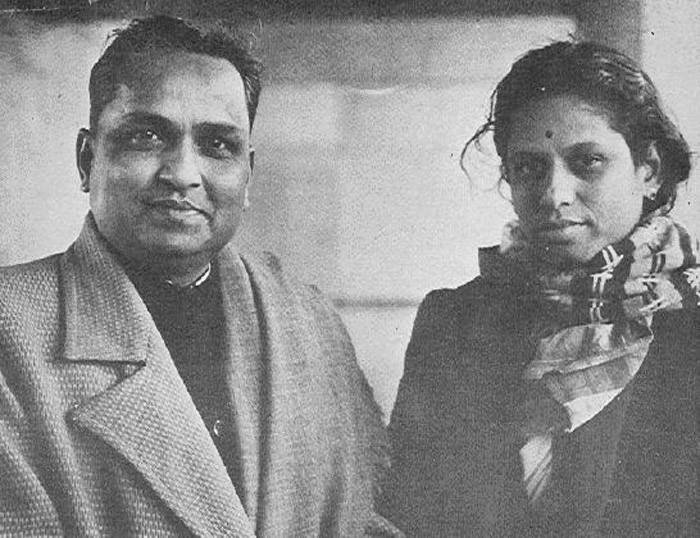 Successful marriages, we are told, are when couples can finish each other's sentences. How should one celebrate the marriage of two voices that began a spectacular musical journey, where one's voice filled in the void of every breath taken in their rendition together?
The story of Vasundhara Komkali and Pandit Kumar Gandharva is that awe-inspiring musical journey that celebrates togetherness. When 85-year-old Vasundhara tai breathed her last after a brief heart attack last Wednesday at Dewas, Madhya Pradesh, she had outlived her husband by 25 years.
And it was in those years, with the shadow of her husband gone, that the country recognized the fine musician she was and, more importantly, the spine she had provided to Kumar ji's celebrated musical outpouring.
Growing up
Born in Jamshedpur in 1931, Vasundhara had moved to Calcutta with her family when she was a toddler. When 19-year-old Kumar ji first met her at a music conference he was performing at, she was barely 12. She was absolutely enchanted by Kumar ji's music. Her family would often invite Kumar ji home and he would always oblige.
During one such meeting, Vasundhara was asked to sing. Kumar ji, himself a child prodigy, listened fondly, admiring her fine musical notations. When she was 13, she asked him to teach her music. Kumar ji thought for a moment and told her he would if she moved to Mumbai.
In 1943, Vasundhara's family moved to Mumbai, where she first trained under Kumarji's guru BR Deodhar.
Under Deodhar's tutelage she improved her understanding of classical music and learned from various artists of different Gharanas. Eventually Kumar ji began to teach her as well. He had immense faith in her music and would write letters of recommendations to sponsors and organizers, praising her understanding and delivery of musical notations. Vasundhara, on her part, was the perfect disciple, with a hunger to learn.
"She had imbibed his style of singing so completely that when you listen to recordings of their performances together, it's hard to tell when Kumar ji is singing and when Vasundhara tai is filling in" says their daughter, Kalapini Komkali, herself a classical singer based in Dewas.
When they eventually got married in the early 60s, Vasundhara's role in Kumarji's life didn't change, at least in her estimation. "I was a student first, wife later," she told the media several years ago.
"She was always his disciple first. She truly understood his unique place in the classical music milieu like nobody else did. She recognized his greatness very early on and respected him immensely. Becoming a wife could never change that," says Kalapini.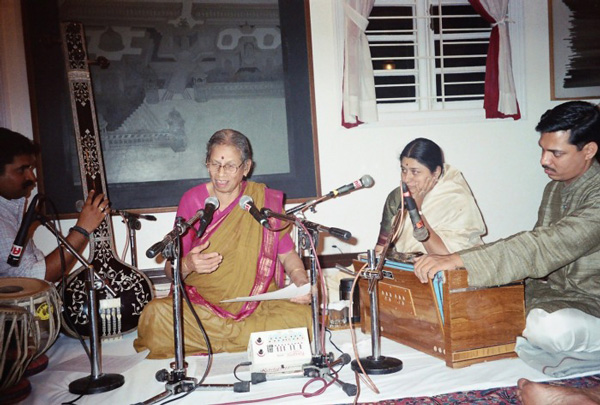 Winds of change
If Kumar Gandharva is idolized in a generation that never got to see him, it is because he broke the norm in Hindustani music. He mixed traditional raags freely with folk. His lyrics questioned religion and god. Where one held fort to deliver an intricate alaap in a single breath, Kumar ji paused between crescendos, giving his powerful short deliveries a momentary void one learned to fill using one's imagination.
In 1947, when Kumar ji was in his early twenties, he was struck with Tuberculosis. By the time it was diagnosed, he had lost a lung completely. Back then there was no cure for TB. The doctor had only one medical advice: to not sing. Not a single note.
The enormity of that diagnosis drove Kumar ji deeply inward. He moved to Dewas with his first wife, Bhanumati, and receded into a shell. It was then that he discovered the wandering nomads who sang Kabir. They came door to door, begging for alms.
Through their songs, Kabir spoke to him of the abstract - what your senses experience is nothing but maya, an illusion. The only thing worth holding onto is the self within.
In 1952, Streptmycin could be procured in India to treat TB. Kumar ji was treated and grew better. But by then, his voice had taken a severe hit. He couldn't hold his breath for long and his voice became more high pitched.
Importantly, he was a completely changed person. None of the old traditional sangeet made sense to him. He wanted to sing Kabir with the abandon and freedom of the wandering minstrels. He wanted to introduce the Kabir that transformed him to the sanitized space of Hindustani Sangeet.
When Kumar Ji's beloved first wife, Bhanumati, passed away in 1961, Kabir struck an even deeper chord within him, wringing dry Kumar ji's last associations of engaging with form.
A new leaf
"His willpower made him the musician he was. His health condition remained fragile and he needed a family to care for him. He also need vocal support he could depend upon in his public performances. In his disciple Vasundhara, he found both," says Ashok Vajpeyi, a good friend of Kumar ji and Chairman of Delhi's Lalit Kala Akademi.
Vasundhara filled the void silently and diligently. She slipped into his life with her gentle presence, taking care of his household and freeing him to pursue his music.
She became his echo. She sacrificed her own musical career to be with a master and serve him
"She learned to combine traditional and folk with innovative zeal. She learned to balance them precariously, imaginatively, artistically, just like him, so that when she gave vocal support, she was his second fiddle," says Vajpeyi, who watched them sing together.
She became his echo. She sacrificed her own musical career to be with a master and serve him. Her contribution to Kumar ji was underestimated by everyone and perhaps even by him. But she had no interest in fame or recognition.
"It was a deliberate decision on the part of Vasundhara that her life project would be to support a great master. In her eyes, that was enough service to music and enough achievement in her own life," says Vajpeyi.
Their masterpiece - Nirbhay Nirgun
The one song by the couple that celebrates the unison of their voices is Kabir's own Nirbhay Nirgun:
"We never rehearsed Nirbhay Nirgun before any performance or recording. He never signalled to me. When he paused, I automatically paused. When he launched into an alap, my voice automatically joined, knowing the exact way it would unfold. Nothing was pre-decided. Nothing practiced," she would tell her daughter when asked about their preparation for the song.
"In Sangeet it's called Upaj. It is pure spontaneity at its creative best. My father would never have to say, 'you start here' or 'I will start here'...The understanding was so deep and strong, there was never a need to verbally communicate when they sang together," says Kalapini
"She understood what Kumar ji was thinking. If someone is in sync with your thinking process there is no confusion," she adds.
Fearless, formless, that's the form I'll sing
I'll bind the root lotus,
Make the breath flow upward.
I'll make the mind and feelings still
The five elements one..
Kabir says, listen, truth-seekers,
I'll seize the sign of victory.
Vasundhara tai will be missed not because she was the woman behind a successful man, but because without her sacrifice to be the selfless, life long echo to her maverick husband's music, we might have never known the Kumar ji we celebrate today.