First person account: a nightmare ride Uber can't fix with puppies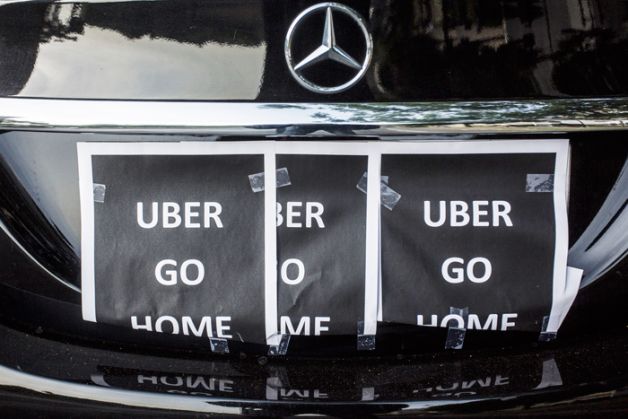 The incident
On a rainy day, an Uber cab driver screamed at me and raised his arm threateningly
He banged his fist against the wheel and started driving fast
When I told him to pull over so I could get out, he swerved dangerously and almost hit the kerb
Upon sending numerous emails to Uber, the response I got seemed auto-generated
The backdrop
Now operating in over 40 countries, Uber is gaining a reputation for its unsafe drivers
The company\'s model of minimal human involvement is being shown up
To counter these incidents, Uber is launching mega-buck campaigns to change its image
From delivering ice creams to puppies to cuddle with, Uber wants to project a cute, fuzzy image
Uber doesn\'t make changes because it would mean huge costs and abandoning its core principle
Like most tech-savvy city dwellers in India, I have been using Uber over the past few months. To be clear, it was much after the publicised Uber rape case of last December, when a 27-year old executive working in Gurgaon was raped by a 32-year-old driver named Shiv Kumar Yadav.
I started using it a little after the company restarted operations in January after the ban, when it started sending cheerful mass emails - "We are back to serve you". It said this to all Delhiites and, in an appalling goof up, sent the same to the rape victim also.
Also read - Compose yourself: here's what Uber says to an irate customer
In May, Uber began spamming us with messages of irresistible offers and free rides - Rs 600 worth of free rides if you referred somebody or got referred. When in June, I joined work in South Delhi, I had two options to commute - spending three hours crammed into a metro or casting aside my moral discomfort and start using a very affordable Uber.
I, like many others in my city, succumbed to Uber.
It isn't real until it hits you
On a rainy July morning, I hopped onto an Uber cab I had booked to go to work. The driver, a middle-aged, irascible-looking man named Lokendra, seemed unnecessarily annoyed from the moment I opened the door.

The first thing that caught the eye was the laminated notice hung behind the front seat. "No women employees should get into this cab between 8pm and 5am," it said before going on to make some other points of caution to women.

Strange, I thought to myself, but shrugged it off.

What followed was a brief discussion on the route to take and then silence. After 30 minutes of driving from East Delhi, past the DND Flyway, I asked him to make a turn to avoid the flyover chain which usually has more traffic.

I just remember his angry face, looking backwards and driving, shouting at me, getting louder and angrier

A wrong turn led us to take a three-kilometre detour.

When I pointed to him that he should have just checked the GPS for the route, Lokendra started shouting at me: "Gaadi aap chala rahi hain na? (Aren't you the one driving the car?)," he asked sarcastically.

I accepted that while I did direct him to a wrong turn, he still should've checked the route on his GPS since the address was punched in from the time we started.

I can't quite remember what he said after that - I just remember his angry face, looking backwards and driving, all the while shouting at me, "The fault is mine, huh? So all this fault is mine?"

When I told him to talk properly, he banged his fist on the steering wheel in anger, speeding forward senselessly.

I shouted at him to pull over. He looked at me, not taking his foot off the pedal, bared his teeth with his folded tongue in between and his hand flew up, threatening to hit me.

In that instant, it occurred to me how powerless I was. All he had to do was reach two inches to his left to push the central lock button.

I quickly opened the door of the moving car, telling him I wanted out. With a sharp turn of the wheel and screeching brakes, the car came to a halt, almost ramming into the sidewalk.




Faceless, emotionless, numberless
When I stepped out into the rain, my hands were still frantically looking for a number to reach Uber. While the app offers you no phone helpline, Google minced no words in telling me that there is no Customer Service phone number for Uber.

Where is the face and voice of Uber when your hands are shaking and you want to be heard? Who is Uber? Where is it? Why can't we ever talk to it?

The only safety recourse the app provides is an SOS button, which gets you to the nearest police station. But what if you don't want to involve the police just yet? At most, the app lets you can share your trip with family and friends so they can see where your car is at any given point - still of no immediate help.

The only available medium of complaint was email. Uber says it does this to give the distressed passenger some time "to take a breath and compose herself" before reaching out to Uber.

"Sometimes there is more clarity of thought because emotions can take precedence otherwise", said Karun Arya, Communications Lead for Uber South Asia and India in an interview to Catch News.

After sending, not one, but four emails within a period of 14 hours, this was Uber's response to the complaint:

"This definitely does not sound like the kind of experience I would want to have. I've noted your driver's account and I'm going to make sure this is addressed.

"Thanks again for sending along."

It felt like I was dealing with a machine.




It doesn't have to be a rape to take a complaint seriously
When Shiv Kumar Yadav was interrogated by the police, they found him to be a serial sexual offender. Uber claimed to have no clue about his involvement with sexual crimes.

Later, more facts emerged. Yadav had not undergone the mandatory police verification. Uber had not conducted any background check. Yadav did not have a driving licence issued by the Delhi Transport Authority. And instead of a mandatory GPS system, the only link with the driver was an application that he had downloaded on his phone.

"It's not easy to ensure everything is legitimate," said Arya, speaking about Uber's inability to do better security checks on their drivers, with red tape in India making police verification easy to purchase.

After the ban on Uber was lifted, the complaints against drivers didn't stop.

A woman commuter complained that she was molested in the car. The victim's brother's outcry went far and wide, and the thing that resonated most with those appalled at Uber's customer service was the line: "I am looking for immediate, non-mechanical, machine oriented revert."

The company waits for many passengers to complain about harassment before it flags the issue to a human being

That's what frustrates most complainants like me - its automated response to anything, no matter how serious the issue is. It feels like you are screaming at a wall. Nobody gives a f*** if you are verbally threatened, physically assaulted, molested or raped and thrown out of a car. "Thanks again for sending along", Uber sings to all its victims.

Uber believes the way it functions world over will work in India. A cashless transaction, coordinated by technology, with minimal human interface - only three Uber managers handle all cabs in any city, no matter the number of drivers.

You can become an Uber driver in no time. There's just a check to see if you have a driver's licence, a self-sought police verification and a bank account. Arya says the drivers go through elaborate training on safety, gender sensitisation and passenger-rider etiquette. How long does the training last? "About half a day," he said.

Instead of having to deal with complaints, the policy believes that the star rating which a customer provides will determine who to fire and who to keep.

For instance, if a driver continually gets rated with one star, it means there is a recurring problem. The company offers no immediate grievance redressal, instead, it waits for the same thing to happen to many passengers before it considers the matter important enough to be flagged to a real human being.

Perhaps there was a reason for that alarming notice in the car I rode. If riding with such a driver is a "risk for women passengers", why the hell has Uber not fired him yet? Are they waiting for more assaults?




The brand you are sold: Uber dads and puppy love
Back home, some research on Uber threw up some shocking facts. Globally, in its five years of existence in nearly 40 countries, this San Francisco-based company has faced resistance virtually everywhere.

'Who's driving you?' is a website that records these complaints against Uber and another cab service, Lyft, under the categories of deaths, assaults, sexual assaults, kidnappings, felons behind the wheel, driver DUIs and other offences.

An initial glance at the complaints felt spine chilling: from Uber drivers who followed passengers home and robbed them, to those who threw their customers out of their cabs onto the street, to one driver who used a hammer to strike his passenger on her head.

And yet, Uber muscles its way through each turmoil, each regulatory hitch and each ban - thanks to its deep pockets which allows it to launch formidable publicity campaigns and lobbying.

Uber, valued at $18 billion, is backed by cash-rich companies like Google Ventures and Goldman Sachs.

On Father's Day last month, Uber sent all its customer messages about 'Becoming an Uber dad' an ode to their drivers who, thanks to Uber, are putting their kids through schools. If you wrote about your Uber dad you'd win a free ride. In Bangalore and Mumbai, Uber went a notch higher, allowing its customers to book a helicopter ride for their dads. The chopper service, which costs Rs 4,999, included a pick and drop, brunch for two and a chopper ride for about half an hour.

Last year, Uber set out to deliver Haagen-Dazs ice creams to its customers, who could now order tubs sitting at home. Last week, Uber was delivering pups across Delhi for "15 minutes of cuddle time". It's all about creating a warm, fuzzy brand image that would almost blur the memory of the company's wrongdoings.

And so, with each grave incident of rape or molestation, Uber throws out ice creams, canine cuddles and free rides, and people lap it up. Until, of course, something like what I went through last week, happens to you.
Ban not a necessity
In December last year, to protest the government ban on Uber, hundreds of drivers took to Jantar Mantar to make the case that their livelihoods were at stake. "Don't ban," they said, "put in place better standards to operate."
Uber doesn't make changes because its operation model across the world has no human interface. Changing that would mean huge costs and abandoning its core principle of an easy-to-set up automated taxi service.
Last week, Uber got into a $50 million (Rs 317 crore) deal with the Telangana Government to set up its second largest support centre outside the US and hub for its all India operations in Hyderabad. This however, does not include a simple customer call centre operation.
What the company fails to realise is that no amount of cuddly publicity stunts or free rides or imposing investments can bribe people's loyalty once they have been subject to the grave malpractices of Uber, threatening their own life and safety. This, in itself, could be the beginning of its end.
This article has been updated at 1:15pm on 15 July