Olympics porn: global sporting spectacle is pure gold for Pornhub
Pop culture mirrors reality. Porn culture evidently does as well. After the past year's refugee crisis inspired a surge in viewership for refugee porn and the American presidential race has seen a surge in Trump and Hillary related porn searches, the Olympics also seems to have influenced global porn habits.
Pornhub Analytics, the world's premium (and only) source for porn-related data journalism, just put out its Olympics findings and it shows that the while the Olympics may have been grabbing eyeballs, it also inspired some marathon porn watching.
Also read - Donald Trump beats Hillary Clinton, but only on Pornhub
Here are some of their more interesting findings:
1) Rio porn viewership's high jump
The disaster-filled build up to the games ensured that this edition of the Olympics didn't draw as many foreign visitors as it could have. However, approximately 650,000 foreigners did throng Rio, sending porn viewership in Rio during the Olympics through the roof. This peaked 3 days into the Games with Rio's Pornhub viewership at 15% above average.
We're guessing the threat of contracting Zika through sex also drove Rio's occupants towards a more DIY approach during the Games as well.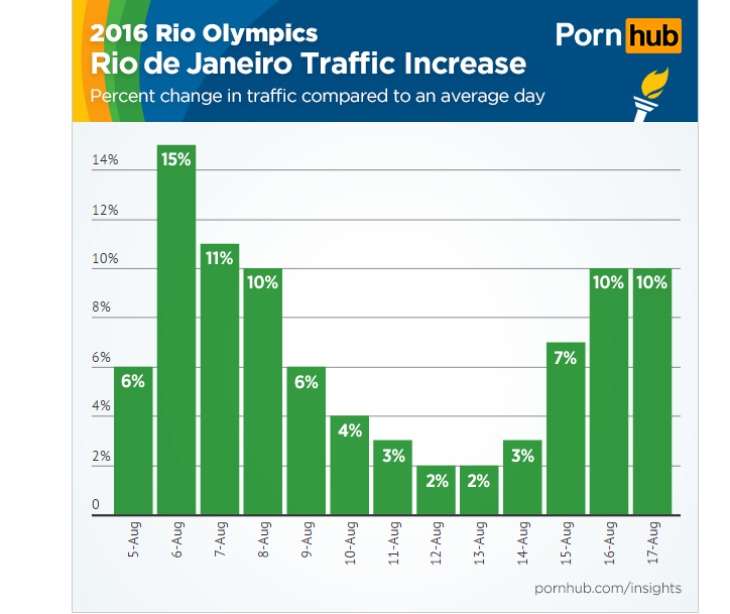 Photo: pornhub.com/insights
2) Searching for Rio
While Pornhub captured the imagination of Rio's population during the games, Rio captured the imagination of Pornhub's (much, much larger) population. Searches containing the word 'Rio' increased by an average of 243% and peaked at over 500%!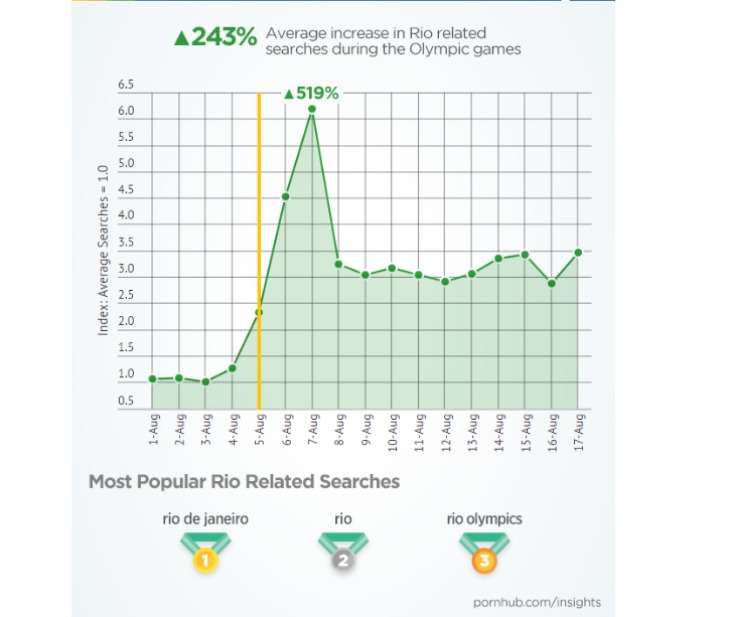 Photo: pornhub.com/insights
That 'Rio Olympics' was only the third most searched term containing 'Rio' is not very surprising because typing 3 letters rather than 11 is always preferable when your hands are occupied.
3) Olympic gold
While world records were broken at the Olympics, Pornhub also saw a record set in searches for Olympics related porn - a whopping 2729%! In case you were thinking any of this was for actual Olympic videos, it wasn't. The most popular 'Olympic' search was 'nude olympics'.

Also read - Overwatch: the cool new videogame is inspiring a ton of porn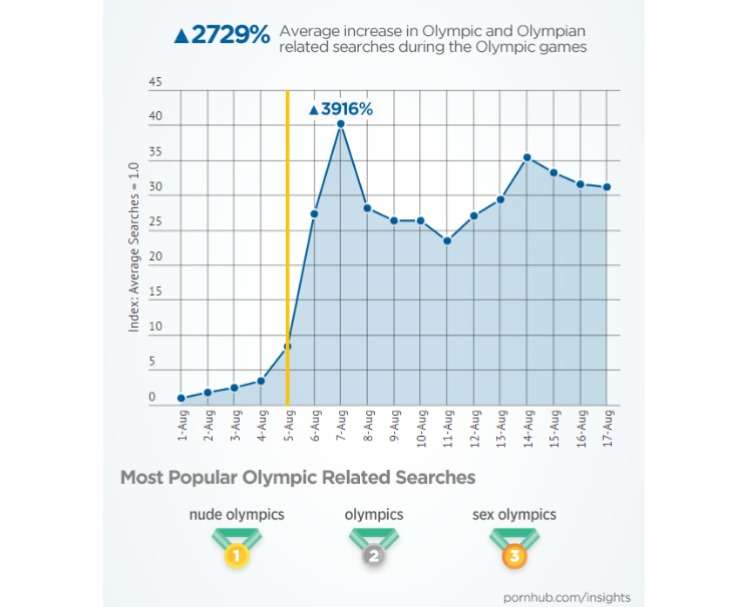 Photo: pornhub.com/insights
4) Everyone loves Volleyball
Every Olympics, we re-learn a few things - handball is like ballet meets MMA, synchronised swimming is bizarre and volleyball, apart from being a great sport, is super sexy. It's that last part that is important though, because volleyball was the most searched sport on Pornhub during the Olympics.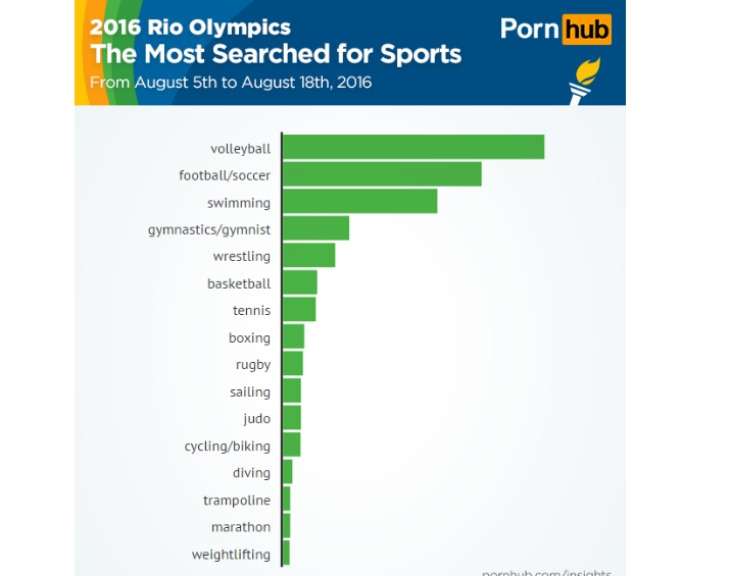 Photo: pornhub.com/insights
The average increase in searches for volleyball during the games was 431%, with the ultra-classy 'volleyball ass' the third most searched term. Little wonder then that volleyball searches on Pornhub peaked in the midst of the beach volleyball event.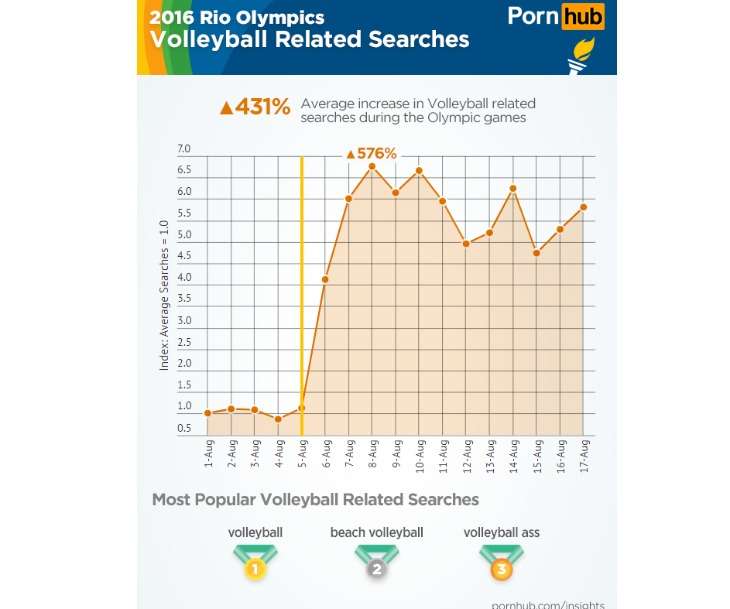 Photo: pornhub.com/insights
5) Smaller sports get lots of love too
While volleyball, football, gymnastics and swimming got the bulk of Pornhub's sports traffic, smaller sports like judo and even the marathon saw a surge in traffic. Hilariously, judo's second most searched term was 'nude judo', which gives us an idea for a more popular version of the sport - nudo! The third most searched was 'judo footjob' which just makes no sense.
Photo: pornhub.com/insights
But at least judo's top search on Pornhub was judo. When it came to the marathon, the top search was 'sex marathon', followed by 'marathon' and then 'masturbation marathon', which, ironically enough, is probably more of a sprint.
Also read -Drop everything and watch PornHub. If you want to save whales, that is