Koffee with trouble: Shahid Kapoor-Mira Rajput sell a flawed 'baby = love' logic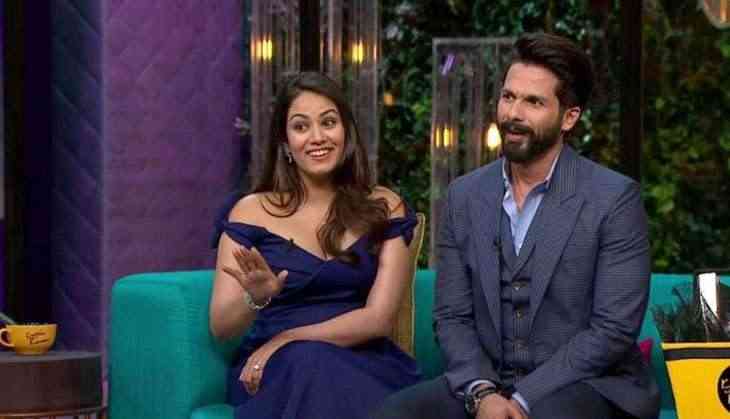 We have always known about the coercive form of power. How we are coerced to play gender roles, coerced to fall into a system made by these powers (like patriarchy) - the list is long and exhausting, powers are ever-emerging with excellent regenerative properties.
But, coercion is easier to deal with. It is easier to fight off things that are apparent and in our face. What is hard, and almost borderline terrifying, is to deal with forces that trickle into our little rebellions and enforce the very system they stemmed from.
Suddenly you wake up one day and realise that you are doing EXACTLY what that aunty has been telling you to do from the time you hit puberty. It could be - Beta shaadi kar lo, tumhare liye ladka humne dhoond liya hai (Get married child, we have found a guy for you) and you are hitched because parents looked disturbingly happy - or it could be better.
What we very often forget is that coercion is not the mainstay of power. Consent is. Coercion becomes the tool when consent fails.
So how exactly is consent generated for these rather diabolical things the power structures have been built on? (Like arranged marriages, strict gender roles - hello, patriarchy?)
How power operates
Through ideas, discourses, texts. Through culture. So, if they didn't tell you then, let us tell you now - power operates through culture, ideas fed through movies you watch, advertisements, those innumerable serials on TV.
You are being fed a certain way of life through these mediums - a normalcy that power structures have enforced - and you start wanting just that. Much like the happy family watching an old film in front of a new TV available exclusively on Amazon.
For those this weapon called culture cannot indoctrinate - there is always coercion (culture can also be a tool of resistance, but we won't talk about that now).
"Do you know the exact point of time when you realised you were in love with her (Mira)?" Karan Johar asked Shahid Kapoor on Koffee with Karan.
"I think it happened after she was pregnant. Right after she got pregnant we got very close," Shahid beamed.
"Pregnancy and having a baby makes 'you' and 'I' - 'we' - that's when 'you' and 'I' become 'us'. Especially in an arranged marriage it brings you both close in a special way, because you made something that's yours and yours together," added Mira.
"It was our first 'project' together," Shahid quipped.
Koffee with bile
It was 1 January 2017.
For many people who watched the show live there were 'awwws', 'how cutes', 'Hallelujah there is hope'. For a few, we quietly threw up in our mouth and turned to Twitter to see if there were others out there struggling with bile.
Sahil Rizwan asked in his Buzzfeed article - "Is it just me or does it seem like Shahid Kapoor is trying way too hard to glorify his marriage to a 20-year-old with zero ambitions in life?"
He picked the very tweets that caught our desperate eye -
Actor: "Sharing experiences brings people together and having a baby was our first real shared experience" Bro,bungee jumping? Dinner?Movie?

— Shilpa Rathnam (@shilparathnam) January 2, 2017
This episode is basically an advertisement for arranged marriage. The actor said "The graph of love in an arranged marriage is much better."

— Shilpa Rathnam (@shilparathnam) January 2, 2017
Just watched a film star on a talk show say he fell in love with his wife after she got pregnant. Good progressive start to 2017.

— Mihir Fadnavis (@mihirfadnavis) January 2, 2017
"Actually I am a huge supporter of this arranged marriage format..." began Shahid. "It wasn't actually Vivaah," he joked at some point as he gushed about a 34-year-old movie star meeting and falling in love with a 21-year-old Delhi girl thanks to family intervention.
Did you also know that she criticised Bollywood and item numbers and also asked Shahid why would he ever want to marry someone as young as her?
Shahid, if we must remind you, was single and looking for something 'long term', now that he was in his 30s. He had only turned up on Karan's show some four times prior, three times with his 'alleged' girlfriends (Kareena Kapoor, Priyanka Chopra and Sonakshi Sinha) - but hey! Now here he was with the love of his life, the mother of his child, in tow. Who said true love does not exist?!
Not 42, a baby is the answer
A 34-year-old who could not find love let his parents find him someone. Is that SO wrong? Maybe not. Sometimes people need help with 'love' - even good actors who know how to dance.
So what is getting our goat and making us want to rip that TV off the fittings and throw it at that turquoise couch?
Shahid and Mira were the poster couple for how awesome 'arranged marriages where you find love only after a woman conceives' really are.
This was a couple sitting pretty on that couch as the country watched and Karan cooed over the mushy answers given to the rightly-tailored questions (he has never asked questions like this in any other episode EVER) - it wasn't about selling the 'idea' of an arranged marriage (the problem here isn't with arranged marriages). It was about selling a woman's job - that she must conceive as early as possible in an arranged marriage so as her husband can fall in love with her.
Remember those relatives asking newly married couples when they could give others the 'good news' and how a child would make them get closer?
Under normal circumstances, most couples would call it coercion and reach for the condom or/and the pills in the quiet of their bedroom. But Mira and Shahid beamed about it and some viewers tweeted happily. Coercion became consent.
Loved this #kwk episode #KoffeeWithShahid #koffeewithMira Sooo Adorable n Honest Couple. Stay Blessed @shahidkapoor n #MiraRajput 🙏😇 #RjAlok pic.twitter.com/En9Xk3b232

— RJ ALOK (@OYERJALOK) January 2, 2017
#KoffeeWithShahid is the best episode of #KoffeeWithKaran season5 till date! ❤
Beaming with love and romance! 😚@shahidkapoor @MiraRajput

— MeGha (@MelodiousBirdie) January 2, 2017
KWK: Shahid-Mira give us major couple goals by talking about exes, 'Vivah' and unconditional love https://t.co/5OXAskEnPk #KoffeeWithShahid

— pinkvilla (@pinkvilla) January 1, 2017
Shahid and Mira giving me hope that there are still successful arranged marriages out there. #KoffeeWithShahid

— fauziaaa (@zjmtacker) January 2, 2017
Maybe they really DID fall in love after Mira became pregnant, but to say it on TV and to make it sound so lovely was normalising this very, very disturbing trope.
Here was patriarchy, an old, archaic hegemony that was being justified, glorified and gushed over by an actor (a role model for many) and the talk show host, producer and director - the crème de la crème of Bollywood.
It would be going out on a limb to call Shahid an 'organic intellectual' a-la Antonio Gramsci under normal circumstances (if you have the patience here's a writeup about organic intellectuals).
But on 1 January, in a fancy studio in Mumbai, Shahid was the mouthpiece of a particular power class (the patriarchs) that perpetuates through hegemony (class rule), aka an organic intellectual.
For that particular moment, Shahid was spouting ideologies that patriarchy has been enforcing on society for years - that a woman's job is to conceive, and now, she must also do it as soon as she can so as her stranger husband can love her.
And there was no more coercion, it was now consent. As the words left his mouth and Karan and Mira smiled, it became a coveted concept many, many young girls would now covet. After all, if that gets them a husband like Shahid - why the hell not?
Minus the constant reminders about the 13-year age gap (Mira crushes on men who are at least 10 years younger to Shahid, Mira thought that the proposal was for Shahid's younger brother), how Shahid's exes never bothered Mira (he is a khuli kitaab) and how the graph of an arranged marriage was 'excellent' - thank you guys for making a lot of people believe that the secret of true love in arranged marriages lies in early conception.
Thanks. If I have an arranged marriage, I am taking my husband bungee jumping. And you?