Kapil Mohan: The Old Monk who was so much more than just a liquor baron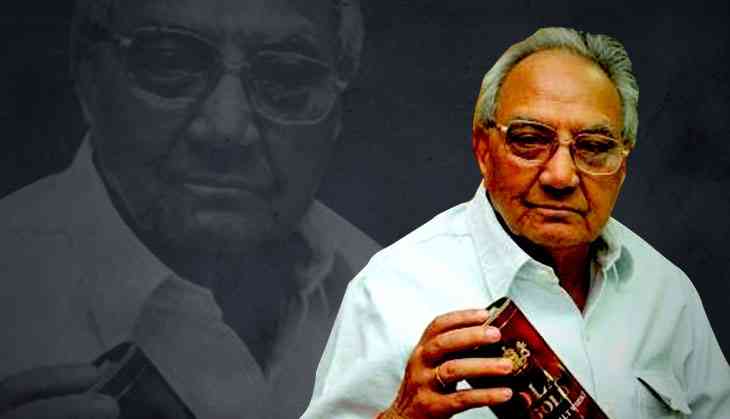 A teetotaler 'Old Monk' who ran a liquor manufacturing empire and would finally be remembered for his spirituality. That was Brigadier Kapil Mohan, the chairman and managing director emeritus of Mohan Meakin Limited, who passed away on Sunday. Over the last 44 years, Mohan managed the affairs of India's oldest liquor manufacturing company, which was started way back in 1855.

It was under his leadership that two of the most recognisable liquor brands – Old Monk Rum and Solan No 1 whiskey, rose to iconic heights in the market, not just in India but across the globe. These brands are indeed iconic in more ways than one. Old Monk was the brand that broke the class barrier when it was born in 1954 – before it, rum was previously, and to some extent still, considered to be an Army jawan's drink and not that of an Officer. By being the first rum served at five-star hotels, it shattered this class barrier.

Solan No 1, meanwhile, is India's first malt whiskey, and this reporter, over several interactions, has seen connoisseurs of alcohol singing paeans to it. Along with Golden Eagle Beers, it has been the flagship brand of the company right from its early avatar as Dyer Meakins Limited. "Place ten bottles of the best quality scotch before me and the eleventh a bottle of Solan No 1, and I would go for the latter," said a top-ranked army officer. This sentiment has been echoed by several others.
The businessman
While Solan No 1 and Old Monk did grow under his watch, Kapil's tenure did not see many new alcoholic products coming out except for premium versions of existing products. He tried introducing an 'Ayurvedic Beer', and also launched Meakins 10000 Beer.

However, he introduced some non-alcoholic products in the market that had the quality to give many multinational competitors a run for their money. Unfortunately, barely a few survived. They were far better in quality, but then he was from a generation who believed that a product is its own advertisement. The company never bothered about marketing its products, believing that, like Old Monk and Solan No 1, they would sell by word of mouth. However, these were changing times and this never happened.

Much before Coca Cola and Pepsi made a re-entry into the Indian market post-liberalisation, Mohan had introduced 'Pik-up' cola and 'Merri' carbonated drink in four flavours around 1980. These were times when the Indian cold drinks market was dominated by Indian-owned brands like 'Thums Up', 'Campa Cola', 'Limca' and 'Gold Spot'. Pik-up and Merri were at par, if not better than any of them, but did not survive.

Similarly there were products like vinegar, cornflakes, jams, juices and porridge that were the best in terms of quality, even meeting international standards.

As an employer, he fit into the die of the industry barons of the old school. "He was foul mouthed who used invectives liberally when he was pulling up his employees but at the same time he was a person good at heart. He never sacked anyone or terminated the services. He was considerate when genuine grievances were taken to him," said one of his former employees.
More than just a liquor baron
Kapil also had ambitions outside the FMCG space, but he never had a team that could put them into action and market them well. At one point, he had plans to venture into the aviation sector. He also dabbled with Bollywood, having produced a flick named Manu The Great in which he had acted along with Raj Kiran.

Despite all of this, he was too enigmatic to be defined by just his business interests. One can describe him best as a collection of paradoxes. He was the inheritor of India's biggest liquor empire, had served in the Territorial Army, was bestowed with the honorary rank of Brigadier, awarded the Vishisht Seva Medal, gave up smoking to become a complete teetotaler, and was deeply spiritual in his latter years.

Having grown up in Solan, the town where Solan Breweries was based and where Kapil spent a large part of his life, I had an interesting chance meeting with Kapil when I was just a 10-year-old. A friend and I were returning home to the residential colony on the factory premises of Solan Breweries, when we decided to take the shortcut through Kapil's sprawling bungalow premises at Summer Hall, even though we'd been warned not to do so by my parents.

We never knew that 'Kapil Sahib', as he was called, was in town and, as luck would have it, ran into him. He called us over, asked who we were, and about our fathers who were one of his hundreds of employees. Extremely nervous, we apologised for the trespass. But we were was in for a surprise when he gave us fried cashews and told his chauffeur to drop us very close to our homes in his personal car. A chauffeur driven ride in a Toyota Corolla in 1982 was something beyond our dreams.

His health had deteriorated over the last few years, and his focus had shifted totally towards his spiritual sojourn. In fact, by this point, the common people in the hills of Himachal Pradesh knew him more for his 'Durga Jagrans' that were immensely popular. In all these Kirtans and Jagrans, he was the lead singer of Bhajans.

He had on his rolls a complete orchestra of expert musicians and other artists, including Janak Raj Bagga, a sculptor and landscape artist. Bagga is the one who designed the Mohan Shakti Heritage Park, one of Kapil's final contributions to Solan town where he served as the president of the local municipality. Located on the banks of the Ashwini river in Solan district of Himachal Pradesh, the park continues to grow as a major tourist attraction, ensuring that Kapil Mohan's legacy continues to live on.