The simple superstar standing in solidarity with refugees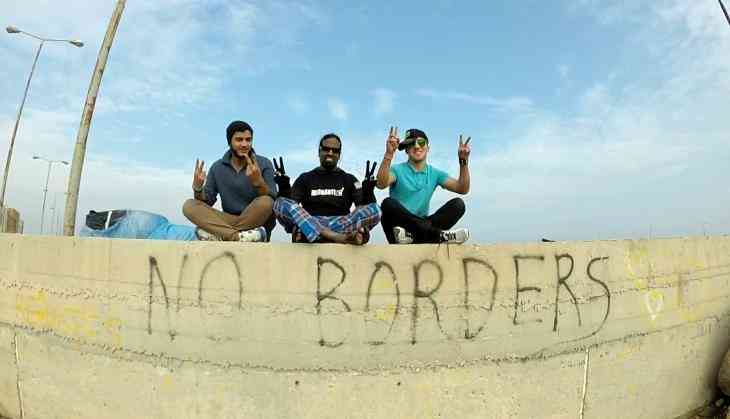 (Photo courtesy of Wilbur Sargunaraj)
While Indian cringe pop is now the sole fiefdom of Dhinchak Pooja, the genre's first bonafide star was Wilbur Sargunaraj. However, while Dhinchak Pooja seems more than content to revel in her musical mediocrity, Wilbur has used the platform to become a globetrotting social activist.

Having already fought against India's obsession with fair skin, and campaigned for the upliftment of the girl child, Wilbur has now turned his focus to a much more global issue – the refugee crisis.

His new EP, 'Migrants', has seen the Chennai-based artist travel to Syrian refugee camps in Greece, and collaborate on the title track with a young Syrian rapper who fled the violence in his home country.
Currently in Greenland for the the Biennial Nuuk Nordic Culture Festival where the album was launched, Catch spoke to Wilbur to find out more about Migrants, how the album came about, and what drew him to this particular cause. These are the edited excerpts:

Ranjan Crasta (RC): You're no stranger to taking up causes. Your new album 'Migrants' deals with the refugee crisis. What drew you to this particular cause?

Wilbur Sargunaraj (WS): Any time we see the sufferings of our fellow human beings we should be drawn to take action and do something about this. Whether its Syria, Yemen, Myanmar or Manus Island, we need to realize that people caught up in crisis situations are human beings who like us want to live in safety, peace and freedom.

I wanted to write a song that would challenge us to face our bias by breaking walls and opening our hearts to people who we perceive as being 'different'. They are fellow humans who are extremely vulnerable and need our help and protection desperately. Though the title track focuses on the refugee crisis, the EP has 6 other tracks that are unique in their own way, but deal with the theme of movement.

RC: You're talking about refugees, but the word you're using is migrant. Why?

WS: All throughout the production phase of the song and music video I have been using the word 'migrant' to denote people who are on the move, looking for a better place to live in peace and away from war.

When you look at the specific terminology, a migrant can mean someone who is leaving their country looking for better economic options, while a refugee is someone who is fleeing war and persecution in their own country. I am using the word migrant to cover both meanings.
How can we tighten immigration policies and shut the door to other people looking for refuge? We as fellow human beings have a huge moral responsibility to take care of our brothers and sisters of this world.

As my mentor Jean Vanier said - "I believe that walls between people and between groups can fall, but this will not be accomplished by force. It will come about through a change of heart - through transformation"

RC: Usually, when you take up a cause with your music and videos, there's always a hint of humour. This isn't the case in Migrants. Is that indicative of just how horrific you found the situation to be?

WS: Yes I think this song called for a more reflective approach. We captured actual footage of refugees being rescued from their makeshift boats, so this can be distressing for many to watch.

Over 3500 people died in 2016 as a result of trying to make the deadly Mediterranean crossing just to flee from war, so, yes, this is horrific. But what is even more disturbing and appalling is the sentiments that people around the world have towards refugees. Many people have never met a refugee, and claim that they are dangerous, terrorists, uneducated, a burden and the list goes on. We have started a breeding ground for the fear of the 'other' and that is truly horrific!

Speaking of humour, we did make a more light-hearted video at the refugee camp called "How to Wear a Life Jacket", which featured Meyar, a young man from Damascus. It's a serious topic, but the video weaves in and out of some comic moments.
RC: The first track from the album that is up on YouTube features a young Syrian rapper. What is Tamman's story?

Tamman: I'm 21 years old and I'm from the city of Salamyeh, Syria. After fleeing my country as a refugee, I was welcomed by France. I just started an information technology course at the University of Rouen and, of course, I am rapping whenever I can find the time!

I left with my family because of the war, which is sadly still ongoing. If only people knew the pain and suffering that we are going through just to live in peace.

I took the road from my city passing the city of Hama, then the city of Idleb, to reach the Turkish border, then to the city of Antalya in Turkey. I then took the 'classic way' (A dinghy boat) to the Greek island Kastellorizo, then to Athens. Seven months after we were relocated to France by a program of the UN.

RC: How did you encounter Tamman, and how did you connect with him?

WS: The power of the internet and social media, although I believe it was divine and meant to be! I was searching for an Arabic rapper for the song and, after exhausting all options from personal contacts, I resorted to Google!

I entered the exact words - "Syrian Refugee Rapper", and one of the first things I saw was a BBC article on Tamman. It was a video on how Tamman was using rap to document his journey to Europe from Syria as a refugee! I instantly knew Tamman needed to be part of this song!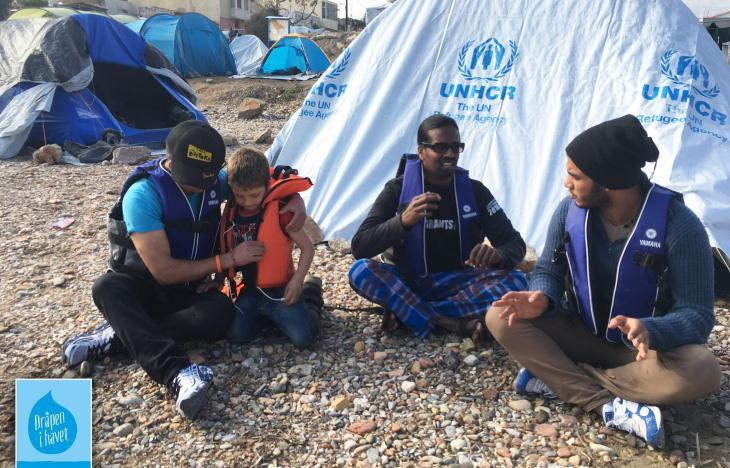 Wilbur with refugees at a refugee camp in Chios, Greece. (Photo courtesy Wilbur Sargunaraj)
RC: How did you manage to collaborate despite the fact that he was living as a refugee in presumably volatile conditions?

WS: I reached out to Tamman when he just arrived in France. He was so excited to do the part after he listened to the lyrics of the song, but had no way to record! I have done collaborations like this in remote areas getting the artist to use their mobile devices to capture audio, but Tamman didn't even have this at the time. He literally arrived with only the clothes on his back.

He was almost certain he could not do it because of this reason, but managed to make it work thanks to a journalist friend, who captured his vocals on a Tascam recorder! He even managed to film his part so we could use it in the music video.

RC: In the video, you're seen in an actual refugee camp. How did that come about?

WS: As a cultural intelligence facilitator, one of my goals is to encourage people to engage with the 'OTHER' (people who you perceive as different). There is so much hate filled rhetoric and so many people are using a 'them' and 'us' mentality towards refugees, thinking they are a threat.

I wanted to set an example and show people that refugees are human beings and these walls that we are erecting need to come down. I was put in touch with DRAPEN I HAVET, a non-profit based in Norway who work among refugees. They organized most of the meetings and film shoots, and it made me so happy that my new Syrian friends at the Souda refugee camp produced the entire video.

I should also mention that this project was made possible by a Wilbur fan wishing to remain anonymous. This friend from France was inspired by some of the previous projects that I had undertaken and unselfishly contributed towards the MIGRANTS album. This project would not have taken place without her radical generosity.

RC: Tell us about your experiences in the refugee camp. Were there any experiences there that stood out particularly?

WS: The music video for Migrants was filmed in Chios, Greece, just a week after a far right group attacked the refugees staying at the Souda refugee camp. Heading to Chios after hearing this news made me question if I really had the courage to stand in solidarity with refugees.

I saw firsthand how there is a wall between the refugees and the locals in Chios. Taking a break from our video shoot, some of my refugee friends and I decided to visit a local coffee shop close by the camp. I entered first and encountered a big burly Greek man. I asked him if we could have a cup of coffee with my Syrian Simple Superstar friends, but he took one look at them and in a gruff voice said 'NO'! He then turned his back and walked away!

We all looked at each other in disbelief. I'll blame it on our prop - the bright orange lifejacket I was holding, and maybe even the "Migrants are first class" T-shirt I was wearing!

Not wanting to fall into the trap of stereotyping the locals, we moved on to another shop where at first the servers were a little cautious but then warmed up to us as we talked, listened and entered into their world. We smiled, thanked them, took our drinks and walked back towards the camp still shaking our heads over what happened!

RC: You mention an NGO called Drapen I Havet. Tell us more about them, what they do, and how they helped you.

WS: As mentioned, Drapen I Havet (A drop in the Ocean) is a Norwegian non-profit NGO working in Greece among refugees. They helped me organize all logistics for the videos and set up meetings with refugees at the camps.

Their main tasks are to distribute food, clothes and non-food items. They are also involved in planning and organizing different activities for children and adults in the camps. Furthermore, they assist in teaching English as well as provide material and logistics for bilingual education.

RC: A portion of the proceeds from your album is going towards helping refugees. How will these proceeds be used?

WS: As winter is approaching, I am specifically requesting the funds to be used to get sleeping bags, warm clothes and food items for babies. I would also love to help get books for children who are in the camps and who are trying to attend school. During the launch concert in Bangalore on 25 November, fans will have an opportunity to be part of a live auction where we will raise funds for Drapen I Havet using a Wilbur package of Lungi Pants, Wilbur Logo Shirts and many other first class merchandise items.

RC: Here in India we have the Rohingya crisis. Do you think India is doing enough to help the situation?

WS: What India is doing is creating a fear-mongering, divisive atmosphere of 'them' and 'us'. History has show that the seeds of genocide are planted when we say "My world would be better if you were not in it." In this case, it's the Rohingyas from Rakhine.

I made a post recently about this when a well known Indian journalist said,"Don't dump the Rohyingas on us….Gently throw them out." Remember that during the 1994 genocide in Rwanda, people were ordered to kill others who were dehumanised as cockroaches. Sadly, people were actually brainwashed into believing their 'enemies' were insects who had no value and should be stamped out.

When you give no value to a person's life, it then becomes easy to dehumanise them and justify committing many atrocities. It becomes easy to build those walls to keep them out, or to call them cockroaches that need to be exterminated. This is what India and many other countries around the world are doing.

RC: The government has sought to portray refugees as potential terrorists. This is a common scare tactic worldwide. Given your personal interactions with Syrian refugees who face similar accusations, what is your take on this?

Once again this is creating the fear of the 'other'. Let me answer this question by sharing a response I gave to a person on Facebook who took issue to me saying that we should welcome refugees: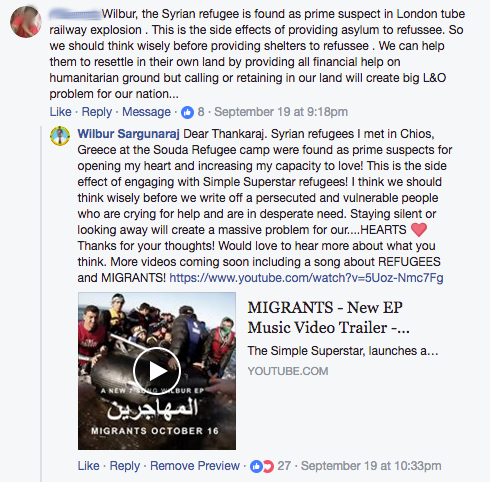 Wilbur Sargunaraj/Facebook
(The Indian premiere for the EP is November 25 Pablos Gastrobar in Whitfield, Banglore 9:30PM. Sponsored by my generous and loving Chithapa from Dubai. The album is available on all digital platforms.)