Go vegan is the new Valentine's Day theme, courtesy PETA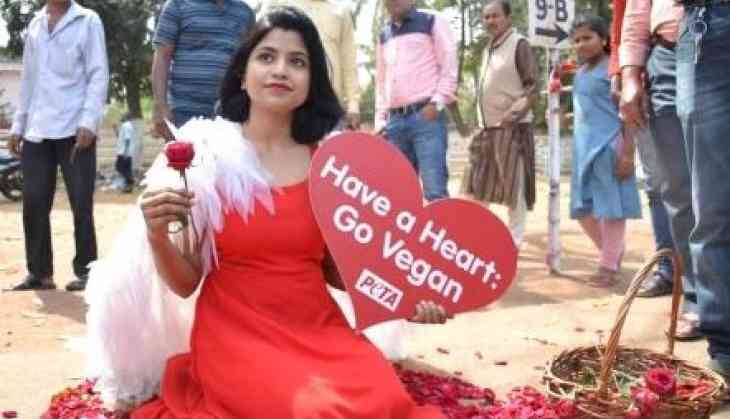 Gone are the days when exchanging flowers, candy, greeting cards were the only way of expressions of love, now youngsters are not only supporting different causes but also showing that love for humanity and living being is above all!
On Wednesday morning when the residents of Bhubaneswar, Odisha were performing rituals and prayer as it was Maha Shivratri in the eastern part of India, a few young PETA activists were seen celebrating Valentine's Day in a different avatar.
One of the PETA activists took to the streets wearing an attire of Valentine Angel. She even had a placard in her hands that had a message, 'Have a Heart: Go Vegan'.
While Odisha is one of the states where there is a constant fear of fringe groups like 'Bajrang Dal' vigil to the streets and parks and disturbs lovebirds, this year there is a shy of relief.
The Bajrang Dal (So-called moral police) members made an announcement yesterday that since this year Mahashivaratri is coinciding with Valentine's Day their focus would mostly be on rituals and ceremony.
Valentine of Love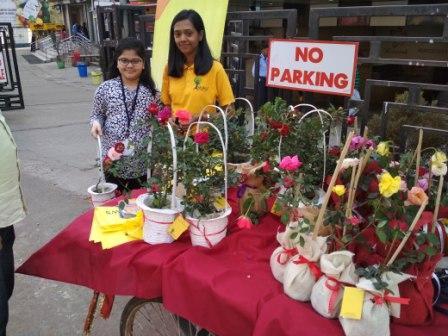 While the fringe group has pulled out their hands from disturbing the city-couple, youngsters have their own way of celebrating. A Group of 20 youngsters from the Ethical Treatment of Animals (PETA) were seen dressed up in red and white to pass on the message of love for animals. One of the girls was offering red roses to passersby in the city, holding a placard that read: "Have a Heart: Go Vegan".
This event is one of a kind being organised for the very first time in Odisha. When Catch Team spoke to one of its member, Ayushi Sharma, she said, "This is the perfect time when we youngsters can prove ourselves. Usually, people think that we prefer partying and clubbing on V-day and mostly follow western culture. However, at the core of our heart, we only have a love for all living being and prefer vegan over meat."
She also added that by being vegan one can not only save lives of animals but also, celebrate Valentines Day in a healthy manner.
Other initiatives
While the young members of PETA foundation spread the message of love, there were another 20 people from Bakul Foundation who gave a rose plant to the couples who passed by.
When Catch News spoke to Sujit Mahapatra of Bakul Foundation, he said, "Giving a rose that would live for a day is of no use. Rather giving a rose plant that can grow and give a lot of roses is better.
This is the first time that we are doing something like this. We are even organising a state level rose show today post lunch."
Love without wings
When we spoke to some of the city-based youngster on how they would be celebrating this special day with their partner to which they said with hesitation, "Although the fringe group might have pulled their hands off us and let us celebrate in whatever way we want yet, we aren't sure if we can celebrate it openly. We have plans but would prefer hush-hush mode."
Besides, hotels and restaurants in the city have lavish platters and events, the hotel owners and managers risk the interference of the fringe groups.