Viral Video: Firefighters captures footage of blazing 'Firenado' in United Kingdom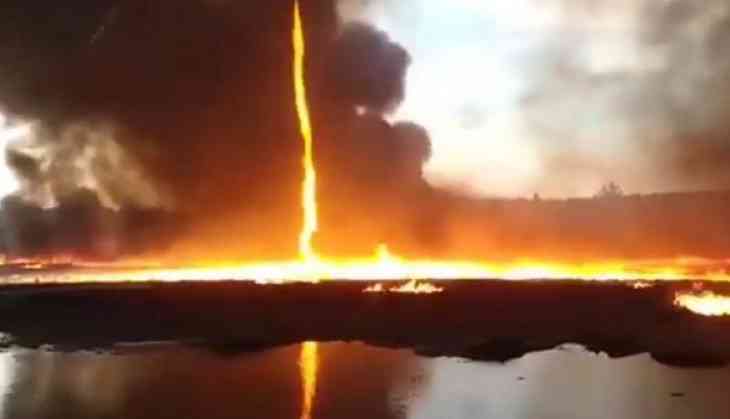 A firenado took place in Derbyshire, UK, firefighters captured a strange and rare phenomenon on film. The video was shared to Facebook on Tuesday, the Leicestershire Fire and Rescue Service showed their followers a rare fire tornado - appropriately dubbed a 'firenado'.

In the video, swirling flames was rising up to the sky from a plastics factory that caught fire.

According to the Evening Standard, the fire tornado reached an astounding height of 50-feet before it could be controlled. Nobody was injured in the blazing fire, which even spread to a small site building and a number of fork lift trucks at the property.

After being shared online, the video collected over 5,000 'shares' and 3.5 lakh views. In a caption accompanying the video, the fire department also explained how the fire tornado, also known as a fire whirl, is formed.
Also Read: Pakistani actress-singer Reshma shot dead, allegedly by husband
"It's created as cool air enters the top of the hot air causing a swirl similar to how a tornado is formed," they wrote.

"Thank you for your bravery. It was a sight to see from my house this morning. Very pleased no one was hurt," wrote one person in the comments section. "Looks like something from Hell...very, very scary!!!" said another.

According to the Evening Standard, the fire tornado formed when a fire began at Ravensbourn Plastics on Tuesday. The fire, which started at 1.20 am, could only be controlled by 3 pm.
Also Read: Viral: British teenager girl hugs dying boyfriend as his life support is turned off