Trump takes a stand on Afghanistan: Favours India, pulls up Pakistan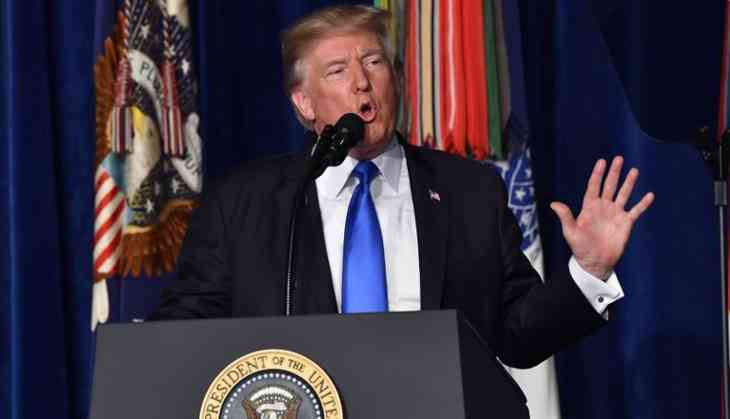 US President Donald Trump speaks during his address to the nation from Joint Base Myer- Henderson Hall in Arlington, Virginia, on 21 August 2017. Trump left the door open to a possible political agreement with the Taliban, in an address to the nation on America's strategy in the 16-year Afghan conflict. "Some day, after an effective military effort, perhaps it will be possible to have a political sentiment that includes elements of the Taliban in Afghanistan," he said. (Nicholas Kamm / AFP)
Indian foreign and security policy managers would be relieved and happy with President Trump's address this morning on the US' approaches towards Afghanistan and South Asia. Never before has an American leader taken positions on the Afghanistan situation and Pakistan's involvement in terrorism which have been so similar to India's thinking on these issues.
The question now is how effectively will the Americans execute Trump's policies on the ground in Afghanistan and, in this context, how far will they go in bringing Pakistan to heel? Certainly, the Pakistani army will try every trick to safeguard their terrorist assets for they are integral to its security doctrine.
Decoding strategy
Three significant points emerge in the Trump approach in relation to Afghanistan:
First, unlike President Obama, who even while increasing US troop levels in Afghanistan to 90,000, indicated a timeline for their withdrawal, Trump has left both matters open-ended. Clearly, Obama had done so to assure the American public that he would bring the "boys and girls" back home speedily and end the war which was becoming unpopular.
However, the Taliban and Pakistan read the withdrawal indication differently. For them, it meant that the Americans wanted to leave quickly and they could simply wait them out. Not only did they show no incentive to change, Pakistan promoted the idea of a grand political reconciliation between the Afghan government and the Taliban.
For this purpose quiet talks between the Americans and the Taliban took place. The Taliban were only interested in gaining international legitimacy and had no interest in political negotiations with Kabul.
Now Trump has signalled that his priority is to effectively weaken the Taliban as a terrorist force and that political reconciliation can wait. He has decided to leave decisions relating to military action to his generals and not indulge in any politics over them. This is sound strategy but does he have the political capital to sustain it? That question remains.
Second, Trump's definition of victory is nuanced. He described it as – "Attacking our enemies, obliterating the ISIS, crushing Al-Qaeda, preventing the Taliban from taking over Afghanistan and stopping mass terrorist attacks before they occur".
Clearly, he has left a political opening for "elements of the Taliban" but it is not a priority.
This is a significant shift but he has been careful not to call the Taliban 'terrorists'. This is a reflection of the long held US' view that the Taliban are a Pushtun force and have support among the ethnic group.
Third, Trump has abandoned the US' quest for nurturing democracy abroad. Indeed it was this element of its policy which is embedded in the larger Western view of transforming societies that made matters complicated in conflict situations.
US' security interests always took precedence, but there was always the cover of nation-building in American articulation. Trump has dropped it.
This may annoy the "modern, West-returned" Afghans but it is a more pragmatic approach. In fact, this decision may have a major impact on global thinking on post-conflict resolution objectives.
Making a statement
US' patience with the Pakistani double game in Afghanistan has been eroding for years. However, Pakistan is critical to Afghanistan and the Americans have needed it to prosecute the Afghan war. Hence, they have accepted Pakistani duplicity which has cost the lives of around 2,500 US defence personnel.
Trump has now directly called on Pakistan to change course. He has generally stated that the US will use diplomatic, military and economic means to combat terror. That is the key message to the Pakistani generals.
What precisely the US will do remains to be seen but it can be expected that Pakistan will not give up its way unless it has no alternative. It is unlikely that the US will put boots on the ground in a major way to clear the "safe havens". How far will other steps, including sanctions against individual Pakistani army officers, yield results?
Yes, Pakistan would be very hurt by the tone and tenor in which Trump has called them out and especially the contrast in the way he has referred to India. This is especially as Pakistan complains of India using Afghan territory to foment trouble in Balochistan and elsewhere in the country.
Will Pakistan react in anger and take it out on Kulbhushan Jadhav? It should not be so, but the generals have a track record of acting irrationally when under pressure.
The India angle
What is noteworthy is Trump's caution to Pakistan – that given its adversarial relations with India it is dangerous to indulge in terrorism. The US has given that message to Pakistan ever since 1998 and especially during the Kargil conflict, but this is the first time that an US President has spoken so directly about it.
Naturally, Trump's primary focus is on Pakistani actions in Afghanistan and India should not rely on the Americans, or anyone else, to pull its chestnuts out of the fire. However, this does give a diplomatic opening to put diplomatic pressure on Pakistan.
Perhaps only China will remain to give cover to Pakistan as it has been doing in the Masood Azhar case.
Trump's businessman's instincts came to the fore when he asked India, somewhat crudely, to help more in Afghanistan because it has a favourable balance of trade with America.
India should let it be known, even at the risk of annoying Trump, that it is an independent player in Afghanistan and it is helping Afghanistan as it considers proper. This can be done discreetly through diplomatic channels for overall, the new Trump policy is favourable to India.
Pakistan, because it wants India's role to be diminished in Afghanistan, would find the Trump's approach particularly troubling.
One last point – Trump has indirectly given an indication that he expects Afghanistan to look positively to US business interests in the country. The reference is to the country's vast mineral resources. All this is in the future, but how will it impact Afghan-China relations will be worth watching. This is especially since Trump did not refer to Russian and Chinese moves in Afghanistan over the past few months at all.
You can read Trump's full speech here.
Edited by Jhinuk Sen