Stalling of Kulbhushan Jadhav's death & the role of ICJ: What does this mean for Indo-Pak relations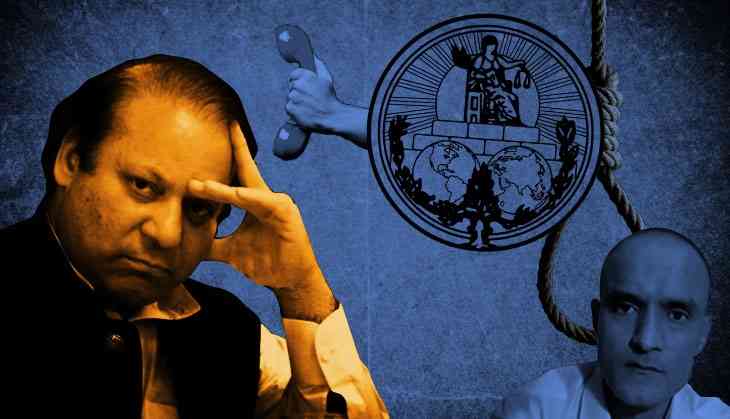 On India's application, the President of the International Court of Justice (ICJ) has virtually put a hold on any Pakistani move to carry out the execution of Kulbhushan Jadhav. He has done so by invoking the statute of the Court.
This can only come as a relief to all Indians including this writer. What can be more important than the life of an Indian?
Pakistan has little choice but to join issue with India at the Court and in the interim adhere to the advice given by its President.
Prime Minister Nawaz Sharif's foreign policy advisor Sartaj Aziz has said Pakistan is considering the ICJ President's communication and will respond in a day or two.
Some generals may urge that the ICJ President's advice be disregarded after Pakistan's own domestic judicial processes in the Jadhav case are over. However, both army chief General Bajwa and Nawaz Sharif are aware that such a move will impose enormous costs.
The Pakistan army does have a history of behaving irrationally at times but it is unlikely that it would do so in this case.
Changed game
There is no doubt that Prime Minister Narendra Modi's decision that India approaches the ICJ, essentially to ensure consular access, rescind the death sentence and for Pakistan to embrace judicial fairness to Kulbhushan Jadhav, has potentially very significant political and diplomatic dimensions for Indo-Pakistan relations.
It marks a departure from the old cautious policy of not approaching the Court itself and denying the Court any space in India-Pakistan matters if Pakistan did so.
Obviously, the government's legal luminaries and the redoubtable Harish Salve, who is appearing on India's behalf in this matter, seem confident that the present case involving the Vienna Convention on Consular Relations will not adversely impact India's general position that the ICJ has no jurisdiction in India-Pakistan matters.
The ICJ's jurisdiction question had last come up when Pakistan had taken India to Court on the Indian Air Force's downing of its naval Atlantique aircraft on 10 August 1999. The 'downing' had resulted in the death of 16 Pakistani defence personnel.
The aircraft was shot down in Indian airspace after it had disregarded warnings. Pakistan claimed that Indian aircraft had shot it in the Pakistani airspace and the action was illegal and unjustified and demanded the Court order India to pay compensation.
India asserted to the ICJ that it had no jurisdiction to adjudicate the matter.
In the summary of its judgment of 21 June 2000, the Court quoted the following three points which contained the substance of Indian objections:
"(i) That Pakistan's Application did not refer to any treaty or convention in force between India and Pakistan which confers jurisdiction upon the Court under Article 36(1).
(ii) That Pakistan's Application fails to take into consideration the reservations to the Declaration of India dated 15 September 1974 filed under Article 36(2) of its Statute. In particular, Pakistan, being a Commonwealth country, is not entitled to invoke the jurisdiction of the Court as sub-paragraph 2 of paragraph 1 of that Declaration excludes all disputes involving India from the jurisdiction of this Court in respect of any State which 'is or has been a Member of the Commonwealth of Nations'.
(iii) The Government of India also submits that sub-paragraph 7 of paragraph 1 of its Declaration of 15 September, 1974 bars Pakistan from invoking the jurisdiction of this Court against India concerning any dispute arising from the interpretation or application of a multilateral treaty, unless at the same time all the parties to such a treaty are also joined as parties to the case before the Court.
The reference to the UN Charter, which is a multilateral treaty, in the Application of Pakistan as a basis for its claim would clearly fall within the ambit of this reservation. India further asserts that it has not provided any consent or concluded any special agreement with Pakistan which waives this requirement."
Devil in the details
The writer has deliberately given an extensive account of Indian objections and in legal language to illustrate that India had sought through the Atlantique judgment not only to deny ICJ jurisdiction in that case but create a situation that would prevent Pakistan from taking India to Court in the future.
Thus India had virtually put up a strong wall with no access whatsoever to Pakistan to breach it.
This was done as Pakistan may have liked to take India to Court time and again as part of its policy to internationalise India-Pakistan issues especially that of J&K.
In a 14-2 judgment, the ICJ disregarded Pakistan's contention on jurisdiction and agreed with India that it did not. With this view, the case naturally was not heard on merits.
With regard to the Jadhav case an ICJ press release notes, "As the basis for the Court's jurisdiction, the Applicant invokes Article 36, paragraph 1, of the Statute of the Court, by virtue of the operation of Article I of the Optional Protocol to the Vienna Convention on Consular Relations concerning the Compulsory Settlement of Disputes of 24 April 1963."
In moving Court thus, Modi has obviously received legal advice that India's standing objections generally on its jurisdiction in India-Pakistan issues have not been eroded.
However, in any court of law, it is prudent to be prepared for the unforeseen and the unexpected.
What's next?
The ball is now in Pakistan's court. How will it react? Will it contest the ICJ jurisdiction so that its record, in this case, does not come up for international legal scrutiny?
One important aspect may be that the functioning of its military courts may become a subject of the ICJ comments. It may wish to avoid a probe in this matter.
As India's approach is based on Article 36 (1) of the Court's jurisdiction will it take a long-term view to explore subsequently how to use this Article in its own interest now that India has invoked it in an Indian-Pakistan matter? The Pakistani position will become known fairly soon.
The last word, however, is that the Manmohan Singh government had shed inhibitions to allow the dispute resolution mechanism of the Indus Waters Treaty to be put into motion.
In doing so it had gone against India's basic impulse that outsiders should have no role in any aspect on India's bilateral ties with Pakistan.
Earlier India had been prepared to stop IWT projects rather than risk going for international arbitration under the treaty. That move did not really harm India for it was limited applicability.
Now the stakes are higher but in Modi, India has a prime minister who is not diffident in looking at new approaches even if they have elements of risk.
Edited by Jhinuk Sen