Sneak peak into the lives of US Presidential nominees, beyond the obvious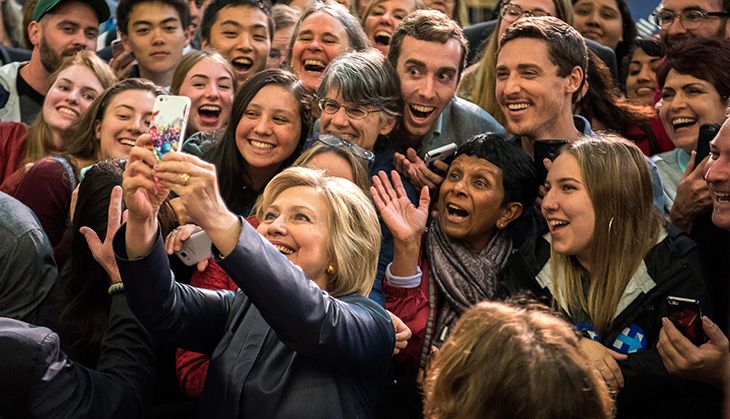 The nominees for both parties in US Presidential Elections 2016 are virtually decided. As of now, it looks like the remaining primary races will be turned into a national battle for both leading Republican nominee Donald Trump and his Democratic counterpart Hillary Clinton.
This year's winner in the general elections, which are to take place on 8 November, will go on to offcially become the 45th President of the United States of America. But if you're into trivia, you'd know that in reality, this winner would be the 44th president. This is because Grover Cleveland is counted twice. He was both the 22nd and 24th president as he was elected for two non-consecutive terms in 1884 and 1892. Cleveland had lost his re-election campaign in 1888. Cleveland's election history shows why the candidates in the fray are always so much more fascinating than the process in itself.
Which brings us back to the frontrunners this election season.
Hillary Clinton
Clinton is ahead of the Democratic pack with 2,240 delegates to Bernie Sanders' 1,473. However, before Clinton dreamt of being elected to the White House, she'd had her mind set on becoming a NASA astronaut. She had written a letter to NASA but got an unsatisfactory reply: "Thank you very much, but we're not taking girls," the administration said.
Some years later, she won a Grammy, much like current the POTUS, Barack Obama. She received the award for the Best Spoken Word or Non-Musical Album for the audio version of her hit 1996 book, It Takes a Village.
Donald Trump
Let's start with Trump. He's never consumed alcohol, smoked cigarettes or done any kind of drugs. This is because his brother Fred was an addict and ultimately died because of it. Although he doesn't drink, he did launch Trump Vodka, which fizzled out due to no buyers. Trump is the only candidate with his own monopoly-like board game, titled Trump, though it was also later discounted due to dismal sales. Trump also dislikes shaking hands.
The boisterous billionaire, who just can't keep his mouth shut, has many a quotable quotes. His most famous one comes from The Daily News back in 2004, "All of the women on The Apprentice flirted with me-consciously or unconsciously. That's to be expected." His one regret regarding women is that he never got to date Princess Diana.
'The Donald' used to own a mega-yacht that was called "The Trump Princess". It was enormous in size - 281 feet to be precise. He bought it at a low price of $29 million and sold it a couple of years later for a $11 million profit.
Bernie Sanders
Sanders is a fascinating politician. He may be behind Clinton in the race but he is not ready to give up just yet. Firstly, he's the first non-Christian to win a US primary. His brother is a politician in the United Kingdom - part of the Green Party. He also failed to win his first election for the student body presidency at his high school.
Sanders has a Ben & Jerry's ice cream flavour to his name. In 1987, he recorded a folk art album that was called We Shall Overcome. Also, Sanders is the longest serving independent member of the US House of Representatives.
On the Republican side, the race seems virtually over. With Ted Cruz dropping out (he may reconsider his decision) and John Kasich following him out the door, Donald Trump seems to be the only nominee in the race for the White House. Trump has 1,134 delegates to Cruz's 564 and Kasich's 154.
Ted Cruz
Before Cruz became a senator, he was a law professor at the University of Texas. He loves his beef enchiladas with a glass of Guinness, but hates avocados.
Well, whoever becomes the next president of the United States, we will have a first. Whether it is the first woman president in Hillary Clinton or the first Jewish president in Bernie Sanders. If Ted Cruz somehow magically revives his campaign and wins, he would be the first Hispanic president.
We could even have the first billionaire president in than man we love to hate, Donald Trump. The oldest president could be elected in Bernie Sanders at 75 or Donald Trump at 70. Trump would also be the first non-political president (first public office). Who's going to win the game? We just need to wait till 8 November and watch.