Pakistan: 16 passengers killed, 11 injured after bus catches fire near Pindi Bhattian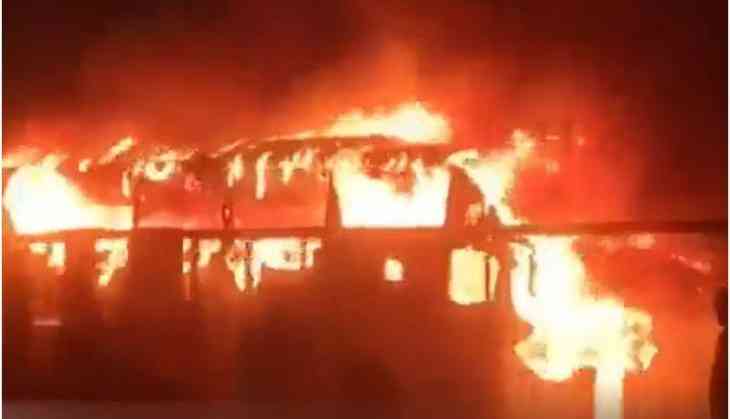 Islamabad: As many as 16 people were killed and 11 others were injured after a bus caught fire on Faisalabad Motorway near the Pindi Bhattian area of Pakistan's Punjab early Sunday, Pakistan-based Geo News reported citing police.
The bus carrying 35 to 40 passengers was en route from Karachi to Islamabad, Geo News reported citing rescue officials.
According to District Police Officer Doctor Fahad, the bus caught fire after it collided with a pickup van that was carrying diesel drums, Geo News reported.
Fahad said the majority of the injured passengers were in critical condition, according to Geo News. Drivers of both vehicles died, the report stated further, adding that people, who were nearby at the time of the accident, tried to pull the passengers out of the bus by breaking windows.
As Pakistan celebrated Independence Day on August 14, its Punjab province witnessed a wave of road accidents leaving 17 dead and 1,773 others injured in 1,659 traffic accidents, Dawn reported.
Lahore reported the highest number of road accidents. On August 14, Lahore's major government hospitals witnessed an extraordinary burden on the patients who suffered injuries in road accidents. According to the official data compiled by the Emergency Service Department (ESD), nine people died, and 1,338 others were injured in 1,234 road accidents reported all over the province on August 13.
The accident and emergency wards of the major government hospitals in Lahore witnessed an extraordinary burden of patients who suffered injuries in road accidents on August 14, as per Dawn. The road accidents during the celebrations also left several persons disabled for life as the ESD stated that 99 people suffered deep head injuries and 187 others multiple fractures. According to the official data, out of a total of 1,773 injured persons, 850 landed in hospitals with serious and critical wounds, while 891 others suffered minor injuries.
(ANI)