Obama makes a speech for 'moral awakening', but won't apologise in Hiroshima
United States' president Barack Obama visited Hiroshima, on 27 May, in a historic visit asking for a change in mindset about wars. This, he said, was "to prevent conflict through diplomacy and to strive to end conflicts after they've begun".
Obama laid wreath at the Hiroshima Peace Memorial Park and also mourned the suffering of innocent people in the wake of the atomic bombing on 6 August, 1945. The bombings killed 140,000 people.
Obama is the first sitting American president to visit the Japanese city. "The memory of the morning of Aug. 6, 1945, must never fade," Obama said.
His Friday visit in the city, accompanied by Mr Abe, has prompted another round of debate over the long controversy on the necessity of the bombings on Hiroshima and Nagasaki. This follows talks with world leaders at a G7 leaders' summit in the Japanese city of Shima.
Obama chose to not apologise for the bombings. Instead, he offered a reflection on the atrocities of war with the hope that this could spring a "moral awakening". US ambassador to Japan, Caroline Kennedy was also a part of the trip.
"Death fell from the sky and the world was changed," Obama said, after which he closed his eyes and briefly bowed his head before an arched monument in Hiroshima's Peace Memorial Park. The US President said that the bombing "demonstrated that mankind possessed the means to destroy itself". He also called for a "world without nuclear weapons".
"We came to mourn the dead," Obama said. "Their souls speak to us."
Before Hiroshima, Obama had stopped at Marine Corps Air Station Iwakuni. His entire trip in Hiroshima lasted about 90 minutes in totality. On his Asian trip, Obama visited Vietnam, where he met with Anthony Bourdain and ate a $6 meal.
Photo curation by Priyata Brajabasi
Edited by Durga M Sengupta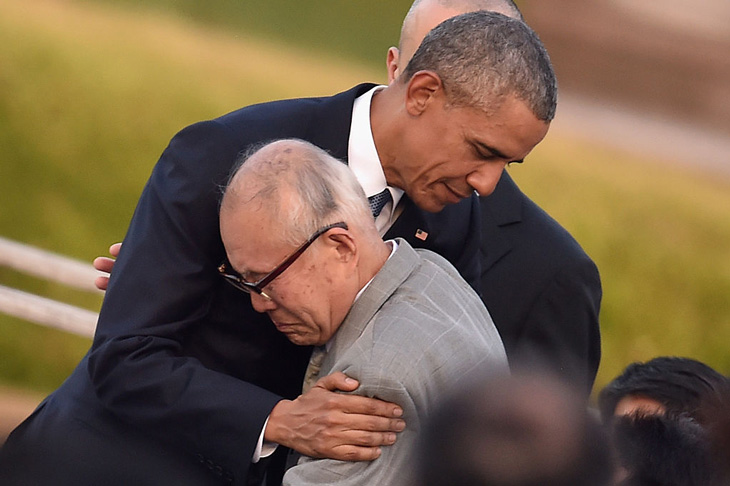 U.S. President Barack Obama embraces an a-bomb victim at the Hiroshima Peace Memorial Park on May 27, 2016 in Hiroshima, Japan. (Atsushi Tomura/Getty Images)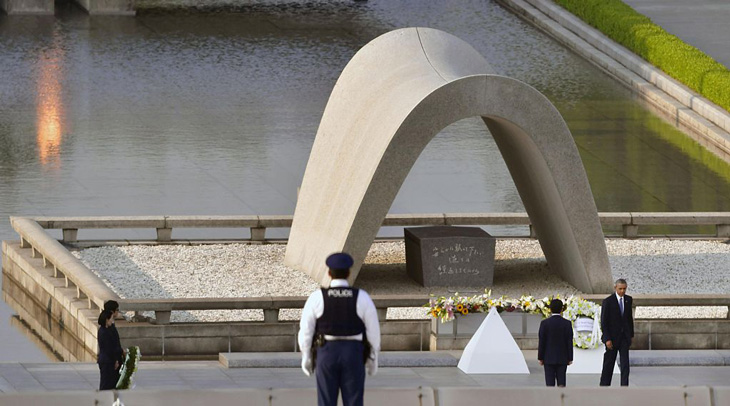 U.S. President Barack Obama (far R) finishes laying flowers at the cenotaph for atomic-bomb victims at the Peace Memorial Park in Hiroshima on May 27, 2016. (Kyodo News via Getty Images)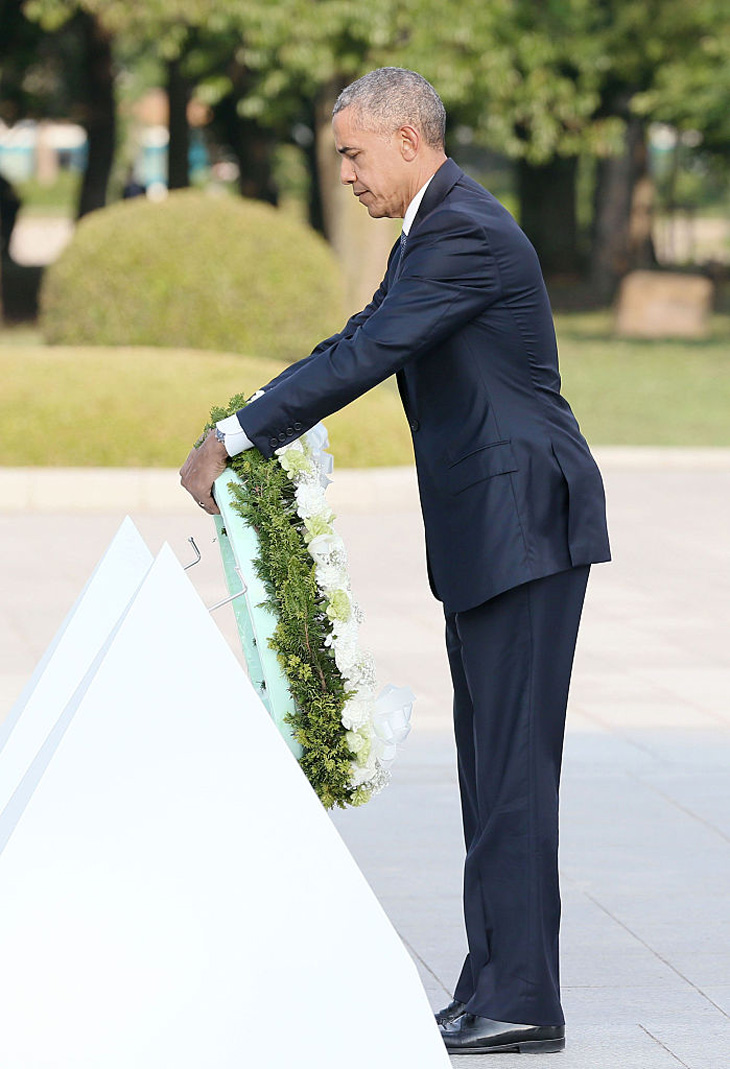 U.S. President Barack Obama lays flowers at the cenotaph for atomic- bomb victims at the Peace Memorial Park in Hiroshima on May 27, 2016. (Pool/Kyodo News via Getty Images)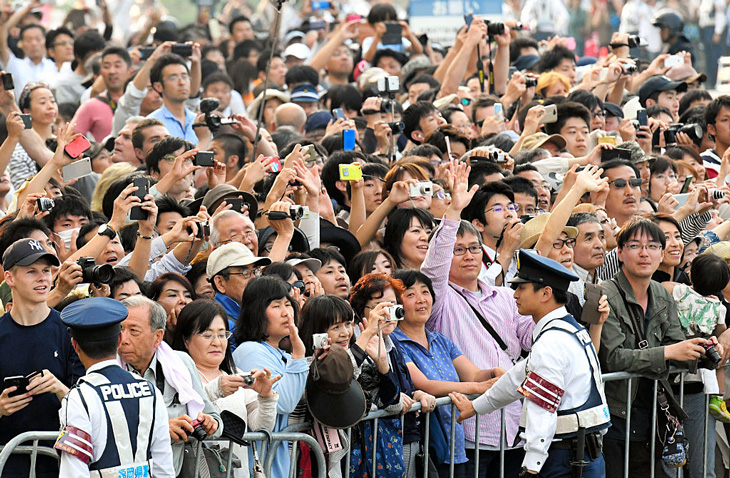 Well- wishers wait for the arrival of the U.S. President Barack Obama at the Hiroshima Peace Memorial Park on May 27, 2016 in Hiroshima, Japan. (The Asahi Shimbun via Getty Images)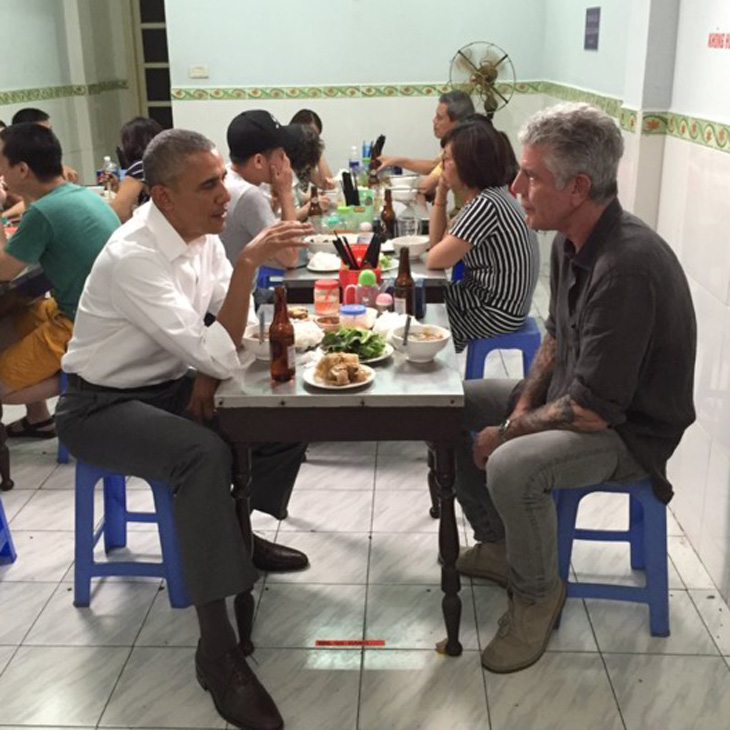 Anthony Bourdain/Twitter