Malaysia's former Prime Minister, Najib Razak, charged in corruption inquiry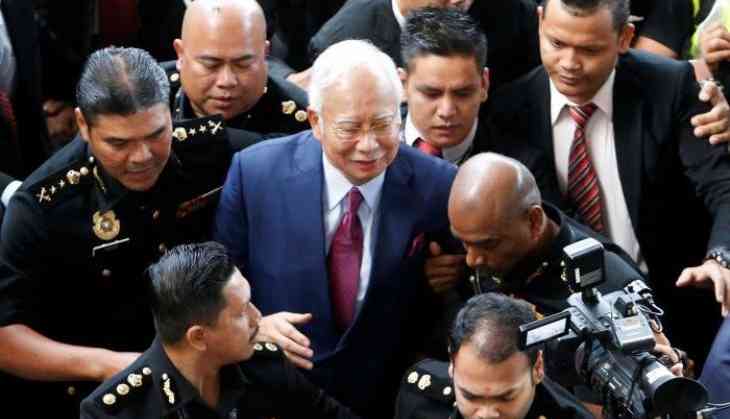 The former Prime Minister of Malaysia, Najib Razak who lost elections two-month-ago to Mahathir Mohamad has been charged with investment fund scandal involving billions of dollars on Wednesday.
There are three counts on which he has been charged, one count of corruption, three counts of criminal breach. He pleaded not guilty on all counts.
Najib Razak has ruled over Malaysia for decades since its independence in 1957. He used political influences, repressed media to keep corruption charges at bay.
Saya terima bahawa hari ini adalah hari saya dan keluarga menjalani dugaan dunia. pic.twitter.com/UbjGK9GBDb

— Mohd Najib Tun Razak (@NajibRazak) July 3, 2018
Arrest of former Malaysian PM Najib Razak on charges of massive corruption is warning to all autocrats who act as if their day will never come. https://t.co/tlwrGNYIqL pic.twitter.com/rzcIvh3zjh

— Kenneth Roth (@KenRoth) July 4, 2018
K but real talk, Najib Razak's arrest today is a win for the people. For everyone who has faced persecution, been detained, threatened, fired from their jobs, suspended from their universities and STILL STOOD TALL- justice is here.

— Jean Vaneisha (@JeanVaneisha) July 3, 2018
Prime minister of Malaysia Mahathir Mohamad has campaigned on bringing Najib to justice. After taking the charge, he blocked Najib and wife Rosmah Mansor's country exists. Najib has been accused of $731 million money diversion to his personal account and later spent on luxury goods like pink diamond necklace owned by wife Rosmah.
A spokesman for Najib said the arrest "politically motivated and the result of political vengeance" by Mahathir and the opposition that now governs Malaysia.
Also Read:Afghan attack: Sikhs planning to relocate to India