In Photos: Pope in Bangladesh urges world to act on Rohingya refugee crisis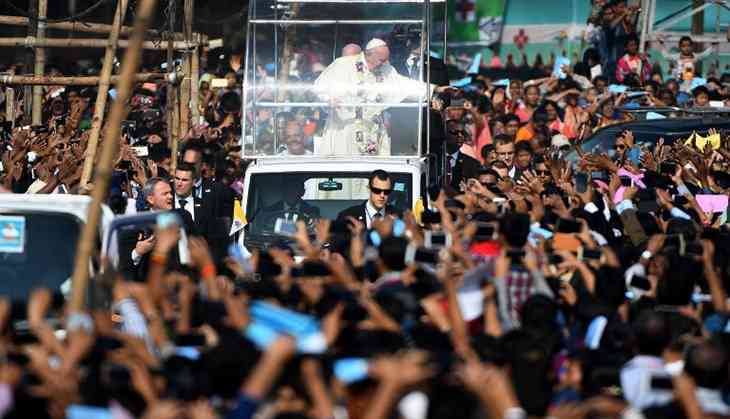 Pope Francis waves to Bangladeshi Christians as he arrives to lead mass in Dhaka (AFP PHOTO / Vincenzo PINTO)
Pope Francis, on a three-day visit to Bangladesh, celebrated a Holy Mass, a prayer service on Friday at the historic Suhrawardy Udyan in Dhaka. In the Holy Mass attended by more than 80,000 people, 16 priests were ordained. The people gathered there prayed for bringing peace in the world. 'I know that many of you came from afar, for a trip for more than two days," the Pope told the crowd in his homily. "Thank you for your generosity. This indicates the love you have for the Church," he added. Bangladesh has a tiny Catholic community and Pope Francis is the first to visit in the last 31 years.
The Pope is scheduled to meet Bangladesh Prime Minister Sheikh Hasina later today. He will also meet 18 Rohingya refugees whom he described as his brothers and sisters.
More than 6 lakh Muslim Rohingya refugees have sought safe haven in Bangladesh after fleeing a military crackdown in Myanmar.
Pope Francis, who landed in national capital Dhaka, was accorded a red carpet welcome.
President Abdul Hamid received the Pope near the VVIP Tarmac of Dhaka's Hazrat Shahjalal International Airport. A contingent of Bangladesh's armed forces gave him a guard of honour and state salute. Pope is also scheduled to visit the National Martyr's Memorial to pay tribute to martyrs of 1971 Bangladesh Liberation War and the Bangabandhu Memorial Museum, reported the Dhaka Tribune.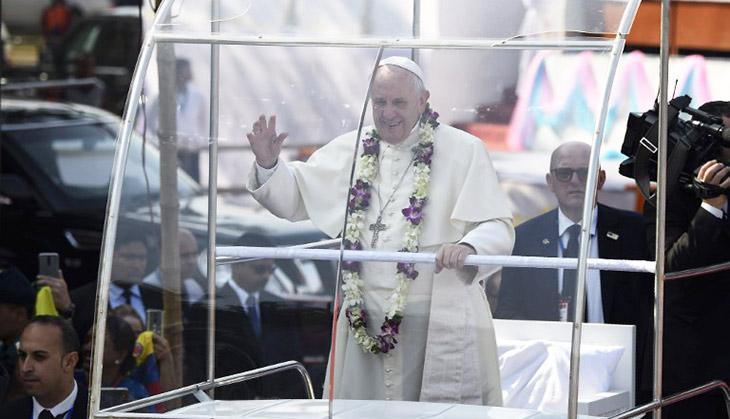 Pope Francis greets Bangladeshi Christians as he arrives to lead mass in Dhaka (AFP PHOTO / NOAH SEELAM)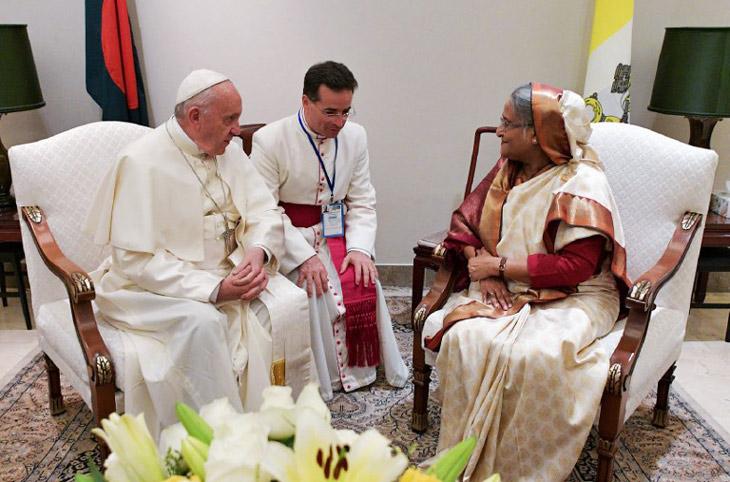 Pope Francis speaking with Prime Minister of Bangladesh Sheikh Hasina during their meeting in Dhaka. (AFP PHOTO / OSSERVATORE ROMANO)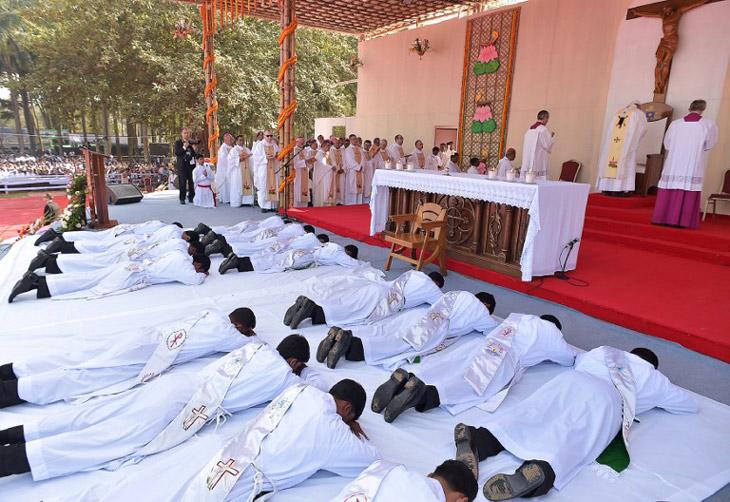 Pope Francis leading a Holy Mass in Dhaka during the second day of his visit to Banglades (AFP PHOTO / OSSERVATORE ROMANO )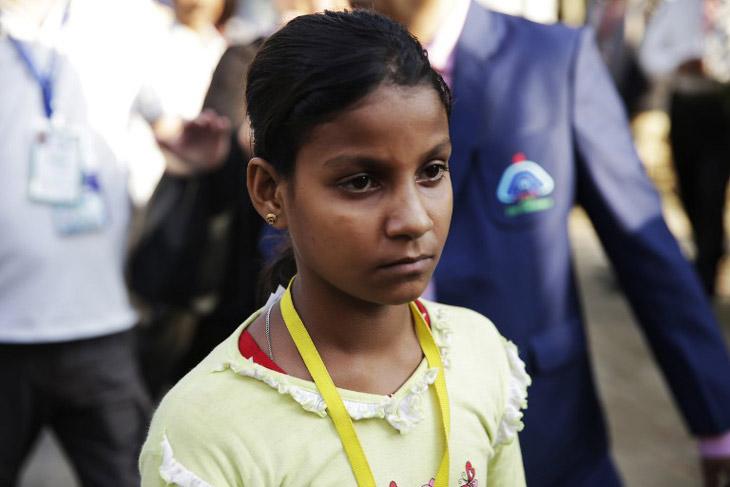 A young Rohingya refugee arrives at the Archbishop's residence during a visit by Pope Francis in Dhaka ( AFP PHOTO / POOL / MAX ROSSI)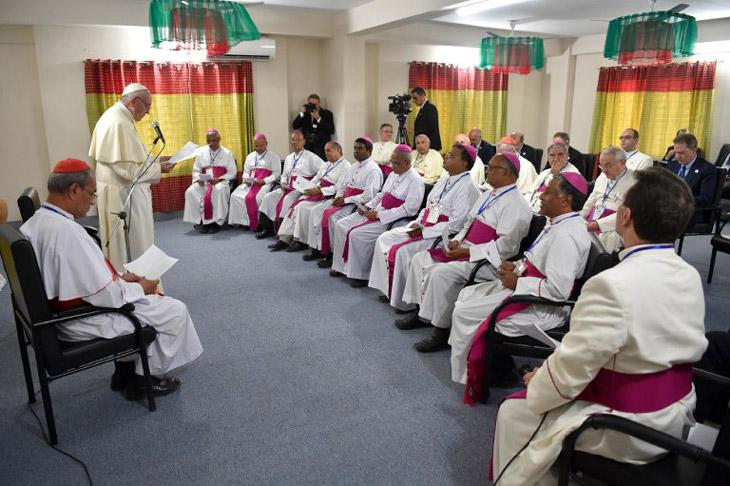 Pope Francis speaking during a meeting with the Bishops of Bangladesh in the House of Elder Priests in Dhaka. (AFP PHOTO / OSSERVATORE ROMANO)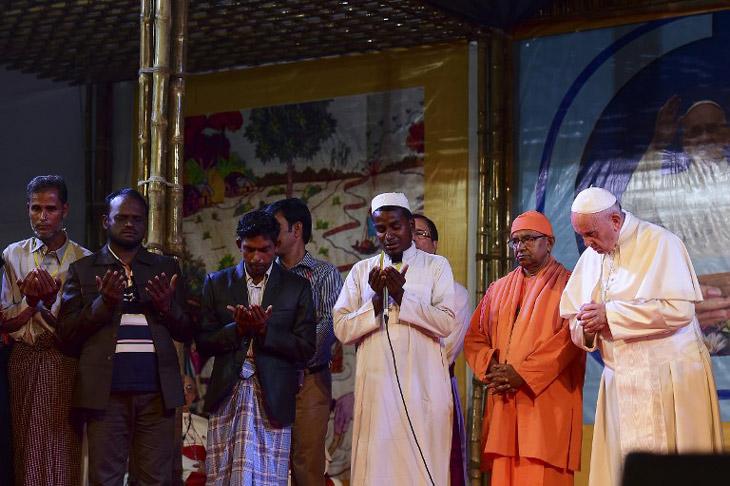 Pope Francis prays next to Rohingya refugee Hafez Mohammad Nurullah, who leads prayer during a meeting in Dhaka (AFP PHOTO / MUNIR UZ ZAMAN)