Facebook VP's 'Ugly' memo justifies bullying, terrorism as network's costs 'grow'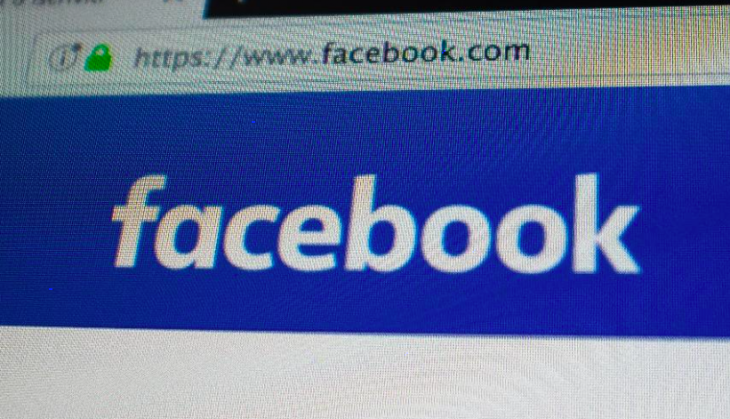 A leaked memo written by a Facebook executive justifying the social network's controversial data practices has caused outrage from Facebook users. In the memo titled "The Ugly" Facebook VP Andrew Bosworth admits that the firm "connection tactics" could lead to deaths and help terrorists plan attacks. He, however, argued that these negative outcomes were a reasonable out of the social media giant's broader "growth tactics" to connect with people.
The public disclosure of the 2016 memo saw vice-president Andrew Bosworth write, "anything that allows us to connect more people more often is de facto good". In other words, Andrew defended Facebook's questionable data mining practices and championed the growth of 'connections' at any cost - even death.
This prompted CEO Mark Zuckerburg to defend his company's mission in a hastily released statement that said Facebook "never believed the ends justify the means". He added that he strongly disagreed with the memo circulated by Bosworth, whom he described as a talented but provocative force in the company.
The memo by Bosworth, in charge of the company's virtual reality department, provides an insight into the philosophy of social media Silicon Valley giant. The memo read, " Maybe it costs a life by exposing someone to bullies. Maybe someone dies in a terrorist attack coordinated on our tools."
Bosworth, who acknowledged writing the memo said he only intended to start a debate. His memo furthered, "It is literally just what we do. We connect people. Period. That's why all the work we do in growth is justified."
Also read: Tim Cook on Facebook's user privacy scandal: I would have avoided the mess
Mark and Andrew both, have claimed that the now public memo was meant to be 'provocative' and is out of line with the company's value.
Zuckerburg was quoted saying, "Boz is a talented leader who says many provocative things. This was one that most people here (Facebook), including myself, strongly disagreed."
This revelation comes at a time when the tech corp's CEO Mark Zuckerburg is currently facing intense scrutiny over the data scandal, where personal information of 50 million Facebook users was misused by political consulting firm Cambridge Analytica.
The 418-word memo, framed around Facebook's ulterior and unchangeable goal - to connect the entire world via the social networking site, says the company isn't bothered if 'these growth connections' let users fall in love, form terrorist groups or attack each other.
It must be noted that the memo was circulated almost immediately after a man was shot dead while live streaming via Facebook Live, followed by another live video of a man immolating himself.
At that time Andrew Bosworth oversaw Facebook's adverting and business platform.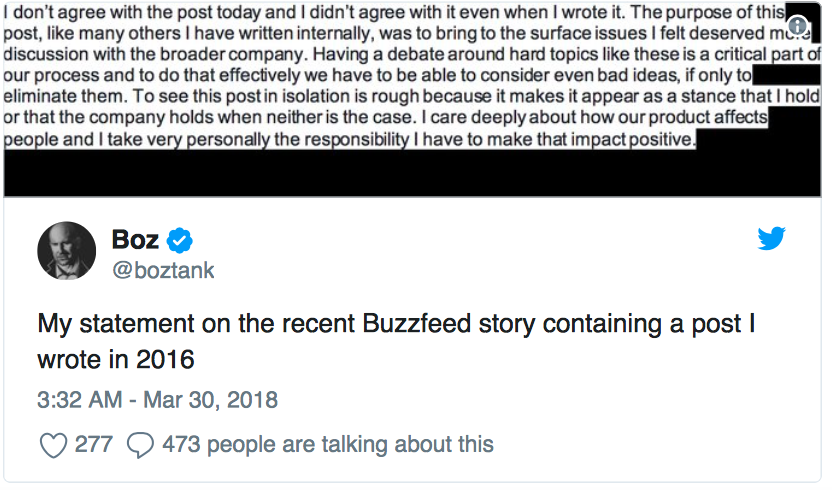 In a series of statements on Twitter, Boz said that "I don't agree with the post today and I didn't agree with it even when I wrote it." He argued that the intent of the memo was to "bring to the surface issues I felt deserved more discussion."
The scandals reached a crisis-point with the revelation of Cambridge Analytica misusing the user's data during Donald Trump's presidential elections. Prior to this, there has been a growing evidence of Facebook's groups functions being used to promote hate speech and political discourses too - Russian operatives used Facebook to propagandize and troll Americans during the 2016 election.
Bosworth who now argues he was playing the devil's advocate concluded saying, "We have to justify the metrics and make sure they aren't losing out on a bigger picture. But connecting people. That's our imperative. Because that's what we do. We connect people."
According to The Verge, Bosworth said, "If we have to live in fear that even our bad ideas will be exposed then we won't explore them or understand them as such."