Caught on cam: Two fighter planes collide during US airshow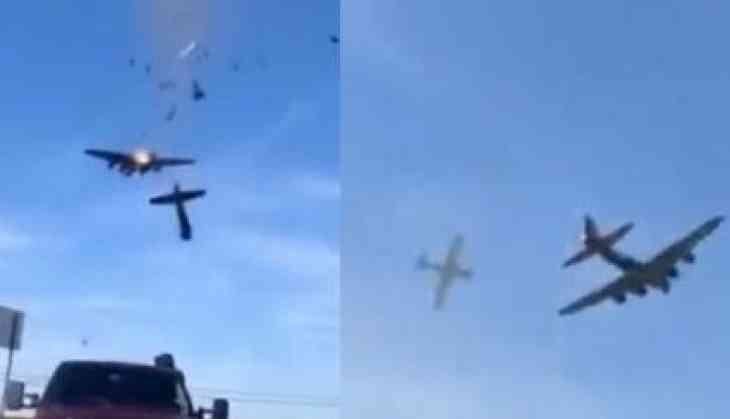 Fighter planes collide during US airshow
A Boeing B-17 bomber and a smaller plane - collided mid-air at an air show at Texas's Dallas Executive Airport on Saturday, soon after falling to the surface and bursting into flames. Six people, all crew members, are feared dead in the collision, as per reports.
In the dramatic video shot by people in the airshow shows the bigger B-17 bomber flying, not very high from the ground, in a straight line, while the smaller plane - a Bell P-63 Kingcobra, hurtling in its direction from the left. The smaller plane crashes on top of the B-17, a World War II-era plane, and immediately the two aircraft break apart into pieces.
Within few seconds, the aircrafts are on the ground, covered in a ball of fire.
Here's the video:
November 12, 2022
The accident took place during the Wings Over Dallas Airshow at Dallas Executive Airport. The US Federal Aviation Administration (FAA) said its agents and the National Transportation Safety Board would investigate the incident
Taking to twitter, Dallas Mayor Eric Johnson said that there were still details that remained "unknown or unconfirmed".
"As many of you have now seen, we have had a terrible tragedy in our city today during an airshow. Many details remain unknown or unconfirmed at this time. The National Transportation Safety Board has taken command of the crash scene with Dallas Police Department and Dallas Fire-Rescue continuing to provide support," he said.
Also Read: Hyderabad viral video: Student thrashed over comment on Prophet Muhammad