‪Alec Baldwin's Donald Trump appears on Saturday Night Live to announce 'I don't care about America'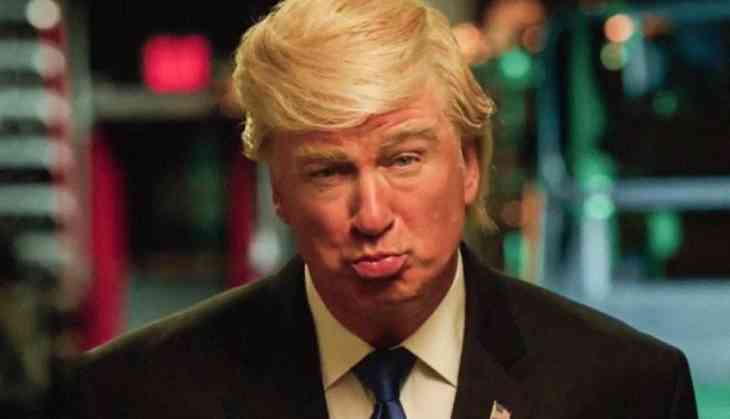 Alec Baldwin an American comedian returned to 'Saturday Night Live' for the first time after President Donald Trump aimed at Alec's impression of himself on Twitter last month.

At a press conference last week Alec potrayed Trump, several leaders from Baltic nations were present at the replay of he real president's Q&A. The President fall asleep during the event

"Oh my God, I'm already so bored," he spoke in a voiceover. "I wish I was watching 'Roseanne,' how great is that show? Roseanne loves me. She's like a great Rosie O'Donnell."

At the conference Alec diverted a question about Stormy Daniels, saying he thought the question was for the president of Latvia.

"Borat, you wanna take that one?" he asked.

"We have expression in my country and it's translated roughly as, 'This person is lying,'" the faux Latvian president responded.
Also Read: More data breaches 'possible' says Facebook COO Sheryl Sandberg
Press conference going pretty well so far. #SNL pic.twitter.com/CIsitWJAFU

— Saturday Night Live - SNL (@nbcsnl) April 8, 2018
Baldwin later declared, "I'm the only one to say this -- I don't care about America. ... This is a four-year cash grab."

A reporter asked Alec whether Trump really hates Jeff Bezos, following all those tweets, he said: "I do. I hate Jeff, because he's way more mature than me and he admits to being bald so I feel threatened on two levels."
On March 22, US President Donald Trump slammed Alec for potraying him on SNL in a tweet, where he misspelled Alec's name as "Alex" and wrote the word "dying" as "dieing." Later, he corrected the tweet.

Donald Trump also said Alec's "dying mediocre career was saved by his impersonation of me on SNL." Alec's Trump was first played in a September 2016 episode.
Also Read: Rapper Cardi B discloses baby bump on ‪Saturday Night Live: Watch video