World against child labour: 250 Delhi street kids who got a second chance at life
Who are these kids?
All the 250 kids are children of domestic workers, rag pickers etc doing odd jobs along with their parents to make ends meet
All the kids are from Shaheed Camp, Balmiki Basti, Golden Basti, Chuna Basti and six other settlements in West Delhi-based
Why aren\'t they in school
Either parents cannot afford to send them to school or the children do not want to go to school themselves
Schools also refuse to give admission to these kids due to a lack of documents
More in the story
Apprehensions government schools have against these street kids
What the NGO did to convince the parents and kids
It has been a year that 11-year-old Nisha Kumari enrolled into school. She has learned how to sound cool in English.
Nisha's mother Seema works as a maid at a showroom near their house and her father makes wooden chairs some distance away from their home in West Delhi's Chuna Basti in Raghubir Nagar.
"Yeah! Doctor!" she says exuding confidence when asked if she's thought of what she wants to be when she grows up.
Nisha is one of the 250 child labourers from West Delhi who were enrolled into formal schooling for the first time. Most of them had popped in and out of school hardly attending classes. This was the first time they all not only stuck it out for a year of their own volition, but also enjoyed going to school.
While most passed with good grades, some like Nisha were rank holders scoring the highest overall marks in their class.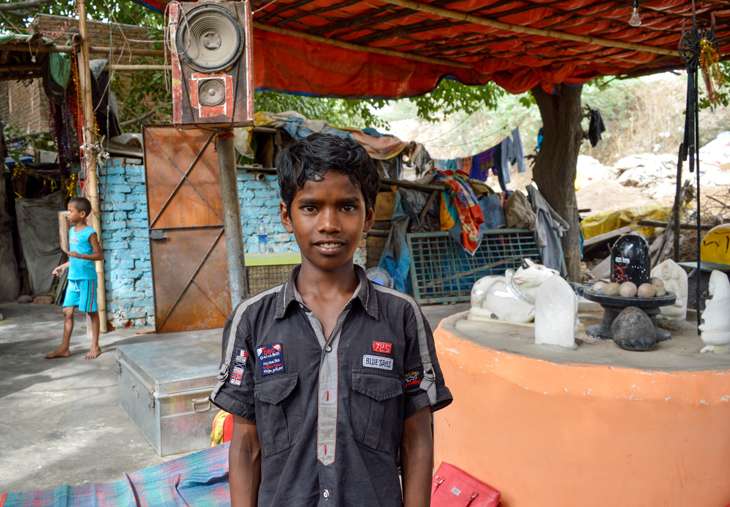 A student Rishiraj. (Shamita/Catch News)
Telling figures
5.5 million children work for a living in India. That's one in every 11 children
62.8% of these are adolescents aged between 15 and 17 and engaged in hazardous work
56% of working adolescents are no longer studying
70% of those adolescents working in hazardous conditions are not studying
Delhi-based child rights NGO Chetna has been around since 2002 mainly focusing their work on rehabilitating child labourers and street children.
Last year they launched the 'Street to School' a campaign in West Delhi with the support of a charitable trust Toybox.
Together they zeroed in on 250 child labourers from various parts of West Delhi - Shaheed Camp, Balmiki Basti, Golden Basti, Chuna Basti and six other squatter settlements and embarked on a mission to put them into school.
The kids were all rag pickers, domestic servants, in the business of washing and selling old clothes in the second-hand market, collecting and selling saw dust or doing odd jobs.
"The hurdles were several. Battling each one was a herculean task," explains Sanjay Gupta, founder of Chetna, while looking back at what it took for them to get the kids to school.
From parents to school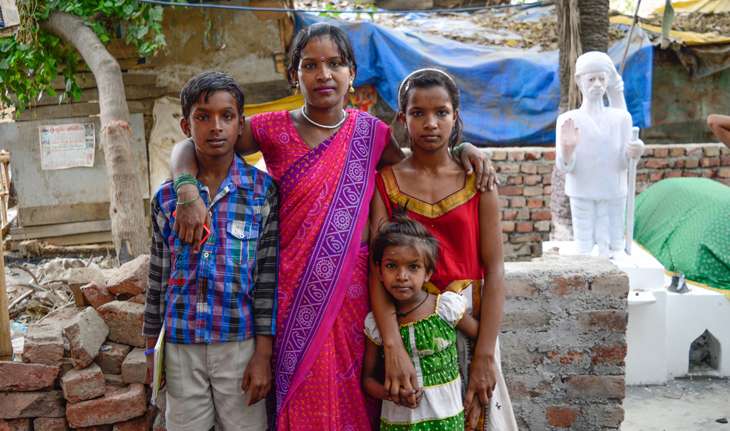 Nisha and her family. (Shamita/Catch News)
Before the children, first the parents had to be convinced.
Nisha's mother for instance was a domestic worker and would take Nisha along with her from the time she was six, to work with her at people's homes. Nisha would sweep and scrub floors, do the dishes and wash clothes.
As Nisha grew older they would split tasks and be done with each home in half the time. Together they made Rs 15,000 a month.
School was never a priority. The one time Seema tried to get Nisha into school, the schools refused.
"They needed a Delhi-based ID, various documents and said she was too old to start now," says Seema who doesn't have an address proof of the capital.
She and her husband moved to Delhi in search of better jobs from Bihar's Samastipur village when Nisha was hardly three. Their IDs are still of Samastipur.
Finally Chetna came along knocking on her door telling her they would take care of all the paperwork and ensure an admission in the neighboring primary school.
Seema agreed despite knowing that she would earn half the money without her daughter. "If she studies she has a chance of becoming something in life," says Seema.
School trouble
"Once parents agree the schools often refuse admission," says Geeta Sharma, who has been a teacher with Chetna for the past five years.
"Their biggest fear is that these slum kids would increase their drop out rates and reduce the quality and performance of the school. And we proved them wrong," smiles Gupta.
Gupta's biggest tool for convincing school principals is the Right to Education Act with mandates universal primary education. But accepting older kids into early grades is still a mental block.
Nisha, for instance, although 11 years old, was enrolled into second standard and is going to third now.
An important factor in getting them into school was instilling an interest for school which was lacking. Months before school enrollments began, Gupta and his team set up education camps in West Delhi to hone the children.
The kids were taught the basics of math, English and Hindi. They were also taught to indulge in drawing, colouring, crafts, games and lots of fun.
"We first had to make them 'want' school," says Gupta.
Now the feeling is infectious. At Chuna Basti, in Delhi's ruthless summer, all of them sit under the cool shade of a peepal tree near a mandir with their books open, some drawing, some studying, as Sharma helps them with their holiday homework.
School - a battleground
When Nisha first went to school, she was given awkward stares. She was older than other students in her class by four years and people thought something was wrong with her.
"I was teased as a drop out. Nobody made friends with me. I would sit in a corner alone," recalls Nisha. It took a while to break the ice and then all was ok.
Peer acceptance can be traumatic. "Despite the fact that all children in government schools come from economically backward families, hierarchies are still there. A boy who sells gol gappas with his father on the street believes himself to be too superior to befriend the son of a maid," explains Gupta.
The kids do their best to navigate a school socially and find their own fit in the system without too much stress. The noise and commotion also stress out a few gentle types.
Ten-year-old Rishikant from Ramnagar in Bihar moved to Delhi with his family some years ago. He used to wash and sell old clothes with his mother in the second-hand market apart from cooking, cleaning the home and taking care of his younger siblings when his parents went to work.
Today he has passed second standard with good marks and is going into third.
"I like learning but school is loud and noisy and chaotic. Sometimes dirty too," he says softly.
Better reasons
The climb to Nisha's home is an adventurous one. Deep inside the basti, the lanes keep getting narrower until you have to squeeze through a litter-filled lane till you reach a metal ladder.
Climbing up takes you to Nisha's 30 sq ft dingy attic with no windows. The space can barely fit four people. Every evening her father comes home drunk and beats up Seema - sometimes with a belt, a rod or any blunt object lying around. Nisha and her brothers have to force him to stop.
The fight is always over money. His own income is squandered away leaving nothing for the family. So everyday Seema makes sure she overdresses with artificial jewelery and pink lipstick to draw attention away from the wounds on her neck and back.
"I want study to become policeman so I can imprison drunk people who trouble others," says Nisha's friend Deepu, 10-years-old and now a student in the Sarvoday Vidyalay nearby.
"School could change everything. Yes, I know," says Seema holding back her tears.
Edited by Jhinuk Sen