Will he, won't he: Rajinikanth maintains suspense on his political future
S Murari
| Updated on: 26 December 2017, 18:17 IST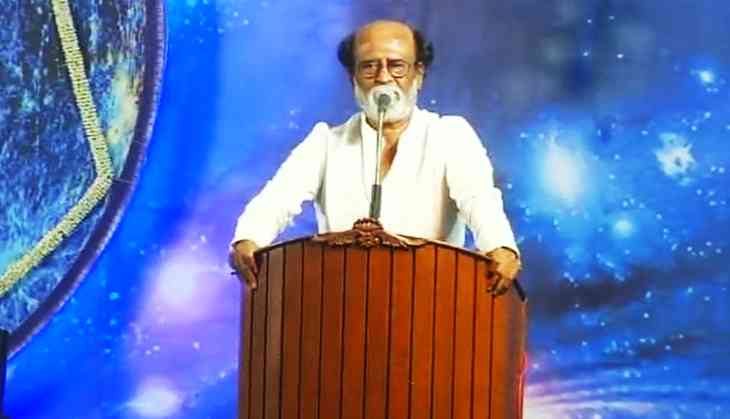 Superstar Rajinikanth, who began a six-day interaction with his fans Tuesday, said he would announce whether or not he would enter politics on 31 December. Addressing his fans at the Raghavendra Kalyana Mandapam in Chennai, Rajini seemed to be readying followers for an upcoming political battle, saying, "I have been hesitating to enter politics because I know what it is."

However, this hesitation seems like it will soon be a thing of the past, as his subsequent comments all seemed to indicate that, come 31 December, Tamil Nadu politics may soon have a new star.

"To win this battle mere courage will not be enough," Rajini said. "We must have a strategy. We must have discipline and probity," he added sagely. In the same vein, he implored fans to take comments in the media and on social networks in their stride.

Over the next five days, Rajini plans to meet 1,000 fans a day. His fan club has already issued identity cards to followers, and scheduled them for photo-ops with Rajini. At the end of this marathon event, he will finally show his hand.
The churn in TN politics
The political situation in Tamil Nadu has changed drastically since Rajini's meeting with fans a few months prior. The recently concluded RK Nagar bypoll showed that the AIADMK vote is intact, and rebel leader TTV Dinakaran is seen as the real inheritor of late AIADMK chief J Jayalalithaa's legacy. The fact that the DMK, the state's most credible opposition party, saw its candidate lose his deposit should give Rajini something to think about.

Whether this government will go and an election will become inevitable will depend on how Dinakaran plans to capture the party and power. Rajini has been hesitant about entering politics since 1996. However, in this time of political churn, it is up to to Rajini to decide whether he will finally take the plunge, as he needs time to float a party and get ready for polls whenever they come.

Though there is a vacuum after the death of Chief Minister J Jayalalitha, it still remains unclear whether Rajini will interpret the RK Nagar bypoll results as a sign that there is a public desire for a change of the status quo. And, if there is, are the people of Tamil Nadu willing to look outside the AIADMK for that change?
Will Rajini join BJP?
Even before he has revealed his plans, Tamil Nadu BJP President Tamilisai Soundararajan asked Rajini to enter politics. The BJP, which fared miserably in the RK Nagar bypoll, polling less than even the NOTA option, needs a star campaigner to sustain itself. Soundararajan said that the people, instead of opting out of voting for any candidate, should choose those with a clean record. The BJP has made overtures to Rajini in the past, with the superstar meeting Prime Minister Narendra Modi multiple times over the last few years.

Unfortunately for the BJP, their attempts to free AIADMK from the control of the Mannargudi family has proven counter-productive. Rather than destabilising the existing players, it has undermined those who have cosied up to the saffron party, establishing TTV Dinakaran as a one-man army who can stand up to pressure from the Centre. Rajini's entry into the party could help to revive its flagging fortunes in the southern state.

All these calculations, however, will hinge on the Madras High Court's verdict regarding the disqualification of 18 pro-Dinakaran legislators. If the verdict goes in Dinakaran's favour, the Governor may ask Chief Minister Edappadi Palaniswami to take a floor test. This could result in the fall of the present TN government. However, if Dinakaran is unable to form an alternative government, the State can be brought under a spell of President's rule. This could prove to be the breather that the BJP and Rajini may need to make inroads into the state.

While a lot remains uncertain as of now, one thing is clear – the new year will be one of change.