Why it's absolutely necessary for Modi govt to prove Rohith Vemula wasn't a Dalit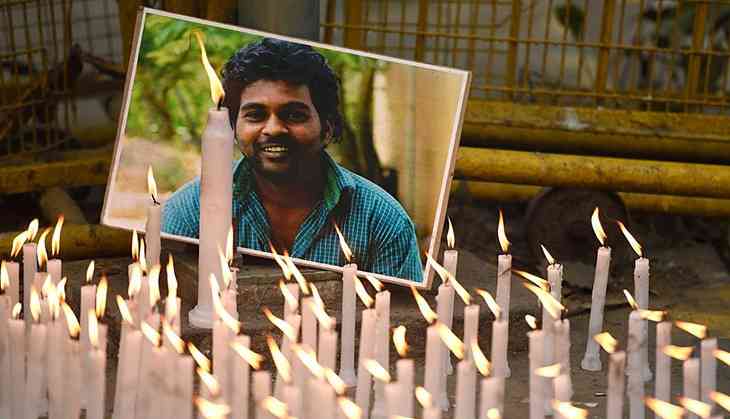 (Photo by Virendra Singh Gosain/Hindustan Times via Getty Images)
Why does the ruling class feel that there still is a need to declare Rohith Vemula a non-Dalit? Is it to bail out the Vice-Chancellor and a Union Minister or is there a bigger agenda of absolving itself of the charge that it's pursuing an anti-Dalit discourse in premier institutes of higher learning across India behind the attempt?
When we say ruling class, we are not referring to any specific section of the society, even though it largely reads as the same.
The ruling class in this context is the helmsmen at the university, at the state government of Andhra Pradesh – an intermediary – and the Union government.
Rohith Chakravarti Vemula aka Rohith Vemula, a research scholar at the University of Hyderabad (UoH), committed suicide on 17 January 2016. Rohith resented the official apathy towards Dalit students on the campus, their suspension from the university and a lot of other issues related to persecution.
The letters he had addressed to Vice Chancellor Appa Rao Podile, denouncing his role in the subjugation of Dalit students became a sensation.
What is there to gain?
There would be several asides and also advantages to many if the state could establish that Rohith was not a Dalit.
The first benefit is that a case registered under provisos of SC, ST (Prevention of Atrocities) Act against VC Appa Rao, Union Minister of State Bandaru Dattatreya and a few others would become infructuous.
That they could be let off the hook of the draconian long-arm of the law is the first "fringe benefit".
There is a reason behind calling it a 'fringe benefit', for the agenda, as suspected by Dalit organisations and leaders, is much bigger than what meets the eye.
Once it is proven that Rohith is not a Dalit, the agitation espousing his cause naturally fizzles out or proactive steps could be initiated to thwart any upsurge in the voices of dissent.
In fact, Union Minister Sushma Swaraj had questioned the veracity of Vemula's caste and sought to know if he was a Dalit at all soon after his suicide. This led to a lot of debate.
While the National Commission for Scheduled Castes had confirmed that he was a Dalit, Rohith's father Mani Kumar had come out in the open against the claim that the boy was a Dalit. Mani Kumar said that he belonged to the 'Vaddera' community and therefore, naturally so, his son could also not be a Dalit, but hailed from 'Vaddera' community.
However, Ambedkar Students Association and Dalit organisations in Andhra Pradesh and Telangana did not buy this argument.
Rohith's mother Radhika had claimed that she was born into a Dalit family (Scheduled Caste – Mala) and she had been adopted by one Anjani Devi and her husband Venkateswarlu, who belonged to the 'Vaddera' community.
The politics of it
A post-doctoral researcher in Indian Institute of Technology (IIT-Bombay) Dr Velpula Sunkanna who, at the UoH convocation in full public glare, refused to receive his doctorate degree from Prof Appa Rao Podile, telling him that he could not take the degree from him.
Sunkanna told Catch that it actually did not matter to the powers-that-be whether Vemula was declared a Dalit or not.
While Dr Suknanna asserted that the VC, the Union minister, a few other leaders of the BJP and its frontal organisations, could be out of the ambit of the SC and ST (Prevention of Atrocities) Act and get a relief. He added that the issue had to be examined from a political angle and also from point of Rohith Vemula's social status.
"Though we could launch a huge agitation that evoked a national debate, we could do nothing," he said.
By establishing that Rohith was not a Dalit, Dr Sunkanna said, the governments could try and convey a strong message that they were not against Dalits. Even if the probe could prove that Rohith was a Dalit, it couldn't have affected the VC or any politician listed as an accused in the case.
Right vs Left
The state, which had thrown its weight behind the VC and others, had a larger agenda. The big picture was that the ruling class wanted to change the culture and the dynamics of the institutes of higher learning.
They began targeting anti-right wing activists among students, researchers and faculty. For instance, the incidents at Jawaharlal Nehru University (JNU), Delhi and many others would stand testimony to the effort of this kind of a metamorphosis. The state was prepared to face, come what may.
Dr Sunkanna felt that there was no single instance where the Indian legal system had meted out justice to Dalits. Take for example:
1985: The massacre in Karamchedu (Six Dalits were killed and 20 injured in Prakasam district in Andhra Pradesh)
1991: Tsundur (13 Dalits were massacred in Guntur district in Andhra Pradesh)
Nowhere was complete justice meted out to the victims.
No justice
"Therefore, even if it is proven that Rohith Vemula is a Dalit, he would not get justice," said Dr Sunkanna. He alleged that the systems – government, police and all related wings – always worked for the ruling class. They would pay heed to what the powers-that-be had to say.
Giving a graphic account to buttress his argument in the Rohith Vemula incident, the former Ambedkar Students Association (ASA) activist said that the police refused to take their complaint at first.
After a massive uprising, they registered an SC, ST (Prevention of Atrocities) Act. But soon enough, they constituted committees and probe panels that would deliver what they wanted.
The powers could drag the cases for ages. There's a Supreme Court direction that suggested that the caste of the parent (in the case of separation of parents), under whose care the children were being reared, would apply to the kids too. In this case, Radhika's caste should be given to her children.
However, without discussing the sociological and political angles, Collector and District Magistrate of Guntur Kanthilal Dande told Catch that the District-level Scrutiny Committee, led by the Joint Collector of Guntur, conducted a thorough investigation and issued a show-cause notice to Rohith Vemula's mother to prove her claim of being a Dalit.
Dande asked when Radhika (Rohith's mother) did not know who her parents were and the woman Anjani Devi, a school teacher, who had adopted her. Anjani Devi had said that she had picked up the baby (Radhika) from a cradle, how could she claim that she was from the SC-Mala community?
She was adopted by Vaddera community people and married to a Vaddera-community person. Her daughter Neelima and another son Raja Vemula were also married to persons from the Vaddera community.
Radhika took her SC certificate when she was around 34 years old. Her children's caste credentials were never rooted to Scheduled Castes before they completed their schooling and that they got their caste certified as SC-Mala only before they commenced their plus-two classes, said the collector.
The marriages of Radhika, and her kids into the Vaddera families and their places of residence clearly established that they belonged to the Vaddera (Other Backward Caste) and not the SC-Mala.
However, "we have given a notice to her and her children to prove that they belong to SCs. We are fair," the collector asserted. They could contest the decision of the district administration at any higher competent appellate authority.
Edited by Jhinuk Sen