UP: Three-year-old boy allegedly murdered for performing black magic ritual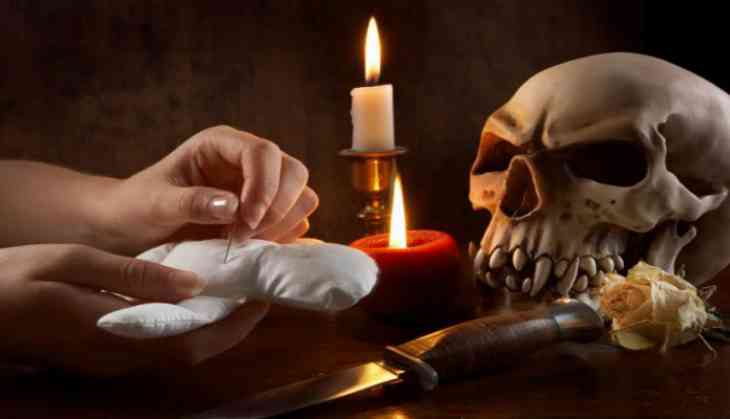 In a shocking case reported from Uttar Pradesh's Agra, a minor boy, aged 3, is suspected to have been murdered during an occult practice after his dead body was unearthed from under the ground, police said on Saturday.
The matter became known on Saturday night after the cops were notified by the locals of some suspicious activity in a jungle near the Chambal river, officials said.
The incident occurred in an area which falls under the jurisdiction of the Pinahat police station. Many people had congregated at the spot after the information about the act circulated. Some people had already begun digging the ground where the minor victim was laied to rest, Senior Superintendent of Police Muniraj G said.
The police team also arrived at the spot right away upon being notified. The boy was taken out from the ground by the police with the help of locals and rushed to a CHC (community health centre) for check up, Muniraj said.
However, the doctors at the CHC declared the victim dead of arrival upon inspection and the dead body was sent to SN Medical Hospital for autopsy, he said.
An FIR has been registered at the Pinahat police station based on the preliminary information and probe has been initiated in the case, the district police chief said.
The victim identity has not been confirmed. Those incriminated in the crime are also unidentified and are on the run but few locals are understood too have seen them. We are trying reach out to the ye witnesses in order to find the culprits. SSP said.
As maintained by locals officials presence of insense sticks and things related to occult practices near the crime spot raised qualms of human sacrifice but facts could be asserted only after a comprehensive investigation.
In another incident, a seven-year-old girl was hacked to death in Ghatampur area of Kanpur district in Uttar Pradesh as part of an occult practice in November 2020 in a horrific incident that had shaken the entire nation.
The four accused, including a woman, in the case were later taken into police custody and detained under the National Security Act (NSA), according to officials.
Also Read: Girl kidnapped, sexually assaulted and sold by 'online friend'