Unnao and Kathua cases: Smriti Irani condemns 'victim shaming'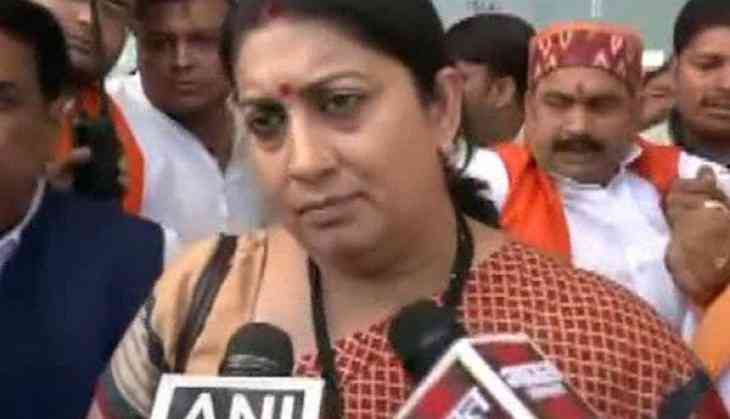 Reacting to the Unnao and Kathua cases, Union Information and Broadcasting Minister Smriti Irani on Friday urged that there should be no victim shaming in the rape and murder cases.
"As a woman, I believe and request there should be no victim shaming," Irani told ANI.
Speaking on the progress in both the cases, Irani said, "Law agencies and government are taking necessary action."
Earlier on April 8, the rape victim from Uttar Pradesh's Unnao, along with her family members, tried to commit suicide in front of Chief Minister Yogi Adityanath's residence in Lucknow, alleging that she was raped by Bharatiya Janata Party (BJP) MLA Kuldeep Singh Sengar and his fellow accomplices.
The teen had accused the MLA of raping her in June last year.
The Central Bureau of Investigation (CBI) today registered three cases against Sengar for allegedly raping a 16-year-old girl.
However, the victim demanded for strict action and severe punishment against the accused.
"I want strict action to be taken against him and he should be given severe punishment," Unnao rape victim told ANI.
An FIR was lodged against Sengar on Thursday under sections 363 (kidnapping), 366 (abduction of woman), 376 (rape), 506 (criminal intimidation) of the Indian Penal Code (IPC) and Protection of Children from Sexual Offences (POCSO) Act, and the case was handed over to the CBI.
On April 3, the rape victim's father was allegedly thrashed by the accused MLA's brother for refusing to withdraw the FIR over the rape, and was arrested the same day. On April 9, he died in hospital. However, the family cried foul alleging that he was murdered.
On the other hand, an eight-year-old girl belonging to a nomadic Muslim tribe in Kathua district was allegedly abducted, drugged, gang-raped, tortured and killed in January.
Among the accused in the case are police officers and a retired government official.
On Friday, Congress President Rahul Gandhi and other party leaders held a midnight candlelight vigil to demand strict action in Unnao and Kathua rape cases.
Stressing on the fact that the protest was not a political one but a national issue, Rahul urged the Centre to act against atrocities on women.
--ANI