Twitterati warn of flood threat as Mumbai rejoices over 1st rains of the season
vPre-monsoon showers. It's a tease. It's a preview of what's to come. Nonetheless, the people of Mumbai (or Bombay, as some still like to call it) are enjoying it to the fullest.
As Skymet Weather (http://www.skymetweather.com/content/weather-news-and-analysis/monsoon-rains-continue-to-mar-west-coast-inches-closer-to-mumbai/#sthash.DcYSjpuY.dpuf) said on 11 June, "Mumbai rains have finally commenced on Saturday morning, marking an end to the prolonged dry spell. City has been witnessing light rain and thundershowers since early morning hours, which are likely to continue for at least next 2-3 hours.
"As reiterated by Skymet Weather, the cyclonic circulation prevailing in Arabian Sea off Karnataka and Goa coast has shifted slightly northwards along the coast. This has led to the development of a convective clouds over South Mumbai, leading to rain and thundershowers.
"As per the weathermen, rains are expected to continue for next few hours, stopping thereafter. Another spell of rain is likely over the city again during the late afternoon or evening hours.
"Further, we can expect these rains to continue for next 24 to 48 hours with increasing intensity as Monsoon 2016 is around the corner."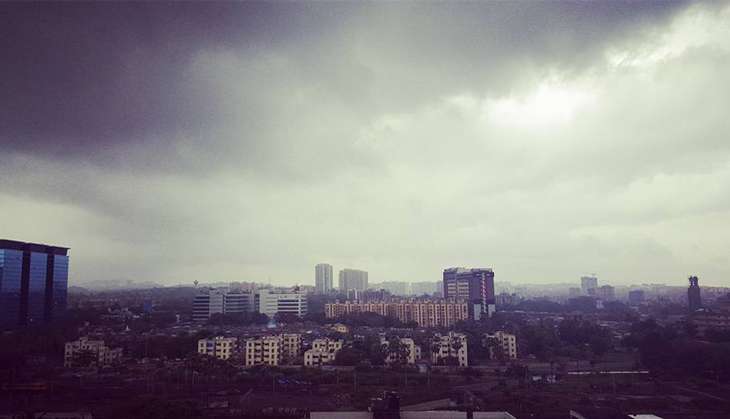 PTI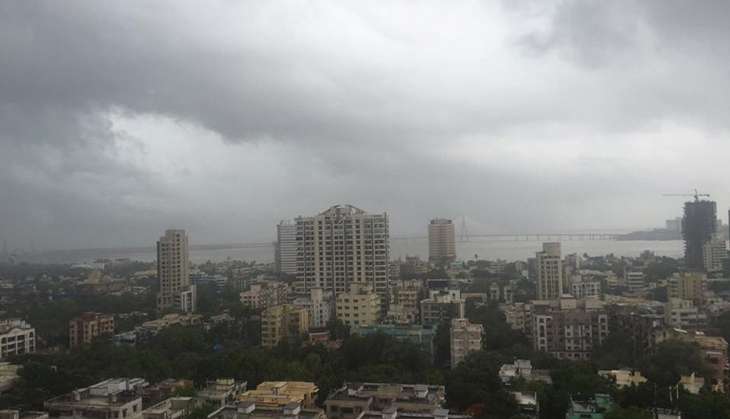 Facebook
Naturally, the first rainfall of the season is something to be celebrated. It's an event that needs to be shared with the world via the various social networks that one is a part of. It's a time when Mumbaikers can sit back, relax and make fun of the citizens of Delhi, for having to deal with the heat and the humidity.
A Mumbai resident, by the name of Akhri Pasta, summed up in under 140-characters, just what the first rains mean to them:
I love how even though it rains every single year, we treat the first day of rain like it's the first time it's ever happened. #MumbaiRains

— Akhri Pasta (@TheLitttleLiar) June 11, 2016
Then there was the welcoming:
Wow. Monsoon making its entrance with a bang. Thunder, lightening and rains. Welcome! You were missed. #MumbaiRains

— Sneha Mahale (@randomcards) June 11, 2016
And this, of course:
Mandatory tweet, finally its here #MumbaiRains

— Mayuri Chaoji (@MachniChori) June 11, 2016
Some though, aren't happy though with the onest of rains:
Pre-monsoon showers have hit Mumbai. Soon to translate into potholes, road jams, flooding & work holiday. #MumbaiRains

— T.A.N.U.J. G.A.R.G. (@tanuj_garg) June 11, 2016
Today: #MumbaiRains
A week from now: #MumbaiPotholes
Two weeks from now: #NoTrain
Three weeks from now: #MumbaiFlooded

— lindsay pereira (@lindsaypereira) June 11, 2016
Fast trains running slow. #MumbaiRains

— Godman Chikna (@Madan_Chikna) June 11, 2016
Its that time of the year again where every clinic asks you to keep your shoes outside #MumbaiRains

— Ashira Saldanha (@ashirasaldanha) June 11, 2016
One person, just has no faith in the Met Department:
The only time India's weather guys are correct abt. predicting rains is when it is actually raining... #MumbaiRains

— Jitendra Jumping Jak (@phasgaya73) June 11, 2016
Here's a vintage photo from the 70s that is sure to get you into the mood:
A rainy day in the Bombay of 1970s
Photo by Pablo Bartholomew#mumbairains #Mumbai pic.twitter.com/s6NcyVQeDe

— Mumbai Heritage (@mumbaiheritage) June 11, 2016
Whether you like the rains or not, one can't deny that they bring a certain charm to a city, and at the end of the day, they do cool the place down. Here's a look at how the micro-blogging site Twitter and photo sharing site Instagram saw the first rains:
Monsoon hits Mumbai at last pic.twitter.com/4ds6hPhEcE

— Cricketwallah (@cricketwallah) June 11, 2016
Yes, #MumbaiRains are here. And with it come the certainty of- twitter updates about it & Tata Sky breakdown. 😬☔ pic.twitter.com/W20Z6uZ5cU

— Akancha Srivastava (@AkanchaS) June 11, 2016
Petrichor mornings! 😊 💕 #MumbaiRains pic.twitter.com/9zNV2NbuVS

— The Potpourri Girl (@TaariniNB) June 11, 2016
Ohh It Feels so heavenly waking up to the❤️ First Drop of Rain 🌧💦 and that Pleasant Smell of Soil!🙌🏻 #MumbaiRains 🌧 pic.twitter.com/3FEQeMHjt5

— Akshay Gudekar (@Akshay_gudekar) June 11, 2016
And a warm welcome to the famous #MumbaiRains!!! Amazing weather!!! pic.twitter.com/Vyb8G48l2c

— Priti Gandhi (@MrsGandhi) June 11, 2016
Extremely happy with the weather right now. Hope drought-hit areas find some relief! #Maharashtra #MumbaiRains

— Divya Vinekar (@WannabeSanyasin) June 11, 2016
Crazy amount of thunder accompanying the rain.
The loud clattering is only matched when Mukesh Ambani's chopper is landing. #MumbaiRains

— Sorabh Pant (@hankypanty) June 11, 2016
And the monsoon begins in Mumbai #MumbaiRains. pic.twitter.com/Z6sBPfxKyb

— Naveenchandar (@navchandar) June 11, 2016
welcome monsoon #MumbaiRains ☔️ pic.twitter.com/5UXxBa8EYL

— Navin 💕🤘 (@Mister_Awessome) June 11, 2016
#MumbaiRains pic.twitter.com/lmUFYvHe1Z

— Netra Parikh (@Netra) June 11, 2016
#MumbaiRains have come .. And with its #TrafficBlocking . pic.twitter.com/0NuDOX8m3I

— Sameer Aggarwal (@Sameeraggarwals) June 11, 2016
FINALLY! Tip tip barsa paani. Await is over, welcome back #MumbaiRains! pic.twitter.com/zugmcKZh2e

— #Sumyth (@Sumyth_singh) June 11, 2016
They are here....the #MumbaiRains, here is wishing Maharashtra and all drought ridden regions a fantastic monsoon! pic.twitter.com/AFxo4yvzfs

— Rachit Garg (@rachitg) June 11, 2016
It's raining! ☺
All hail! The monsoon has arrived!#MumbaiRains pic.twitter.com/NyvLhPE8I3

— Amish Tripathi (@authoramish) June 11, 2016
Respite for #mumbaikars .. time for Delhi now? #MumbaiRains pic.twitter.com/aWReA48jt0

— Altamash Hashmi (@altamashhashmi) June 11, 2016
I love the smell of a rain..saawan barse Happy Rainy Day 💧☔ #MumbaiRains pic.twitter.com/nUjHFWN5YW

— Neel Kumavat (@NeilKumavat) June 11, 2016
Umbrellas🌂🌂 in business! That scorching heat can show off somewhere else! 😅😅 #MumbaiRains are here! pic.twitter.com/IxLjzXuVvy

— Ayush Agarwal (@ayushagarwal39) June 11, 2016
#MumbaiRains and Weekend.. Nacho Sare G Phadke pic.twitter.com/cmfKTnig86

— RP (@WhatDaffaq) June 11, 2016
There is always. that one Delhi hopeful, out there:
After the summer heat, weather in Gurgaon today is quite cool.. looks like it will rain today #DelhiRains to follow #MumbaiRains maybe!

— Swati Bhargava (@Swats26) June 11, 2016