Toxic gas leak kills 2 on INS Vikramaditya, Navy orders inquiry
Catch Team
| Updated on: 10 February 2017, 1:49 IST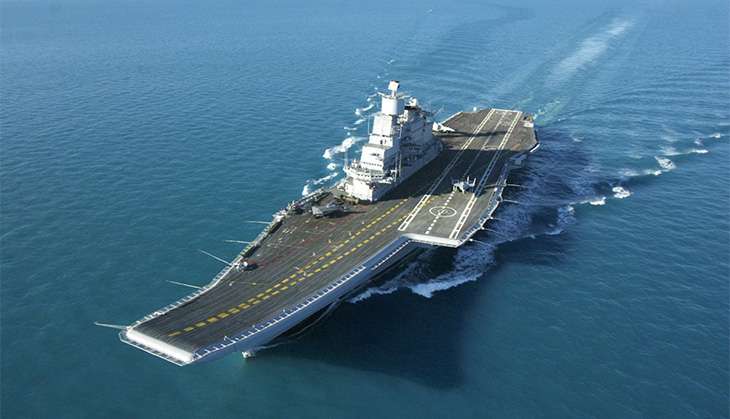 Two people - an Indian Navy sailor and a civilian - were killed by a gas leak on INS Vikramaditya. Both of them, along with two other people, were conducting repairs on the ship. The incident happened at the Karwar Naval base in Karnataka at 5 pm on Friday.
According to Navy officials, the incident happened when four people - two Navy sailors and two civilians - were working on the repairing a Sewage Treatment Plant (STP).
A gas leak from one of the pipes in the chamber, which the four people inhaled, resulted in all four falling critically ill.
Also read - Devil in the deep blue sea? Navy wife-swap victim recounts horrors
"All four were rushed to a Naval hospital at Karwar. Two persons - Shipwright Artificer Class 4, Rakesh Kumar and Mohandas Kolambkar, an employee of M/s Royal Marine, succumbed due to gas inhalation. The next of kin of the deceased have been informed. The condition of the other two personnel is stable," said a Navy spokesperson.
The spokesperson added that the Navy has ordered an inquiry into the incident. "Action has been taken to render the compartment and area on the ship safe."
INS Vikramaditya, which is currently undergoing repair work in Karwar Naval base, is the biggest and most powerful warship with India commissioned in November 2013. Originally Admiral Gorshkov, it was bought from Russia, and refit at the cost of $ 2.33 billion.
The 45,000 tonne warship has a capacity to accommodate 24 fighter aircraft and 10 helicopters. It is managed by a crew of 110 officers and 1,500 sailors. The warship is equipped with several advanced sensors and weapons.
More in Catch - Navy officer Kul Yadav Bhushan detained in Pakistan, MEA claims he has no government links
Goodbye Sea Harriers: Indian Navy phases out iconic maritime fighter planes