Expect trouble in Kashmir Valley as HC cracks down on beef
Catch Team
| Updated on: 13 February 2017, 4:24 IST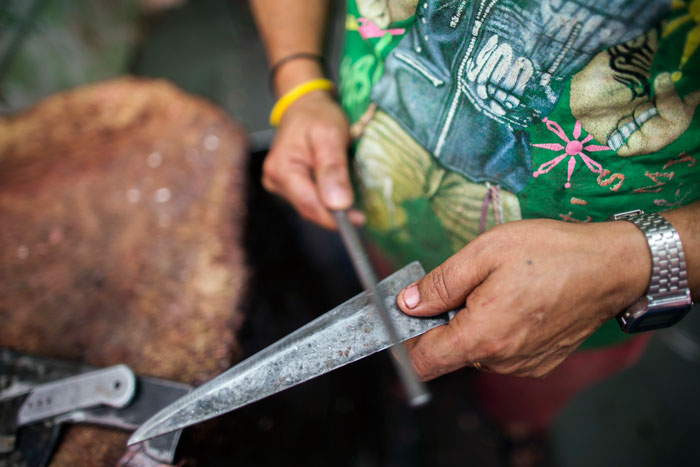 The ban
Kashmir has had a ban on beef consumption for over a century
On 10 September, the J&K HC upheld the ban and ordered the police to enforce it strictly
The backlash
Kashmiris traditionally prefer mutton to beef
But the HC order has raised a question of religious identity
Masarat Alam\'s Muslim League has called for cows to be slaughtered instead of goats on Eid
Among the common people, the perception is that this is part of the Centre\'s Hinduisation drive
Legislators want to bring a Bill against this law, while lawyer argue it is unconstitutional
There's a deep sense of deja vu in Jammu and Kashmir, after the High Court reiterated a century-old ban of beef consumption in the state.
Another Qazi Nisar moment
In 1986 during Jagmohan's rule as governor, when some Hindu extremist groups demanded strict implementation of the ban, an unknown cleric from South Kashmir's Anantnag walked to the town's main square and slaughtered a cow. He was sent to jail.
But when Qazi Nisar came out on bail, he was no ordinary mortal. The whole of Kashmir was rooting for him.
A year later, Nisar became the chief architect of Muslim Muttahida Mahaz, the broad political alliance which was widely tipped to win the 1987 Assembly polls, but for the fact they were rigged.
Nisar was a major separatist leader when he was assassinated by unidentified militants in 1994.
The High Court upholding the existence of the ban and ordering its implementation across the state has precariously landed Jammu and Kashmir at yet another Qazi Nisar moment.
"Strict action shall be taken in accordance with law against those who indulge in this activity," the Division Bench comprising Justice Dhiraj Singh Thakur and Justice Janak Raj Kotwal said in its order against cow slaughter.
The judges directed the Director General of Police to ensure strict compliance of the order by issuing appropriate directions to all the senior superintendents (SSPs) and station house officers (SHOs) in the state.
Question of religious identity
Within hours of the order being publicised, the Masarat Alam-led Muslim League, a constituent of the Hurriyat faction led by Syed Ali Shah Geelani, called upon Muslims "to sacrifice a cow instead of a sheep or goat on the upcoming Eid".
And in a throwback to Qazi Nisar, its acting chairman, Muhammad Yusuf Mir, announced he will sacrifice a cow at Lal Chowk on Eid, which falls on 25 September.
The state's leading religio-political party, Jamaat-i-Islami, also held a press conference addressed by its newly-elected chief Amir Ghulam Muhammad Bhat. He said no law can bar Muslims from following their religion.
"Even if the Parliament of India passes a law banning beef consumption, we will not obey it," Bhat said. "No worldly authority can overrule what has been made halal for us by Allah and his Prophet."
Both Geelani and Yasin Malik called for a complete shutdown in the state against the decision on Saturday, 12 September.
"The court has not only hurt the sentiments of Muslims but also interfered in our religious affairs," Geelani said in a statement. "The decision has not come in a vacuum, it is part of the larger Hindutva project to Hinduise India".
Political recourse
Independent legislator Engineer Abdul Rashid has promised to table a Bill against the law in the ensuing assembly session.
"It should not be the domain of any government or the court what people should or should not eat. Every religion, including Islam, has laid down clear guidelines for its devotees what they should do and what not," Rashid said.
"Any move directed by the political or bureaucratic establishment or the judiciary will simply mean violation of Article 21 and 25 of the Constitution of India, which gives right to religious freedom and other basic fundamental rights."
A similar situation arose in 1986. Qazi Nisar, who slaughtered a cow, became a separatist leader
The Kashmir Economic Alliance, a business grouping, also held a press conference to condemn the ban.
"Don't we even have the right to have halal flood now?" asked its chairman Mohammad Yasin Khan. "This ban is part of the larger RSS agenda on Kashmir."
Adding to the troubling context of the High Court ruling are the recent prohibitions against beef and mutton consumption in Maharashtra, making people in the Valley see the ban as part of a larger pattern abetted by the Central government.
"They can't extend the bans on what Muslims eat to a Muslim majority state. We can't accept this," says Adil Ahmad, a Kashmir University student. "I didn't eat beef earlier. But now I will eat to assert my rights, my identity and my religion."
Ahmad has a point: the ban could end up achieving the exact opposite - a boost in the beef consumption in the state.
Valley not fond of beef
Despite being the non-vegetarian capital of India, the Valley isn't particularly enamoured with beef, with people in Srinagar exhibiting a sort of cultural aversion to its consumption. So much so, that cooking beef at weddings is a taboo and those who cook it are generally looked down upon.
A few years ago, a study by the Srinagar Municipal Corporation concluded that only around 5-10% of Srinagar's population ate beef.
"In all, there are around 25 shops beef shops in a city of 1.3 million. And even these are mostly roadside vendors rather than regular shops," Dr Shafqat Ahmad, a former Srinagar health officer, said. "In comparison, the number of mutton shops is between 2,500 to 3,000".
A ballpark estimate puts the mutton consumption in the Valley at around 1,000 lakh kilogram a year. Most of it comes from Rajasthan and Punjab. None of the Valley's major meat dealers imports cows into the state, says Mehraj-ud-Din Ganai, the secretary general of the Valley's Mutton Dealers Association.
"Beef consumption is very low in the Valley. It is a marginal trade on the fringes of the great mutton business in the state," Ganai said.
Historical perspective
For noted historian Fida Hasnain, this aversion to beef isn't new. The attitude dates back to the first Muslim rulers of the state in the 14th century.
"Even during the Sultanate period (14th century), Muslims didn't eat beef," Hasnain said. "This is a hangover from our Buddhist and Shaivist past which, at a subconscious level, refuses to go."
Hasnain says that Kashmiris were converted en masse to Islam during the reign of Buddhist king Rinchan Shah - the first to be converted - in the 14th century by Hazrat Bulbul Shah, who came to Kashmir from Central Asia. But certain cultural traits survived the transformation ushered in by Islam.
Even though the attitude towards beef is regarded as a predominantly cultural phenomenon, people in the Valley generally cite health reasons when it comes to explaining their repugnance for beef.
Being the only Muslim-majority state in India, J&K is the first state which prohibited cow slaughter. The law against the practice was made in 1896, when the then-Maharaja of Kashmir, in the Ishtihar (advertisement) No. 218, sanctioned by the state council resolution, banned the transport, slaughter and even selling of beef in the state.
Cows, according to the law, are also legally protected from being slaughtered. There can similarly be no permission granted to run a beef shop.
Mridu Rai, in her acclaimed book on Kashmir, Hindu Rulers Muslim Subjects, says the ban on cow slaughter was imposed by Dogra rulers as it was "deemed by non-Muslim rulers as critical to their own dharma, and so also to their sovereignty relying on its protection".
"So it is said Maharaja Ranbir Singh slit a woman's tongue for beating a cow which had torn some clothes she had hung out to dry. In Gulab Singh's time, cow slaughter was punishable with life imprisonment," Rai writes.
Legal action
According to the noted advocate Zafar Shah, the law was further reinforced vide notification No. 119 of 1950.
"The law is punishable under section 188 of the Ranbir Penal Code," Shah said, adding that the law needs to be revisited. "State legislature can change the law. But successive state governments couldn't find time to do so for the past 68 years."
Now the High Court Bar Association has decided to challenge the legislation in court. "The Bar Association will challenge section 298A and section 298B of Ranbir Penal Code, which bans cow slaughter, in the High Court," a spokesman of the Bar said after a meeting of its executive committee. "It is unconstitutional."