Policeman brutally assaults 13-year-old boy in marketplace; incident caught on camera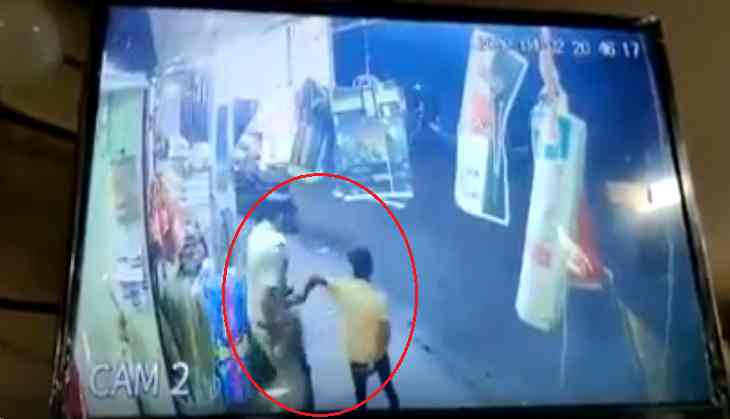 Screenshot from the viral video
A shocking CCTV footage has been surfaced on the internet wherein a 13-year-old boy was slapped by a policeman in a marketplace in Gujarat's Vadodara on Saturday.
The incident took place at around 08:45 pm on Saturday at Nandesari market in Vadodara.
The matter came to light after the video of the policeman assaulting the minor boy outside a provision store went viral on social media.
The policeman has been identified as Shaktisinh Pavra. He was attached to Chhani police station, a control room official said.
Also Read: UP shocker: Drug addict sexually assaults minor girl after kidnapping her from wedding party
According to TOI, Pavra was on his way back from Nandesari police station to Chhani Police station on Saturday night in his official vehicle. The minor boy came in front of his vehicle while crossing the road. The boy uttered something at him while crossing the road.
The policeman stopped his car and came out to beat the boy.
In the CCTV footage, the boy can be seen running inside the shop while Pavra was following him.
The cop then captured the boy, the policeman brutally thrashed the boy several times. However, some locals tried to intervene. Later, Pavra kicked the boy and let him go.
After a complaint was registered against the policeman and an inquiry initiated, the Deputy Commissioner of Police of Zone I suspended the policeman for misconduct, the official added.
On this incident, the Commissioner of Police in Vadodara Shamsher Singh wrote on Twitter, "Such misconduct can never be tolerated. The cop has been suspended from the service with immediate effect. Strict action will be taken after the inquiry."
Also Read: Hyderabad Rave Party: Children of VIPs, actors among those arrested