Police burn effigies: What explains Bastar cops' mob behaviour?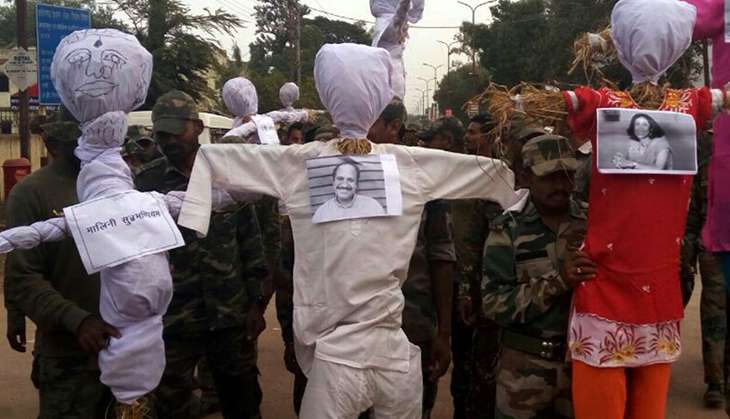 Bastar police is under fire once again. However, this time it isn't the Maoist insurgents who are training guns against them. The cops have sparked a controversy themselves by burning effigies of activists and lawyers working for tribal rights in the region.
This unprecedented move has not gone down well with political parties and social groups.
On Tuesday, the main opposition party, Congress, passed a resolution condemning Bastar IG SRP Kalluri. Mohan Markam, party MLA from Kondagaon accused Kalluri of targeting innocent Adivasis under the pretext of anti-Naxal operations.
"He has the blood of innocent civilians on his hands. The state government seems to have given him a license to kill hapless villagers. The situation is such that anybody raising a voice against fake surrenders and encounters. is killed sooner or later," Markam alleged.
"The Congress has already lost many of its leaders in the Maoist ambush in Jhiram valley. It would not be surprising if dead bodies of some other public representatives are also found in jungles in the coming days and the buck is passed on to the Naxals. Kalluri has taken supari from RSS and Raman Singh government to wipe out the Opposition and he is working on this agenda," Markam alleged.
Govt's silence
The state Congress president Bhupesh Baghel expressed surprise that the government was not acting against Kalluri despite several questions raised by the Supreme Court on his role during the arson at Tadmetla.
"Our party does not want to harm the morale of the security forces engaged in the fight against the Maoists. However, one cannot overlook atrocities being committed at Kalluri's behest. Torching the houses of Adivasis, murder of school kids and rape of tribal women can never be justified," Baghel stated.
Baghel rued the fact that Bastar police has booked Dantewada Congress MLA Devati Karma on charges of abduction whereas her husband Mahendra Karma had devoted his life to eradicating Maoism from the region. He believes Devati Karma is being targeted for opposing the recent killing of school children.
"It is ironic that Kalluri is now distributing certificates of patriotism to social activists, lawyers and journalists," he lamented.
Tirade against Adivasis
According to Manoj Mandavi, an Adivasi MLA from Bastar's Bhanupratappur, the state government's only aim is to wipe out the tribals from the region.
He accused the government of conspiring to end Chhattisgarh's status as a tribal state as Adivasis are not BJP's vote bank. Alleging that Kalluri's style of functioning was essentially political, he advised him to "shed his uniform and contest elections."
Another senior Congress leader and former Leader of Opposition Ravindra Chaubey termed Kalluri as 'a tool in the hands of the Chief Minister". Reminding that the Bastar police has not even spared a woman MLA like Devati Karma, Chaubey blamed Raman Singh for the "anarchy plaguing the Bastar police."
Soni Sori's fears
The social activist and Aam Aadmi Party leader Soni Sori has reiterated the threat to her life, especially after cops burnt her effigy. Repeating her allegation that Kalluri had ordered the chemical attack against her, Sori said the police has left no doubt regarding its intentions with the burning of effigies.
"The police might unleash a mob to get me killed any day and later blame it on 'public anger' against Maoists," she alleged.
Claiming that she had never supported the insurgents, Sori alleged it was Kalluri instead who was hand-in-glove with the red ultras. "This is the reason none of the major Maoist leaders have ever surrendered in Bastar. They have never been targeted by the police. Kalluri's men are only gunning down local villagers to bolster their count of perceived encounters," Sori stated.
Activists to move Supreme Court
Himanshu Kumar was among the activists whose effigies were burnt on Monday. He told Catch that they have accessed video footage of police protests in all the seven districts of Bastar and they will now be presented before the Supreme Court.
"It is a clear-cut case of contempt of court by the police. Kalluri and his men are instigating people, by falsely branding social activists as Maoist supporters. In reality, it was the same activists who had informed the apex court about the killings, gang rapes and arson by the police in three villages. As a result, the Supreme Court handed over the investigation to the CBI," he said.
"But Kalluri's men tried to attack even CBI's investigation team. Still, the investigation, indicted Kalluri and his police for the atrocities. One day, he will have to pay the price for this," Kumar cautioned.
Also Read:
Police burn effigies: What explains Bastar cops' mob behaviour?
IG Kalluri's reign of terror: there's hardly a place left for truth in Bastar
Bastar encounters: Is IG Kalluri's war against Maoists or Adivasis?