Over Rs 164 crore black money seized in new notes. Has note ban failed?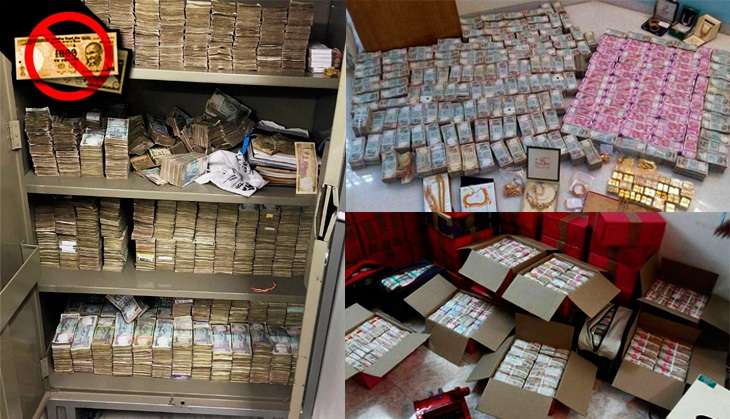 In just over a month since Prime Minister Narendra Modi announced the demonetisation drive, the total amount of black money that has been seized in new currency notes is Rs 164.57 crore.
While the common Indian suffers due to the restrictions on bank and ATM withdrawals, it's interesting to note just what this figure actually means.
To withdraw this amount by cheque, with the current restrictions in place, one would require 68,571 people.
1,371 ATMs can be filled to capacity with this amount.
To withdraw the money in cash from ATMs, 658,282 people would be required.
Assuming it takes just one minute per ATM transaction and withdrawals are happening from ATMs 24 hours a day, seven days a week, then it would take a whopping 443 days to withdraw this amount in Rs 2,000 notes.
If you were to lay out the cash - only new Rs 2,000 notes - it would take up 136 kilometres of space. That's more than halfway from Delhi to Agra!
Meghnad S, columnist, Twitter user and chief of staff of Biju Janata Dal MP Tathagata Satpathy's office, has started a crowdsourced list to keep track of the black money being hoarded in new currency.
Meghnad's initiative is a live-updating database which tracks stories (only those reported in the media) about the new currency and its whereabouts. In just over one month, till 12 December, Rs 1,64,57,04,000 has been seized in 66 raids.
Where the raids are taking place
Almost half the number of reported cases (32 out of 66) have taken place in south India - 15 in Karnataka, seven each in Tamil Nadu and Telangana, two in Andhra Pradesh and one in Kerala.
There have been zero reported cases in Uttar Pradesh, India's most populous state - barring the raid on the offices of Samajwadi Party politician Santosh Yadav (no information has been released on on how much money, if any, was seized). There have been no reported cases in Bihar either.
Just two days ago, at a hawala dealer's homes in Karnataka's Chitradurga and Hubballi districts, "28 kg of bullion, about 4 kg of gold and jewellery, Rs 5.7 crore of Rs 2,000 currency notes and Rs 90 lakh in old Rs 100 and Rs 20 notes" were seized.
In a series of raids in Chennai, over 142 crore in unaccounted assets were recovered on Friday. Close to Rs 70 crore of that was in new notes, making it the biggest seizure of new currency notes till date.
Then there was the case of a state government engineer and a government contractor, from whom Rs 4.7 crore in new currency was seized.
Then there was the big one: at the office of Galli Janardhana Reddy, a Karnataka politician belonging to Modi's Bharatiya Janata Party (BJP). This raid came days after the lavish wedding (worth about Rs 500 crore) that Reddy organised for his daughter.
Here's a chart showing currency raids and deaths due to DeMo. Death source - https://t.co/Sd0w950XWn Raid source - https://t.co/dSW9LpIgu8 pic.twitter.com/cZ1tHBL4WR

— Priyans Murarka (@murarke) December 12, 2016
Who's conducting the raids?
Unusually, 45 of the raids have been conducted by the state police, and a mere 10 by the Income Tax Department. If you thought that state police didn't have the right to conduct such raids, you'd be wrong - they do have all-India rights to raid and seize.
On its part, the Income Tax Department is facing a severe staff crunch.
According to a 27 November report, the IT department was short of 21,000 officials. "About 55,000 officials are doing the job of 76,000, which is the sanctioned strength," Ashok Kanojia, president, Income Tax Employees' Federation told The New Indian Express.
It may just be that the the IT department is already overloaded with previous pending work. That, coupled with the staff crunch could be why the officials have been dependent on a helping hand ever since demonetisation kicked in.
The Indian Express reported that the IT department is working with the Enforcement Directorate to "kick off on 1 January a massive assessment exercise of what it alleges is 'money laundered' by many during the demonetisation drive". But with 40 crore bank accounts in India, this is going to be a gigantic task. Half of those 40 crore bank accounts are Jan Dhan accounts.
Eye-opener
All this data in Meghnad's database is based purely on media reports. And with only a handful of people working on it, there could be some margin of error or duplication. But who knows where the total number might reach?
This database, though, is an eye opener into what has happened to black money post demonetisation. It shows that the government is losing the fight against black money.