No more online admission tests at Allahabad University. Bad move?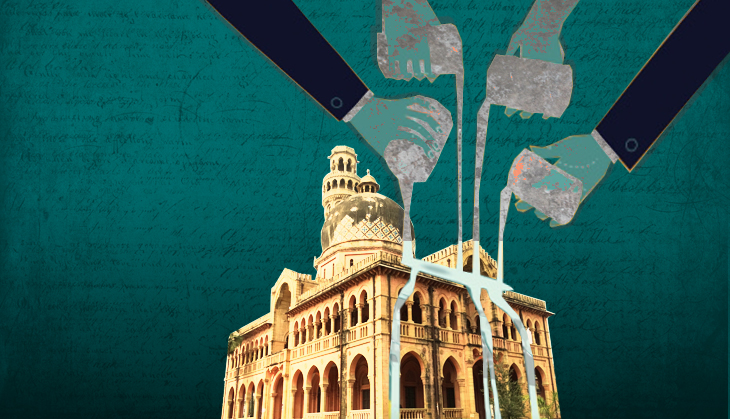 Prof Ratan Lal Hangloo, the vice-chancellor of Allahabad University, is angry at the way the Union Human Resources Development (HRD) Ministry has given in to pressure from some Bharatiya Janata Party parliamentarians and pracharaks and reversed its order on making online admission tests mandatory.
"When 1.27 lakh students have enrolled for online admissions, I suddenly get the order to make the admission process offline. BJP should let its MPs and pracharaks run this university," Hangloo said.
Read: Allahabad Univ Students' Union president Richa Singh joins SP
He received the order to change the admission procedure on 10 May. Asked what will happen to students who applied for online tests, Hangloo retorted: "That's for the MHRD to decide."
The VC didn't blame anyone but blamed three student leaders with Akhil Bharatiya Vidyarthi Parishad (ABVP) links, a pracharak and three BJP MPs for the chaotic situation.
"These people first pressurised me and then, apparently, told the minister. A Samajwadi Party leader also threatened that I will be killed," Hangloo said, adding that this wasn't what he staked his 34 years of experience as a professor for.
"Find out how I transformed Kalyani University. Here I am not even allowed to function." he said.
The VC has been in the news since late last year after a controversy erupted over BJP MP Yogi Aditynath's proposed visit to the campus. Richa Singh, the varsity student's union's first woman president, opposed the visit and it was finally cancelled.
Singh alleged that the VC was protecting the ABVP elements who dominated the union. This allegation appeared to be true when a Delhi-based senior journalist was not allowed to address a seminar on campus after ABVP members threatened to disrupt the event.
Subsequently, Singh joined Samajwadi Party and it was thought that the BJP and SP would use student leaders to fight their battles. But the situation took an interesting turn when the university announced its decision to introduce online admission tests.
Richa Singh and the ABVP members of the union were now ready to put up a united front against the university administration.
The move to introduce online tests was met with stiff resistance from students' body and the university administration relented a bit by allowing only undergraduates to take tests offline.
Students, however, persisted with their protests and sought the help of their seniors in the main political parties.
The VC felt that doing away with online admission tests was not the right way to make India digital. "Modiji kah rahe hain digital India, make in India, but is this the way to take the country and this state forward," he asked.
He stuck to an earlier argument that if youngsters could operate a smart phone there was no reason why they should not take online tests.
On the state of affairs in the university, he said that 2014 admission tests for M. Phil were taking place now. "This is what offline tests do."
Hangloo said offline tests were open to manipulation whereas online tests were more foolproof.
Edited by Anna Verghese
More in Catch:
He died hungry: farmer Sukhlal's death the latest blot on Bundelkhand
Elon Musk hired Iron Man costume designer to make space suits. Expect awesomeness
Defying drought; Barmer farmers richer by Rs 9 million due to cumin production
Ezhavas turn king-makers: the Hindu vote bank is now critical in Kerala