Morbi bridge collapse: Gujarat forms high-power probe committee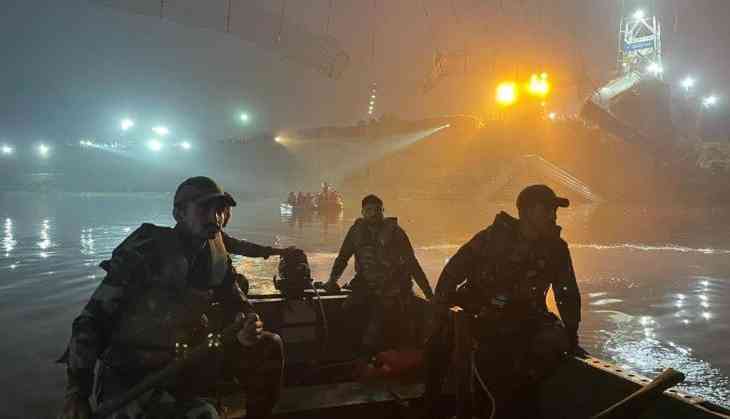 Morbi hanging bridge collapse (ANI)
Morbi (Gujarat) [India], October 31 (ANI): Gujarat government on Monday announced that a high-powered committee has been set up to investigate the incident of the collapse of the suspension bridge in Morbi district of Gujarat in which the death toll has risen to 132.
Briefing mediapersons here, Gujarat Home Minister Harsh Sanghavi said, "The death toll in the Morbi hanging bridge collapse incident has gone up to 132. The Chief Minister has constituted a high power committee yesterday itself while leaving Ahmedabad. All officers, posted at different locations, were asked to report at Morbi by 2 am. The investigation is going on." The Gujarat Home Minister further informed that a criminal case has been registered in connection with the incident.
"An investigation has begun today under the leadership of Range IGP," Sanghavi said. Everyone worked all through the night. The Navy, NDRF (National Disaster Relief Force), Air Force and Army arrived at the spot quickly. More than 200 persons have worked the entire night for search and rescue operations," Sanghavi said. Teams including Army, Navy, Air Force, NDRF and Fire Brigade conducted a search operation throughout the night to find the victims who fell into the Macchu river after the bridge collapsed, as per officials.
(ANI)