Sumitra Mahajan wants to ban eggs from mid-day meals. What a rotten idea!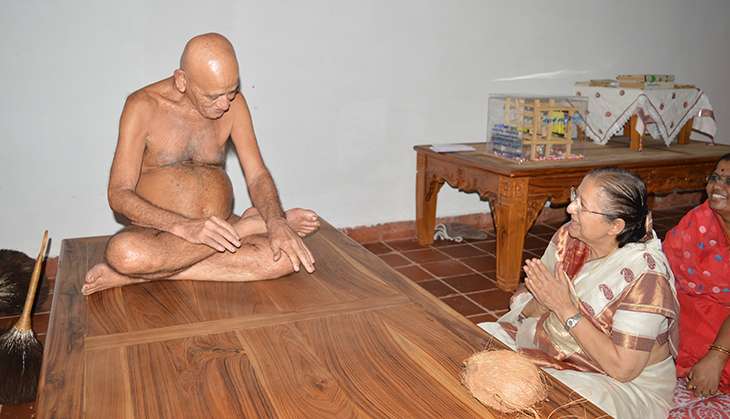 Adding controversies
Sumitra Mahajan has courted controversies in the past with her Rs 50 lakh car
She adds one more to her kitty by wanting to ban eggs from mid-day meals
Why ban eggs
Mahajan told a Jain seer she wiil work to get eggs off mid-day meal plates
Devout Jains are known for being strictly vegetarian
More in the story
Telling figures for Madhya Pradesh\'s malnutrition issue
Why banning eggs is a bad idea
Unanimously elected as the speaker of the Lok Sabha, Sumitra Mahajan has been lauded for various reasons, including suspending 25 Congress MPS for five days from the House for indiscipline.
She also has had her fair trade of controversies that included availing an expensive car worth almost Rs 50 lakhs as her official vehicle and her call during a parliamentary session on reviewing the reservation policy.
She seems to have added to her kitty of controversies when on Monday the speaker met Acharya Vidyasagar, a Jain saint and reportedly agreed to keep midday meals at schools free of egss.
Also read: LS Speaker's new official vehicle is a Jaguar, 'for security reasons'
The Speaker, who was photographed sitting at his feet, told Vidyasagar she would take up the matter with authorities to issue a ban.
Food for thought
This comes at a time when a recent survey conducted by the Registrar General of India (RGI) showed that 49.4% of the population of Madhya Pradesh are non-vegetarians.
The survey also showed that 51% men and 47% women in Madhya Pradhesh are non vegetarians.
Activists state that these numbers would be higher had the survey been more stringent and included more inidiviuals from the scheduled castes and scheduled tribes.
The state government of Madhya Pradesh seems to be unwilling to accept the details of the survey.
Way back in 2010, the state had decided that Aanganwadis and schools where mid-day meals are served would be devoid of eggs.
Eggs were banned from the mid-day meal after Chief Minister Shivraj Singh Chouhan vowed not to allow eggs in an Aanganwadi and school meals to honour a promise he had made to Jain saints.
"As long as I'm the chief minister, eggs will not be served in Aangawadis," the chief minister had said in 2010.
As per reports, the Jain pandit recommended 'Bananas' and other fruits as supplements.
Why banning eggs is a rotten idea
"Eggs are not just the best source of protein and calcium, it's easy to distribute and procure," said Dipa Sinha of Delhi-based Right to Food Campaign
"The only alternative is milk, but milk gets spoiled easily and can be adulterated. Among tribal populations eggs are more popular than milk. What should be noted here is that eggs are not mandatory in mid-day meals, a child can choose not to have it," she adds.
Madhya Pradhesh has the highest tribal population among all states in the country.
The Jain community had given alternatives to eggs that included cashew nuts and almonds - both being rather expensive.
Sachin Jain, a Bhopal-based social activist and a food analyst agrees with Sinha.
"Madhya Pradhesh has a large number of cases of diseases caused by protein deficiency. Eggs are a vital supplement in mid-day meals. When the state decided to remove the eggs from the scheme, they did not take suggestions from communities and those who send their children to Anganwadis. It was an undemocratic process."
"Madhya Pradesh's attempt to substitute eggs with milk has been a massive failure, with many complaining about the quantity and quality. With eggs, both of these issues get solved," he adds.
Anganwadis also provide supplementary nutritional diet to pregnant women, which is usually consumed by an entire family. This would mean protein deficiency in the entire family.
Also read: How Sumitra Mahajan ended up rescuing the Congress
Jain explains that those groups that advocated removing eggs from the scheme do not avail of the mid-day meal scheme themselves or for their children and know very little about the diet of those who do send their children to avail the scheme.
Telling figures
Madhya Pradesh has one of the highest malnutrition rates among children in the country.
Various studies have pointed out that lack of protein intake as the reason behind stunted growth.
Additionally a survey conducted by the Ministry of Women and Child Development for years 2013-14 in collaboration with Unicef, showed that the proportion of underweight children in India was 29.4%, and that of stunted children was 38.7%.
The percentage of underweight children in Madhya Pradesh is a staggering 51.9% whereas the prevalence of stunting is 48.9%.
Stunted children may never get a chance to regain the height lost as a result of inadequate nutrition, or gain the corresponding body weight.
The Union Health Ministry on May 2016, had also asked the MP government to reconsider its decision.
"Boiled eggs can be hygienic and a cheap source of protein required for children, expectant/ pregnant women and nursing mother. I believe that for some reason the state is yet to consider providing eggs in MDMs and ICDS. Hopefully, this will substantially contribute towards reducing the bane of malnutrition in children and boost immunity and general health status of expectant/pregnant women. It will also enable uptake of eggs and help poultry farmers,'' states the letter from the ministry
At present,, Tamil Nadu, Jharkhand, Andhra Pradesh, Bengal, Telangana, Odisha, Assam, Tripura and Arunachal Pradesh are the states where eggs are served in the mid-day meal.
Edited by Jhinuk Sen
Also read: Gujarat government floats survey see if introducing eggs in midday meal